With overhead storm clouds matching heavy hearts on the evening of September 11, 2021, Most Rev. Frank J. Dewane, Bishop of the Diocese of Venice, joined more than a thousand for the 20th Commemoration Ceremony of the 9/11 attacks, held at the Sarasota National Cemetery. The event was organized by the Sarasota Ministerial Association.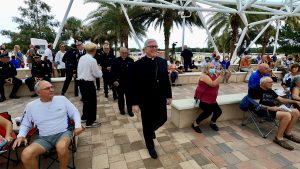 Bishop Dewane, joined by several Diocesan priests and deacons at the ceremony, offered the Invocation, asking Our Lord God of Peace to bring that same peace to a world that is often violent.
"We pray for your peace as we remember the terrorist attacks of 9/11," said Bishop Dewane. "May our suffering awaken in us the awareness, pain and fear that so many live with each day."
The Bishop also asked Our Lord to show us how to pray for those who struggle against oppression and injustice, and he asked for God to give world leaders wisdom and discernment.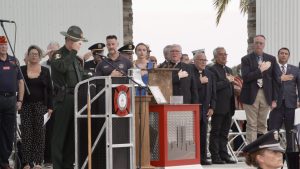 Dozens of community leaders from a wide variety of police and fire departments also addressed the crowd with words of inspiration and hope, as they encouraged all to never forget the nearly 3000 lives lost on that tragic day, including 343 FDNY firefighters who fought valiantly to reach those trapped in the twin towers.
Attendees were given a carnation to place on a canvas, which when filled produced the American Flag.  Commemorative coins were given to survivors of the attacks and to those who served our Country in the military.
One former U.S. Marine, who also received a commemorative coin for his military service, said the 9/11 gathering was the right thing for all to attend as to never forget the pain of that day.