Diocese of Venice Catholics schools commemorated the 22nd anniversary of the 9/11 terror attacks on the U.S. in a variety of ways, ensuring that while time has passed since the tragic events took place and nearly 3,000 were lost in New York City, Washington, D.C., and Pennsylvania, their memory lives on.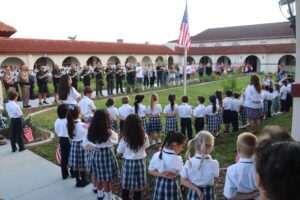 At St. Charles Borromeo Catholic School in Port Charlotte the school held a prayer service in the courtyard on Sept. 8, 2023. The guest of honor was retired New York City Fire Department Lt. Scott Hawkins, who shared his memories of that tragic day when 343 of his fellow firefighters were killed when the World Trade Center collapsed as they tried to evacuate the building and rescue those who were hurt and trapped inside.
The ceremony included a prayer service with readings, music, petitions for peace and prayers for all who were lost on that tragic day. While none of the students were alive at the time of the attacks, they were told that it is important to remember that day and to pray that all of us remain safe from terror. Also present for the ceremony were parents, and first responders including representatives of the Charlotte County Fire Department, Charlotte County Sheriff's Office, Florida Highway Patrol, and Drug Enforcement Agency.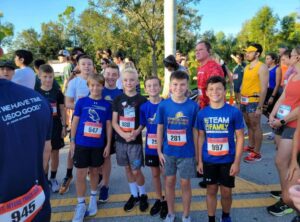 Students and families from St. Francis Xavier Catholic School took part in the annual Tunnels to Towers 5k on Sept. 9, 2023, in support of first responders and the Tunnels to Towers Foundation. The run took place from College Parkway, and along McGregor Boulevard in south Fort Myers. During the race, St. Francis Xavier student Eli Benvi placed first in his age group and Coach Janelle Massing also placed first in her age group.
The Tunnel to Towers Run & Walk Series was created to honor the heroic life and death of Stephen Siller, a New York City firefighter (FDNY) who lost his life on September 11, 2001, after strapping on his gear and running through the Brooklyn Battery Tunnel to the Twin Towers.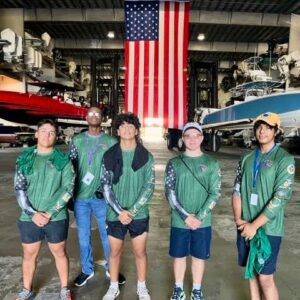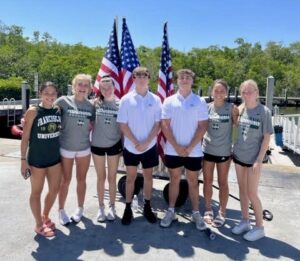 Also on Sept. 9, 12 students from St. John Neumann Catholic High School in Naples donated their time to the "Take a Soldier Fishing" event. It was held at the Hamilton Harbor Yacht Club in East Naples. This three-day event has been in existence since 2011 and focuses on providing a free weekend of fun and fishing for active-duty military, retired and wounded veterans.
Diocese of Venice Catholic schools made a strong effort to honor all of those who lost their lives on September 11, 2001, and support first responders and military who make extraordinary sacrifices in the line of duty, as we all should.