Each of the more than 5,800 students enrolled in the 15 Diocesan Catholic schools has been blessed with gifts that have been given to them by God.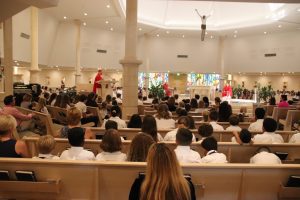 These gifts, whether it be in math, science, spelling, athletics, music, or any of a number of blessings bestowed on the faithful, make each student unique.
"Take the uniqueness we are from within, granted by the gifts of the Holy Spirit, and strive to live the good life we are all called to by the Lord," said Bishop Frank J. Dewane during a "Mass of the Holy Spirit" for students on Aug. 30, 2022, at St. Ann Catholic School in Naples.
"It is always my prayer that you take time to come to know who God is in your life," Bishop Dewane said. "You have grown as a community of believers and as students of our faith. Work hard to come to know who Jesus is. You must also come to know Christ is present in those around us."
It is our uniqueness, each being made in the image and likeness of God, that makes up our whole being, the Bishop said. That being is someone who reflects the Light of Christ to the world by being kind and good.
"When we do that, living as Christ calls, it becomes easier to find Christ in others," Bishop Dewane said. "By seeing Christ in others, we develop a respect for our brothers and sisters, because we know Christ is in them."
Importantly, by participating in the celebration of the Holy Sacrifice of the Mass, each student is brought together by the Real Presence through the Body and Blood of Christ, the Bishop explained. While it can be easy to be distracted and we sometimes fail to recognize Christ in others, it is important to try harder. "When we can recognize Christ in others and in the world around us – it changes who we are, and helps us we grow closer to the Lord."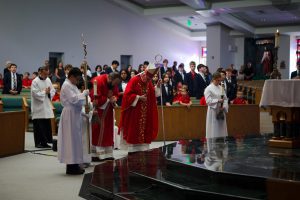 At each school, the students are part of a community of believers striving to grow in mind, body and spirit. The Bishop explained that this includes not just building up grades or becoming better in a favorite sport, but by coming to see in each other the presence of Christ.
"Do this by showing kindness and mercy toward one another throughout the year," Bishop Dewane concluded. "And always look for the presence of Christ from within yourself and in the world around you."
Bishop Dewane also celebrated Masses at St. Elizabeth Seton Catholic School in Naples on Aug. 30 and on Aug. 25 at Incarnation Catholic School in Sarasota. These were among the first in a series of school Masses Bishop Dewane will celebrate through October.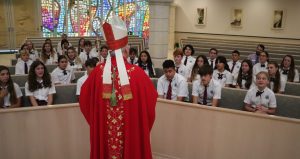 Following Mass at Incarnation, St. Ann and St. Elizabeth Seton, Bishop Dewane took time to speak with the eighth graders, the oldest students in their school. It was at this time he asked them to be the leaders of their school and to take that role seriously and give a good example.
"Be an example to the younger students, because they look up to you," he said. "You also need to be engaged in your Faith. The younger students may not have followed along with what was said during the Mass, but you are old enough to understand, and you also know your responsibilities in school and in Church."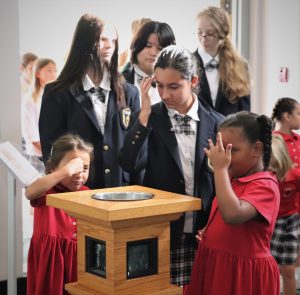 The Bishop also fielded questions from the students, which ranged from basic curiosities about what it is like to be the Bishop, to interest in his background before becoming a priest. The opportunity was also taken to encourage the students to continue on to the nearest Diocesan high school, noting the need for them to continue to grow in faith at the same time as they grow in physical maturity and knowledge. After speaking to each group of eighth graders, the Bishop took part in a group photo.
During the Masses at each school, Bishop Dewane said he was encouraged that many parents and grandparents were able to attend, showing their support for Catholic education. He stressed that the Church serves a fundamental purpose in the Faith development of its students, but the parents are the first and primary teachers of their children. "Learning begins at home, especially as it pertains to one's Faith life. What we do is to augment the education, morals and values that parents provide."