Faith, service and fun were cornerstones of Catholic Schools Week 2022 celebrations throughout the Diocese of Venice the week of Jan. 30 to Feb. 5. These activities highlight the everyday beneficial impact of Catholic Education, through devout faith, academic excellence and selfless service, on the local, regional, state, national and global levels.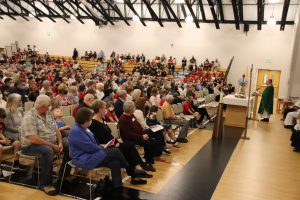 One of the main highlights at many of the schools is Grandparents Day, a time to recognize and honor these key members of the faith community who pass down traditions, values, and the faith to the following generations.
Grandparents Day at St. Martha Catholic School and St. Mary Academy in Sarasota was celebrated Feb. 4. The focus was Mass, celebrated by Bishop Frank J. Dewane in the Zazarino Center. The student body of both schools were present as were more than 100 visiting grandparents who were able to sit with their grandchildren.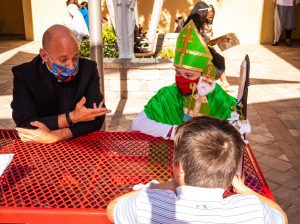 "Our Diocesan Schools are vibrant Catholic communities which work to support children in a very supreme way, recognizing and promoting their greatest potential," Bishop Dewane said. "God has given individual gifts to the students and our faculty and staff offer the opportunity for each individual to grow and develop into the man or woman of God they are called to be. Grandparents play a vital role in that."
A grandparent has no retirement age, the Bishop continued, in the influence they have in shaping the lives of their grandchildren and to young people everywhere.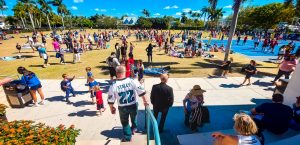 "In a world where the young are threatened in many ways, grandparents serve a role in the transmission of values and faith," Bishop Dewane said. "The young respond to you by your presence while helping them strive to answer the call of God in their life."
The St. Martha and St. Mary celebration also included a presentation of a sneak-peek scene from the coming spring play, "Aladdin." Then the students escorted their grandparents on a tour of the school and visit to their classrooms to meet their teachers and friends.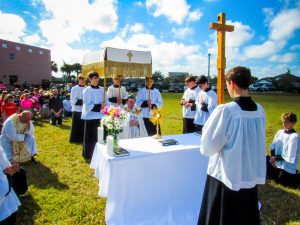 At Donahue Catholic Academy of Ave Maria Parish, the week ended on Feb. 5, with a traditional outdoor Eucharistic Procession which included the praying of the rosary and stations for Adoration.
Father John Belmonte, SJ, Diocesan Superintendent of Catholic Education, was present for the Donahue Academy procession, as well as several other events at different Catholic schools throughout the week.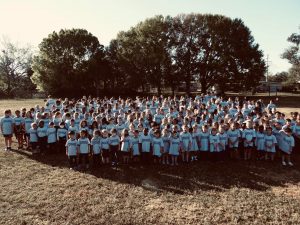 For example, during a Feb. 3 celebration at St. Elizabeth Seton Catholic School in Naples, Father Belmonte learned how the school is using a Devotional Project to promote a celebration of the saints. To mark the occasion, dozens of students and teachers dressed as their favorite saints and shared stories about the life of the saint they represented.
Earlier in the week, St. Elizabeth Seton hosted a visit of representatives from the Collier County Sheriff's Office. This included a fly-in visit by one of the helicopters, as well as a visit by tactical response vehicles and even one of the patrol boats.
Epiphany Cathedral Catholic School in Venice celebrated our nation Feb. 2, with a Living Rosary. The students prayed for all 50 states, government leaders and representatives, and all citizens of the United States.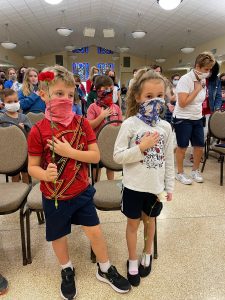 Bishop Verot Catholic High School in Fort Myers celebrated Catholic Schools Week with an all-school Mass at neighboring St. Cecilia Parish, an Academic Quiz Bowl (won by the teachers), and the presenting of academic awards.
During a ceremony on Feb. 3, three senior student athletes of Bishop Verot announced their intention to compete at the collegiate level, including the following: Morgan Crawford, volleyball at Transylvania University; Dylan Peck, baseball at Florida State College at Jacksonville; and Madison Thomas, cross country and track at Florida Southern College.
The same day, two Cardinal Mooney Catholic High School students in Sarasota also announced where they will play in college: TJ Barton, football at Stetson University; and Wyatt Plattner, golf at the University of Cincinnati.
These are just a fraction of the activities which took place throughout Catholic Schools Week 2022 in the Diocese of Venice.
To learn more about Diocese of Venice Catholic Schools, please visit https://dioceseofvenice.org/offices/offices-departments/catholicschools/.