Each day is a celebration of educating the mind, body and spirit at Catholic Schools throughout the Diocese of Venice.
A more public celebration will occur the week of Jan. 29 to Feb. 4, 2023, when Diocesan schools will participate in a series of exciting activities as part of the 49th annual National Catholic Schools Week.
Sponsored by the National Catholic Educational Association (NCEA), the week provides an annual opportunity to share the good news about Catholic Schools. The theme, "Catholic Schools: Faith. Excellence. Service." focuses on the important spiritual, academic, and societal contributions provided by a Catholic education firmly rooted in the Truth of the Gospel.
Schools typically observe the annual celebration week with Masses, open houses and other activities for students, families, parishioners and community members. On the weekend starting Catholic Schools Week, look for students to speak at Masses to explain the benefits of supporting their education.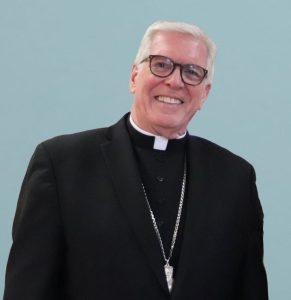 Bishop Frank J. Dewane said Diocesan Catholic Schools not only educate the mind but also the soul, teaching the students to have a concern for their brothers and sisters, whether they live in the same country, down the street, or in their classroom through prayer, and the teaching of values, morals and virtues.
"Through this broader approach, the student begins to learn, to reach out, and to touch the other, seeing for themselves that we are all made in the image and likeness of God," Bishop Dewane said.
Father John Belmonte, SJ, Diocesan Superintendent of Catholic Education said this reality is what distinguishes Catholic schools in the Diocese from all others.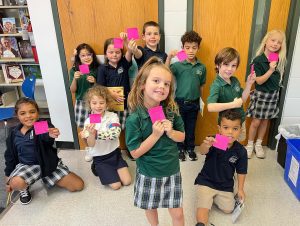 "The basics of any education in a Catholic school has to do with learning and training people to think critically, to understand what is the truth. By truth, we mean capital T – as in Jesus," Father Belmonte explained. "It's also about training their wills and teaching them to make good decisions so that they can do the good that is needed by not only their families and themselves but by society."
Diocesan Schools have a unique kindergarten through 12 STREAM (science, technology, religion, engineering, arts and mathematics) curriculum using robotics as a catalyst for success.
"We prepare our students for today and the future," Bishop Dewane said. "We give the students what they need for success in this challenging world, and our STREAM and robotics programs is enhance what we were already doing. Therefore, when it was decided to expand this initiative, it was clearly worth doing throughout all grade levels."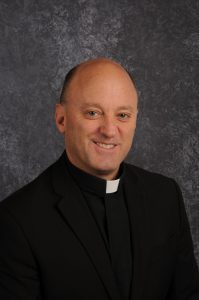 Father Belmonte said the Diocese of Venice is the only Diocese in the country to take this expansive approach to STREAM, which is all connected to the faith. Diocesan Catholic school students learn virtues such as truth, beauty, and goodness, which are transcendental. The additional "Gifts of Christ," are prudence affability, humility, and fortitude. Added to the robotics program this year, are courage, diligence, solidarity and charity.
"To offer innovation from the earliest ages puts us ahead of other schools," Father Belmonte said. "Yes, it's the study of STREAM, but it's much more than that. This is about the education of the soul."
Bishop Dewane said the Diocesan robotic STREAM initiative is being done in a context of why Catholic schools exist. "We are helping students to discover who they are as men and women of faith, as we let our students learn these virtues that Christ calls us to, time after time in the Gospel."
Catholic Schools Week 2023 comes at a time when 10 of the 15 Diocesan schools are continuing their recovery from damage incurred during Hurricane Ian. Most significantly, the storm disrupted the lives of school families, faculty and staff.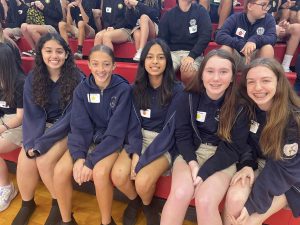 "Everybody in the schools and communities of faith throughout the Diocese came together," Bishop Dewane said. "People helped each other and helped their schools to work in a safe way to create new learning spaces so the students could be back at school quickly and feel comfortable again. My thanks and patience to everyone, and compliments for the adaptive nature taken to make everything happen so fast."
Father Belmonte said Hurricane Ian brought school communities together and when possible, teams from schools went into their neighborhoods to help individuals and families pick up the pieces of their destroyed homes. In addition, there was an outpouring of support from across the region, state and country, funneled through the Diocese, which was directed at helping families and schools recover.
"The response was remarkable," Father Belmonte added. "It was also healthy to get students back into the classrooms as quickly as possible, while the parents appreciated how well we responded."
The 15 Diocesan Catholic Schools, serving 5,837 students, is an investment in the future and they serve as the heart of the Diocese, building the Catholic leadership of tomorrow. Schools are in Bradenton, Sarasota, Venice, Port Charlotte, Fort Myers, Cape Coral, Naples, Ave Maria and Sebring.
Scholarships are available to help ease some of the financial burden, and families should not assume that they wouldn't qualify. In addition to school, Parish and Diocesan support, state scholarships such as Step Up For Students and McKay are also available.
Consistent academic excellence prevails at Diocesan Catholic schools, with the three high schools graduating every student and 99 percent going on to higher education, many with academic scholarships in hand. Students in all of the schools score at the advanced level on national tests while being grounded in the knowledge of the Catholic Faith.
To learn more about Diocese of Venice Catholic Schools, please visit https://dioceseofvenice.org/catholicschools.
The January 2023 Relevant Radio podcast of "Witnessing Faith with Bishop Dewane" discusses Catholic Schools. To listen to this month's show, please visit https://dioceseofvenice.org/our-bishop/.