Every Catholic Schools Week is an opportunity to recognize the value and contributions of Catholic education to the Church and the world.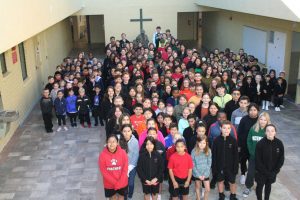 During the week of Jan. 30 to Feb. 5, 2022, Diocesan Catholic schools celebrated their schools, their Parishes, the nation, vocations, their families and their teachers in a variety of ways.
At St. Joseph Catholic School in Bradenton, it was decided to bring in a former student to speak to the students, Miss Florida 2021 Leah Roddenberry.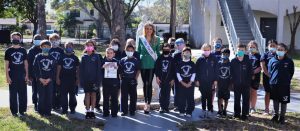 The youngest of five children to receive a Catholic school education from kindergarten through high school (St. Joseph and Cardinal Mooney Catholic High School in Sarasota), Roddenberry credits that experience with her ability to overcome many obstacles in her life while achieving success.
During a visit to her former school, Roddenberry met with two groups of students while getting a tour of the school grounds. She reflected not only that everything looked very familiar, but also that the visit brought back many wonderful memories.
Upon arrival at the school, Roddenberry was greeted by some of the staff, including Principal Deborah Suddarth who presented Miss Florida 2021 with images found in old yearbooks. Roddenberry was delighted to receive them and said she would cherish the gift forever.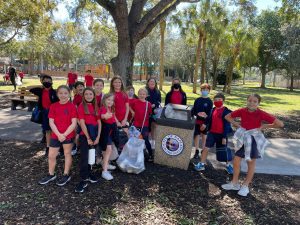 Then it was on to meet the third-grade class of Juli Ferguson. There Roddenberry shared her story explaining how she loved going to St. Joseph and later Cardinal Mooney as both schools helped shape her into the confident young woman she is today. She noted that she started participating in pageants through the years and eventually became Miss Florida 2021 last June.
"What I really love about being able to visit Catholic schools, in particular, is talking about the faith, and how that's really remained a constant value throughout my life," she said. "I know that I wouldn't be here as Miss Florida, and I wouldn't be doing the job that I'm doing, without my faith and having that instilled in me at a young age. So, I know that sometimes being in school here you can question why you have to go to church – it's different as some kids don't have that in school – but it is something that you are going to appreciate down the road and I hope you can see the value in it today."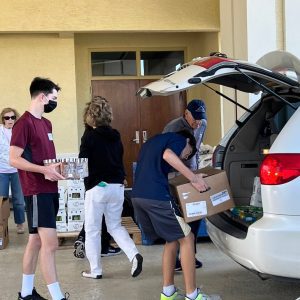 Roddenberry later had lunch with members of the St. Joseph Catholic School National Junior Honor Society, along with Father John Belmonte, SJ, Diocesan Superintendent of Catholic Education. The 22-year-old was Miss Tampa 2020, and an author of a children's book and founder of "Be a LeadHER: Igniting the Spark Within." She graduated from Cardinal Mooney in 2017. She represented Florida in the Miss America pageant in December 2021 where she finished in the top 10, her final pageant experience. The Miss Florida pageant is a scholarship program which Roddenberry said will help her finish her education nearly debt-free. She hopes to enter law school after her commitments as Miss Florida 2021 conclude.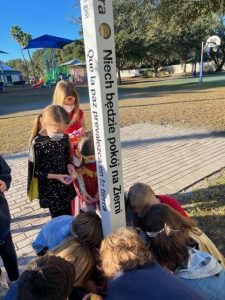 During the weekend leading up to Catholic Schools Week, many Parishes throughout the Diocese hosted guest student speakers who were able to share how their school fosters a growth in faith, values, virtues, self-confidence, and much more.
St. Martha Catholic School and St. Mary Academy in Sarasota kicked off their celebration of Catholic Schools Week Jan. 31 in celebration of our nation with a morning prayer service. They had guest speaker, John Carkeet, Marketing Coordinator with the Diocese of Venice Catholic Schools and Public Affairs Noncommissioned Officer with the 75th Innovation Command, U.S. Army Reserve. In uniform, Carkeet shared his vision on faith and service. The prayer service also included the installation of a new Peace Pole on the playground which was filled with messages of peace from each class. New Buddy Benches will be placed near the Peace Pole in the coming days.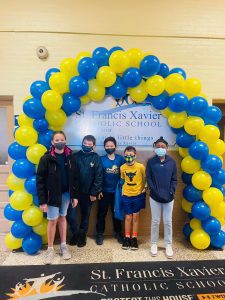 St. Ann Catholic School in Naples had a Community Service Day on Jan. 31, where students collected trash outside City Hall and spent some time with Mayor Teresa Heitmann, helped to clean Cambier Park, Naples beaches, as well as the School and Parish properties.
At nearby St. John Neumann Catholic High School, a group of students, and religious sisters, helped to load vehicles with food at the St. Elizabeth Seton Parish distribution on Feb. 1.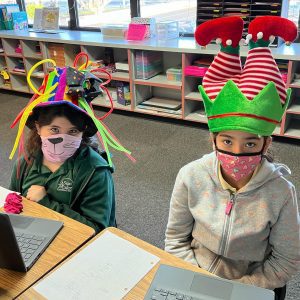 Things have been busy at St. Andrew Catholic School in Cape Coral where students opened the week participating in a Math Olympics. Students participated in the "bobsled" and dividing and comparing decimals to determine fastest times. Just so everyone understands that Catholic Schools Week isn't all serious – the second day was crazy hat day.
Meanwhile, at St. Joseph Catholic School in Bradenton, after their exciting guest visitor on Monday, the next day a group of students delivered potted plants to the homes of families that border the school. Some students made the delivery while others created colorful, "Thank You!!!" signs.
Check out more about Catholic Schools Week in the Diocese of Venice by visiting www.facebook.com/DOVCatholicSchool and return to read the Feb. 11 e-edition of The Florida Catholic.