Father Jan Antonik was installed as Pastor of St. Therese Parish in North Fort Myers by Bishop Frank J. Dewane on Jan. 30. 2022.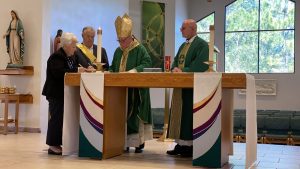 For Bishop Dewane, the installation as Pastor will solidify in the minds of the faithful that Father Antonik is there to serve the Parishioners; Father Antonik has served as Administrator of the Parish since February 2020. Outwardly, there will be no changes in the operation of the Parish but nevertheless the Bishop noted this was an important moment for all of the faithful at St. Therese.
Bishop Dewane reminded the people of St. Therese Parish to support their Pastor in his daily work in administering the Sacraments and orchestrating the spiritual direction of the Parish, while recognizing he will be called to make difficult decisions.
"I ask you to be understanding so as to accept that Christ has put Father here for a reason, and that he is here to serve you," the Bishop said. "When you disagree with a decision Father makes, find a way to do so as respectfully as you can. But also, when you do agree, stand up make it known. Father needs to hear that."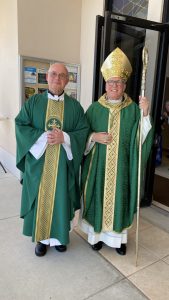 During the installation, the priest begins with selected words leading to the start of the Creed at which point he is joined by the faithful. At the end of the Creed, the new Pastor has extra lines which are exclusive for him. In addition, the Pastor takes an Oath of Fidelity to the Bishop and his successors, formalized by placing his hand upon the Book of Gospels.
The installation ceremony concluded with the signing of documents by the Bishop, the new Pastor, and two official witnesses of the Parish community who serve as witnesses for all of the parishioners.
Father Antonik thanked Bishop Dewane for having the honor of being installed as Pastor of St. Therese Parish. Father also thanked the faithful for their support since his arrival as Administrator and was emotional when recounting the story of calling his mother – who lives in Poland – shortly before the installation.
Following the Installation Mass, Father Antonik greeted well-wishers who offered their sincere congratulations while enjoying a celebratory cake.