White Mass and lecture held for medical professionals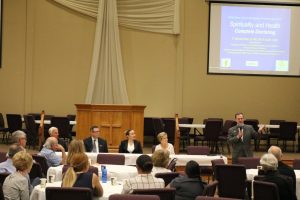 St. Agnes Parish held its annual White Mass for medical professionals in Naples, on Oct. 18, the Feast of St. Luke the Evangelist and patron of doctors. A lecture titled "Spirituality and Health: Complete Doctoring" presented by Dr. Michael Gloth followed in the Parish Hall.
Mobile Medical Clinic blessed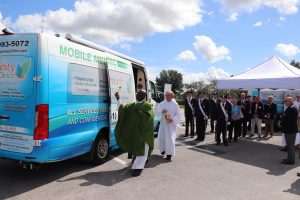 Father Augustine Twum Obour, Parochial Vicar of Our Lady of the Angels Parish in Lakewood Ranch, blesses the new Mobile Medical Clinic of Community Pregnancy Clinics on Oct. 20. The van, which offers free ultrasounds to pregnant moms, was made possible by a donation from the Knights of Columbus and will be used throughout the region.
Verot earns Apple Distinguished School Certification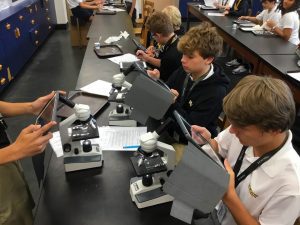 Bishop Verot Catholic High School has earned Apple Distinguished School Certification for 2019-2022. According to Apple: "Apple Distinguished School leaders, faculty, and the extended community have a clear vision for how their technology-rich environments support learning goals. School leaders have established elements for continuous innovation that include culture, team, capacity, community, finance, and measurement. Supporting their school's vision is an ongoing process that requires thoughtful planning, practice, and improvement along the way. They use iPad and Mac products to inspire student creativity, collaboration, and critical thinking. And they cultivate environments in which students are excited and curious about learning."
St. Mary Academy named Best Special Needs School in region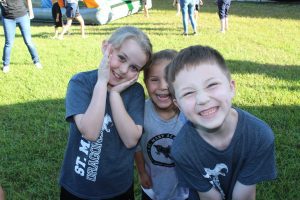 St. Mary Academy in Sarasota has been named by Family Living Magazine as the Best Special Needs School in Sarasota, Bradenton and Venice. The schools provide skilled teaching to students with learning disabilities. To mark this achievement, the school had a celebration that included outdoor games, food and fun.
Junior high students have fun in Wauchula
St. Michael Parish in Wauchula hosted an Oct. 5 festival for junior high students. The day includes lots of fun and games, but also include speakers who stressed the need to develop a personal relationship with Jesus Christ, time for prayer and the Mass.
Mooney featured on Tampa morning TV show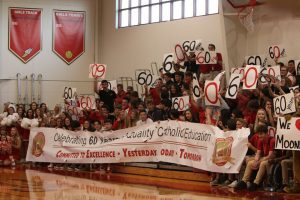 Cardinal Mooney Catholic High School in Sarasota hosted FOX-13 Tampa Bay on Oct. 17. The honor coincides with the ongoing celebration of Mooney's 60th Anniversary. The sports teams and cheerleaders led a pep rally, and the TV crew also showcased the newly renovated stadium and field.
Goldtones Tickets Now on Sale
San Antonio Parish Knights of Columbus announce that tickets are now on sale for Florida's famous Doo-wop group the Goldtones' concert. The concert will be 7 p.m.,  Jan. 31 in the Holy Trinity Hall, 24411 Rampart Blvd, Port Charlotte. General Admission tickets are $15. In addition to all the old familiar Doo-wop favorites, they will also be singing your favorite Motown hits. Last year sold out early, so get your tickets now at 800-838-3006, or online at: BrownPaperTickets.com