Susan Laielli – Special to the Florida Catholic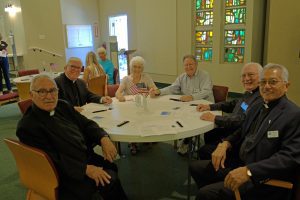 The Very Rev. Fausto Stampiglia, S.A.C., V.F., Pastor of St. Martha Catholic Church in Sarasota, was honored as a "Good and Faithful Servant" by the Sarasota Ministerial Association (SMA) at its 20th Anniversary Luncheon in Sarasota on May 26, 2021.
Bishop Frank J. Dewane attended the luncheon and gave a special blessing for Father Stampiglia, who was handed the "Good and Faithful Servant Award" by previous recipients.
Father Stampiglia, who celebrates 30 years as Pastor of St. Martha Parish this year, was joined by Deacon Pat Macaulay and Administrative Assistant Sarah Brinn, both of St. Martha Parish, Father Celestino Gutiérrez, Pastor of St. Jude Parish, Deacon Humberto Alvia of St. Jude Parish, and Rabbi Howard Simon, and his wife Rona of Sarasota.
Chaplain Tom Pfaff, President of the Ministerial Association says Father Fausto is a very deserving and dedicated priest who has been with the organization since the early days of its founding.
"He was reluctant to accept this year's award, but about a year after we started the Association, Father Stampiglia joined as a member," Pfaff said. "He builds pathways among faith-based organizations and the Sarasota community."
Father Stampiglia was born and raised in Rome, Italy and ordained there on Nov. 27, 1960, as a priest of the Society of the Catholic Apostolate, known as the Pallottines. Father has the distinction of being the first Pastor of St. Martha Church who belongs to a religious order.