The ongoing mission of Diocese of Venice Catholic schools is to introduce the world to Our Savior. To better accomplish this, the principals of the Diocese are gathering periodically to receive guidance and updates from the Department of Catholic Education on how best to accomplish this task.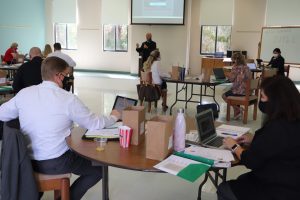 Father John Belmonte, SJ, Diocese Superintendent of Catholic Education led the gathering of principals on Oct. 29, 2020 at Our Lady of Perpetual Help Retreat Center in Venice. Father Belmonte plans to hold several of these gatherings in the coming months to ensure everyone is on the same page on what is expected of the schools and what is being planned to assist them reach their goals in the future.
During the day, Father expanded on his previous vision of developing and deepening the Catholic culture at each of the schools. Only a few months into his position, Father Belmonte wants each school to place a greater focus on introducing the students, families, teachers and entire community to our Savior. By building up the Catholic culture of a school, which begins with the principals, a new identity will develop which will show the outside that these are indeed Catholic schools.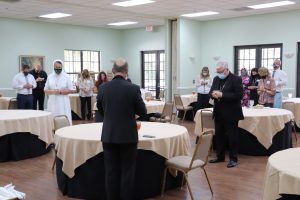 Bishop Frank J. Dewane had lunch with the principals and spoke to them about how proud he is for the hard work they put in to ensure each school opened safely in August while there were still many unknowns about the global pandemic.
The Bishop also thanked them for their patience and dedication in overcoming these challenges and their ability to orchestrate the reopening with results that have been remarkable.
"I think you have done a great job, and I know it has been a tough year as demands are greater than ever," Bishop Dewane added. "The results speak for themselves. We have had a few bumps in the road, but a large number of students who started the year learning virtually have returned. That speaks to the confidence the parents have in what you and your staff are doing. Thank you again, and keep up the good work."
The meeting also covered the reintroduction and reemphasis on curriculum standards and the roll out of a new classroom observation software.
In addition, Jennifer Falestiny, Diocesan Curriculum Specialist, shared updates on the ongoing efforts to increase the use of STREAM (Science, Technology, Religion, Engineering, Arts and Mathematics) programs in the classrooms at all grade levels. Falestiny also shared information about an upcoming program focusing on robot technology. More information on this effort will release soon.