Pro-Life movement continues post-Roe
By Jeanne Berdeaux, Special to the Florida Catholic
Every year each Diocese in Florida presents a "Volunteer of the Year" award at the statewide Culture of Life Conference.  At this year's event (Oct. 15, 2022), hosted by the Diocese of St. Petersburg at its Bethany Retreat Center, Rich Owens was announced as the Diocese of Venice award recipient.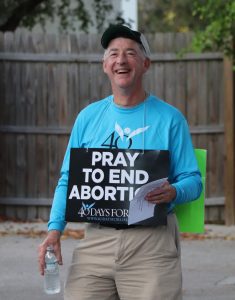 A winter resident from New Jersey and seasonal member of St. Patrick Parish in Sarasota, Owens participated several times in the 40 Days for Life fall campaign in Sarasota. The Diocesan Respect Life Office has been coordinating the campaign since the first national fall campaign in 2007.
In the fall of 2018, Owens asked why there wasn't a spring campaign in Sarasota.  It was explained that the office had been coordinating spring campaigns in Naples and could only handle one at a time. Besides workload issues, this was the policy of the national 40 Days for Life team. He then offered to lead a spring campaign in Sarasota in 2019. His request was enthusiastically accepted, and information was shared to help him launch this new endeavor. Owens poured lots of hours and effort into making the spring campaign a huge success and then asked if he could take over the management of the fall campaign. Of course, the response was a resounding "YES!"
Owens shared his personal story on a 40 Days for Life national video interview that his son was born prematurely at 28 weeks at 2.7 lb., soon dropping to only 1.13 lbs. He will never forget holding that tiny baby whose head fit in his hand and is now taller than his dad, a testimony to the right to life of even the smallest baby.
With each campaign, Owens worked harder to fill all 480 hours, 12 hours a day for 40 days, with at least two individuals praying on the sidewalk per hour. The spring 2022 campaign saw all but one hour filled.  The good news of the overturning of Roe v Wade created an unexpected problem and caused many people to think that it wasn't necessary to go out to the sidewalk in front of Planned Parenthood to pray anymore, but that could not be farther from the truth!

The Supreme Court's Dobbs decision in June 2022 did not end abortion; it only sent the decision back to the individual states to be decided by the legislatures. The new 15-week abortion ban passed by the Florida legislature and signed into law by Governor Ron DeSantis did not end abortion in Florida.  There were almost 5,000 second-trimester abortions in 2021 out of the total near 80,000 abortions in Florida in the last year.
This new 15-week abortion ban, although laudable, will only cut 6% of the abortions annually based on these figures. It will not affect the other 75,000 abortions. Because abortion is still legal in the first trimester when most abortions happen, Florida has the potential of becoming a "destination abortion state," drawing women seeking abortions from other states where it is now illegal. The need to be on the sidewalk praying and witnessing to life is greater now than ever!
Some people were afraid to go back to the sidewalk after hearing about violence and vandalism in some parts of the country following the overturning of Roe v Wade. Fortunately, the fall 40 Days for Life campaign was as peaceful as it has ever been over the past 15 years.
As Owens said on the video, "We're the last line of defense for these women going in; we're saying, 'We will fight for you!'"
And so, Owens continues to lead what is known as "40 Days for Life 365" in Sarasota, with the aim of having a peaceful, prayerful presence outside of Planned Parenthood during all of the hours they are open throughout the week. He's already thinking of new ideas for his eighth campaign during Lent in the spring of 2023. Will you join him?
To learn more about the efforts of the Diocese protecting life from conception to natural death, please visit www.dioceseofvenice.org/respectlife.
Jeanne Berdeaux is the Diocese of Venice Respect Life Director and can be reached at 941-484-9543 or berdeaux@dioceseofvenice.org.