Grandparents, a vital link to the past – most importantly regarding Faith – were welcomed to St. John Neumann Catholic High School in Naples for a special celebration.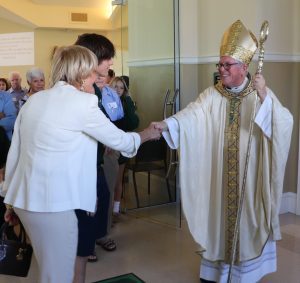 On Nov. 4, 2022, the celebration opened with a Mass celebrated by Bishop Frank J. Dewane as students sat with their grandparents in Our Lady of the Angels School Chapel. Afterwards, everyone went to the Student Life Center for a luncheon.
During the Mass, Bishop Dewane praised the Grandparents Day event saying it reflects the sense of family the school projects, honoring a vital part of that community.
"In the role of mentors of the family, of tradition of faith, of patience, of love, it's you grandparents who are in a unique position to have a positive influence," Bishop Dewane said. "You carry the traditions of your families, the Church and the society we live in. I ask that you take that role seriously. Students, you owe a great deal to your grandparents. Recognize that, and express gratitude often."
Bishop Dewane cited Pope Francis who often speaks about grandparents. The Holy Father established the World Day for Grandparents and the Elderly in 2021, which is celebrated in late July each year.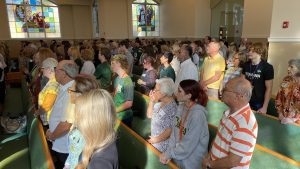 "The Holy Father calls you to teach family roots, where it is they come from," Bishop Dewane said. "Have boldness, take action in the role of holiness. Give that example by being the light of Christ, as we are all called to be. By your granddaughter or grandson being here at St. John Neuman, I say to all of you – congratulations for the role you have performed."
Following the Mass, several grandparents, and their grandchildren, thanked the Bishop for his presence and for acknowledging the roles both have to play in building up the faith of each other.
One grandparent, Charlotte Noelke, travelled from Minnesota to attend the event with her granddaughter, Sophie Boos. "As soon as I received the invitation, we made the plans. I am so happy she is at a Catholic high school. It is a great education and a wonderful opportunity for her to grow in her faith."
The luncheon concluded with a slideshow of the students with their grandparents and a request that the families take selfies to share for next year's slideshow.