The Diocese of Venice recognizes the importance of forming married couples to live out their vocation in holiness and joy! As St. John Paul II famously said, "As goes the family, so goes the nation, and so goes the entire world in which we live." It is of crucial importance that families in the Church are empowered to understand and live out their vocation.

To promote greater formation for couples, the Diocese of Venice Office of Family Life and the St. John Paul II Foundation (Houston, Texas) are working together to bring the first "Together in Holiness" Marriage Enrichment Conference to the Diocese on Saturday, Oct. 2, 2021.
The Conference will take place from 10 a.m. to 5 p.m. and will be hosted at two locations: St. Agnes Parish, 7775 Vanderbilt Beach Road, Naples and St. Thomas More Parish, 2506 Gulf Gate Drive, Sarasota. This one-day Conference includes dynamic presentations, vigil Mass, Eucharistic Adoration, Reconciliation, and on-site childcare.
This year's theme is "Family, A School of Virtue" and the main speakers are Kevin and Lisa Cotter, who will speak at both locations.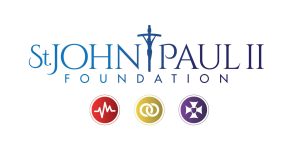 "Together in Holiness" is unique in that it offers a place of encounter, where God's plan for marriage and family is proclaimed and a desire for holiness is enkindled in the hearts of married couples. This is complemented by ongoing formation for spouses within a natural community of friends who accompany each other on the path to holiness by providing formation that will help learning take root in daily living.
Diocese Family Life Coordinator Carrie Harkey said the fall Conference is expected to be the first in a series of Diocesan conferences presented by the St. John Paul II Foundation and is open to all couples who desire to grow in holiness and strengthen their marriage and family life.
Bishop Frank J. Dewane has thrown his full support into this effort of promoting the vocation of marriage.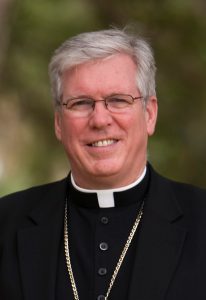 "All couples in the Diocese of Venice are encouraged to join us this fall as the Conference explores how your family can become its own 'school of virtue' through this marriage initiative," Bishop Dewane said. "My hope is that each of you may be inspired to live out the beautiful vocation of marriage more fully and embrace the call to be missionary disciples. How blessed the Diocese is to offer this Conference."
The following are just a few of the comments from past attendees across the country:
"[The] Together in Holiness Conference was wonderful. We don't often have a lot of opportunities to sit together in a quiet room, so we really appreciated having a whole day set aside to be together. It's important to invest time in a marriage so you can stay on the same page with your spouse. This Conferences is an investment that can continue to yield fruit for years to come!"
"We loved the good, practical information that we feel like we can apply right away."
For those interested in attending the "Together in Holiness" Marriage Enrichment conference, the full schedule, list of speakers, and descriptions of the presentations are available at togetherinholiness.org. You can also contact the Conference Coordinators at TH@forlifeandfamily.org or 832-779-1070 for more information.
If you have any other question, please contact Diocese Family Life Coordinator Carrie Harkey at 941-484-9543 or harkey@dioceseofvenice.org.