Bob Reddy – Florida Catholic
The final group of Diocesan Catholic High School graduates for 2018 received their diplomas and ceremoniously commenced the next chapter in their lives.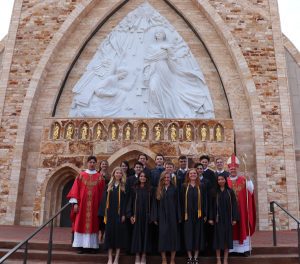 The graduates of the Rhodora J. Donahue Academy in Ave Maria first took part in a Baccalaureate Mass celebrated by Bishop Frank J. Dewane and other priests in the Ave Maria Parish Church.
During the Mass, Bishop Dewane noted that each had been given a gift of a Catholic Education that has fundamentally formed who they are as men and women of God. With a support system of parents, faculty and staff of the Academy, the Parish and the Diocese, the graduates are part of something much greater than themselves and as a result will never be alone in the world.
The graduation ceremony immediately followed the Baccalaureate Mass. Each of the 15 graduates will be going on to college. The group combined to earn $4.05 million in scholarship offers.
Valedictory Address was given by Clare Marie Williams who spoke about the blessings she received by being able to go to a Catholic School. The opportunity provided her with the chance to grow in her faith and gives her great comfort in the knowledge that she is supported by her family, friends, and the Lord. in all that she does.
The diplomas were presented by Academy Principal Dr. Dan Guernsey; Father Cory Mayer, Ave Maria Parish Pastor; and Dr. Kristy Swol, Diocese of Venice Director of Edcuation.