By Bob Reddy – Florida Catholic
The 2018 Mary Fran Carroll Scholarships were recently announced by the Catholic Community Foundation of Southwest Florida Inc. This is the second year for the scholarship which was made possible through the Catholic legacy of Mary Fran Carroll and her generous gift to the Foundation.
As a result, seven traditional academic scholarships were awarded to recent high school graduates exclusively from Sarasota County. They are: from Venice High School, Bailey Jordan, Casey Lavalle, Emma Szablowski, and Sarah Zoetman; from Sarasota High School, Matthew Kowalczyk; from Cardinal Mooney Catholic High School, Keri McMahon; and from North Port High School, Samantha Novak. In addition three non-traditional academic scholarships were awarded to adult learners who are returning to school to obtain a degree. They are: Alijah Madkour of Incarnation Parish, Sarasota; Shannon Butler, San Pedro Parish, North Port; and Kristine (Kelli) Ottman, Epiphany Cathedral, Venice.
Matthew Kowalczyk, enrolled at the University of South Florida where he wants to become a physician's assistant, said in his application that "helping people has been number one for me always. I was taught that in some circumstances it is more important to help others first and then yourself. This scholarship will help me focus on becoming a better student (with more studying time) as well as give me more time to do what I love which is giving back to the community."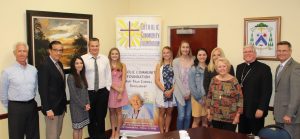 Emma Szablowski plans on majoring in Criminology at Florida State University and chose this particular career path due to her many moves during the last 18 years. Primarily living in the deep south "I have observed numerous situations where individuals were not treated fairly, primarily due to race. I want to make a difference once and for all for such civil rights issues. Also, I believe that a lack of religious life has led the demise of human compassion."
Kristine "Kelli" Ottman, who was the catechist for the Holy Communion class at Epiphany Cathedral for 17 years, would now like to become a teacher. "My plan to achieve my career goal is to make a difference in the lives of children. I know that creating a strong foundation and a love for learning will offer the best opportunity to children. I have a passion for faith-based teaching. I am confident it builds the foundation for a child's educational future as well as their character."
The traditional scholarships were open to Sarasota County graduating seniors and recent high school graduates from private or public high schools who wish to pursue an undergraduate degree at any accredited college or university. In addition, the non-traditional scholarships were open to adult learners who were returning to school to obtain a college degree or vocational certification after being out of high school for several years.
The scholarships are named for a successful businesswoman who dedicated her life to her faith, to fun and to charity. Mary Fran Carroll retired as an executive with Northern Trust Co. in the late 1980s, before serving as CEO of Schroeder-Manatee Ranch for more than a decade. In that role, Carroll was responsible for much of the development of Lakewood Ranch, including the Sarasota Polo Club and the Lakewood Ranch Corporate Business Park.
Carroll gave a gift of $3.6 million to establish the scholarship fund to help others achieve career success through her legacy, explained Catholic Community Foundation Executive Director Michael Morse. Carroll was committed to providing opportunities to those individuals willing to work hard to make a difference in the community. This is the second year the $3,000 scholarships were awarded.
Scholarship applicants were asked to complete an online application and financial needs assessment in addition to submitting a clearly articulated career plan describing their chosen course of study. Traditional students needed to be accepted into an accredited college or university and non-traditional students needed to be accepted into an accredited college, university or vocational program.
The Foundation Scholarship Committee carefully reviewed applications before determining the worthiest applicants. The scholarship can be used for tuition, books and fees. Scholarships may also be renewed annually up to a total of five academic years for students maintaining a minimum unweighted GPA of 3.2 or greater, while also making progress toward their career goal. Scholarship recipients are strongly encouraged to complete an ethics course at some point in their college career.