Each graduating class points to one moment or event during their senior year that will serve to inexorably unite the group for years to come.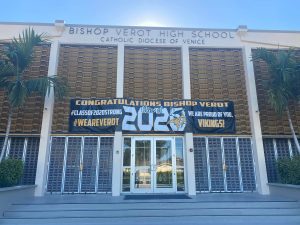 For the Class of 2020, the COVID-19 Pandemic is obviously that event/moment. The impact not only caused schools to close and introduce new meaning to phrases like distance learning and quarantine, but it altered each graduating seniors' perspective of themselves and the world in which they live.
The four Diocese of Venice Catholic high schools accommodated their students with Zoom classes and altered graduations plans.
The Donahue Catholic Academy of Ave Maria held their graduation June 5, 2020, a week late. The graduation took place in the Parish Church, following the Baccalaureate Mass celebrated by Bishop Frank J. Dewane. Each of the graduates sat with their immediate family only and were separated by at least one pew.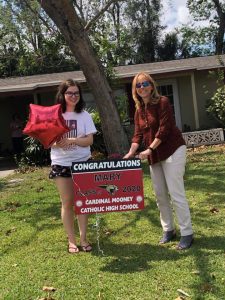 Arrangements are being made to ensure local health and safety guidelines are followed for the in-person graduations at the other three Catholic high schools. For example, the Bishop Verot Catholic High School in Fort Myers (Mass, July 17 and graduation, July 18), the graduation may be switched to the school's stadium. St. John Neumann Catholic High School in Naples (Mass and graduation July 23), will hold both events in the church with limited access. Cardinal Mooney Catholic High School in Sarasota (Mass, July 30 and graduation July 31) is holding its graduation at LECOM Park, the Bradenton spring training home of the Pittsburgh Pirates.
Because of social distancing requirements, each graduation will limit the number of guests, meaning some family members will not be able to attend. To help lessen the impact, each of the graduations will be streamed live on social media.
The graduates have expressed a feeling of loss or emptiness by missing key moments of the last semester. Whether it was the prom, class trips, awards ceremonies, even the last days and chances to say farewell in person. Delayed and social distancing graduations add to the unusual nature of the final months of their high school lives.
Inevitably, not all students will be present for graduation. In fact, one student watched her graduation from afar for the Donahue Academy ceremony.
Anne Klemeyer of Cardinal Mooney is not sure she will be able to watch her own graduation as she has reported to the U.S. Naval Academy in Annapolis, Maryland. She is heartbroken to have missed out on many of the senior year traditions. Klemeyer really enjoyed going to school each day and said it was hard having a last day of school and not even knowing it would be the last.
The last few months of school for Spencer Ebenger of Bishop Verot were described as the most trying time in his young life. "We all worked so hard. we had goals, and it was hard to stay motivated. It really made me appreciate being at school, my friends and the teachers. But it was also a time when I saw the world experiencing the same thing. Everyone came together for the betterment of others. It showed that there is a lot of good in the world."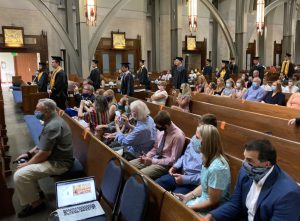 Distance learning taught the Class of 2020 what life will be like after high school, explained Abbey Lawe of Donahue. "The pandemic caused me to realize just how much of my character, personality and identity was formed by my Catholic school. It has given me a deeper gratitude and sentiment for all that Donahue has given me."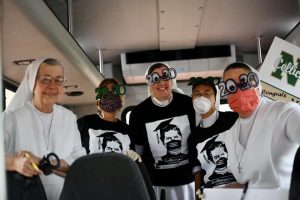 The most mundane and ordinary things, such as going to school, a restaurant, or simply hanging out with friends is something St. Neumann's Ryan O'Connor will never take for granted again. "Things that seem so simple can easily be stopped, or come to an end, and because of that we should cherish every moment… I will definitely have this new mindset during the next chapter in my life."
The Diocese of Venice Catholic High School Class of 2020 learned many lessons from the changing world, including adapting and preparing to face whatever challenges that come their way armed with a faith-based education centered in Gospel values.