Sister Catherine Buster, Sister of Providence of Saint Mary-of-the-Woods, passed away on Sunday, June 26, 2022, in Indiana. She was 85 and had been a religious sister for 66 years. Within the Diocese of Venice, Sister Catherine, who was better known as Sister Cathy, worked for a combined 21 years, first in the Real Estate Department before devoting her talents to serving in Catholic Charities, Diocese of Venice, Inc.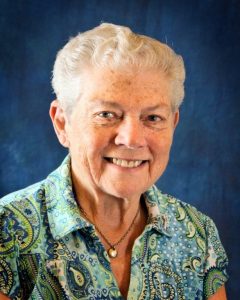 Sister Cathy was born Nov. 3, 1936, in Chicago, one of seven children, and educated at Marywood High School in Evanston, Ill., and St. Mary-of-the-Woods College, St. Mary's, Indiana. Sister Cathy, formerly Sister Joseph Norine, entered the Sisters of Providence Congregation on Feb. 2, 1956, and professed final vows on Aug. 15, 1963. Sister Cathy served in various capacities in her religious order in Missouri, Illinois and Michigan, before coming to the Diocese of Venice in 1999.
For the Diocese, Sister Cathy was director of Real Estate and administrative assistant to the Building Commission. Beginning in 2005, Sister Cathy worked with Catholic Charities Diocese of Venice Housing as a consultant on various housing projects assisting elderly, low-income families, and farmworkers following Hurricane Charley. Sister was a catalyst in helping to establish the Casa San Juan Bosco Farmworker Housing of Catholic Charities in Arcadia. That project now encompasses 97 single-family homes and an adjacent 64-unit St. John Paul II Villas for low-income seniors.
Funeral services for Sister Catherine will take place on Saturday, July 9, 2022, in the Church of the Immaculate Conception at Saint Mary-of-the-Woods. A Wake will take place at 10 a.m., followed by Mass of Christian Burial at 11 a.m.