Father Joseph F. Connolly, Third Order Regular Franciscan (TOR), Pastor of Our Lady Queen of Martyrs Parish in Sarasota, died Jan. 16, 2021, at the age of 79.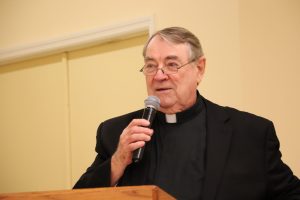 Bishop Frank J. Dewane said the death of Father Connolly was a loss for the Diocese and in particular Our Lady Queen of Martyrs Parish, where he served as Pastor for 24 years.
"Father Connolly was a priest who had a passion for his ministry," Bishop Dewane said. "Please pray for the repose of the soul of Father Connolly, for the people of Our Lady Queen of Martyrs who found inspiration by his good work, and for his family for whom this loss is particularly personal."
Born on Aug. 9, 1941, in Springfield, Mass., Father Joe, as most called him, entered the Third Order Regular community in September 1959. He professed first vows on July 1, 1962. Educated at St. Francis College (now university) and St. Francis Seminary in Loretto, Pa., Father Connolly was ordained May 18, 1968 in Loretto.
After ordination he was assigned to a teaching position in Fairless Hills, Pa., where he eventually became principal. While teacher and principal he served on weekends in parishes in the Diocese of Trenton, N.J., including in Willingboro, and for the Archdiocese of Philadelphia at a parish in Fairless Hills. From there, Father Connolly served at a parish in Cinnaminson, N.J.
It was in 1994 when Father Connolly was assigned to the Diocese of Venice where he was Parochial Vicar at St. Joseph Parish in Bradenton from 1994-1996. Father was then appointed as Pastor of Our Lady Queen of Martyrs Parish in Sarasota in late 1996 where he served until his death.
While at Our Lady Queen of Martyrs, Father Connolly was instrumental in forming the Mission of what became Our Lady of the Angels Parish in Lakewood Ranch and was on the Fundraising Board for Bethesda House of Catholic Charities in Sarasota. A special Padre Pio Shrine was dedicated on parish property February 23, 2006, at the direction of Father Connolly and funded by the Saint Padre Pio Society. This Shrine has since become nationally recognized.
For the Diocese of Venice, Father served on the Presbyteral Council, the College of Consultors, and was the longtime Spiritual Advisor of the Venice Diocesan Council of Catholic Women.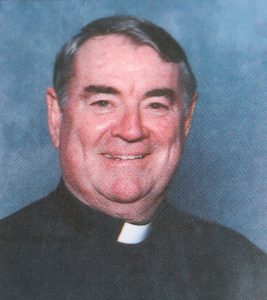 Known for making fettucine alfredo for guests, something he said was the only dish his fellow seminarians liked while he was in formation. In a 2004 interview with the Florida Catholic, Father Connolly was asked what person, other than Christ, he admires most. His reply was, "St. Francis of Assisi, although I don't measure up to him, either."
He was honored as a Golden Jubilarian at the 2018 Chrism Mass and on that occasion, Father noted with time he had gained a renewed perspective on his sacramental ministry. Reflecting on his own years as priest, Father said that "after 50 years of faithful service we jubilarians come to realize just how much God loves us; how Jesus works through us; and how the Holy Spirit still inspires us."
In his final months of ministry, Father Connolly had a serious illness and was unable to celebrate Mass publicly out of health concerns and he regularly posted video messages to the faithful about his progress in recovery and how his prayers were always focused on the faithful and their spiritual wellbeing.
The Funeral arrangements for Father Connolly T.O. R., are as follows:
Viewing – 4-7 p.m., Thursday, Jan. 21, 2021, at Our Lady Queen of Martyrs Parish, 833 Magellan Drive, Sarasota;
Mass of Christian Burial – 11 a.m., Friday, Jan. 22, 2021, at the Parish.