Students learn about St. Joseph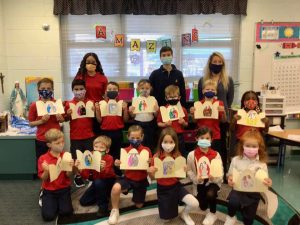 During this "Year of St. Joseph," St. Ann Catholic School 8th grade Junior Catechists Mariana Franco and Jack McGovern taught 1st grade students to create a shrine for St. Joseph during the week dedicated to the Saint. This is part of the ongoing St. Joseph Devotional Project taking place at all Diocesan elementary schools. The "Year of St. Joseph" was established by Bishop Frank J. Dewane in response to the COVID-19 Pandemic on March 19, 2020 and will continue through Dec. 8, 2021 as directed by Pope Francis. St. Joseph is the Protector of the Universal Church.
Marriage Prep Retreats for 2021
The Diocese Office of Family Life is offering a "Day of Reflection" retreats for couples preparing for the Sacrament of Marriage. A specially prepared volunteer team of married couples and a priest will share their experiences and information with the intention of enabling couples to be more aware of the privileges and responsibilities of marriage. The retreats in English are from 9:30 a.m.-5 p.m., April 17, Aug. 7 and Nov. 13, 2021. Retreats in Spanish are at the same time and will be March 6, Aug. 7 and Oct. 30. To register for the English retreats, please visit https://dioceseofvenice.regfox.com/marriage-preparation-retreat-2021 and to register for the Spanish retreat, please contact St. Jude Parish in Sarasota at 941-955-3934. For more information or to inquire about a virtual option contact Carrie Harkey at 941-484-9543 ext. 3019.
St. Joseph student takes second place in state soccer competition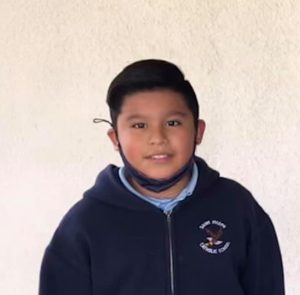 Emmanuel, a student at St. Joseph Catholic School in Bradenton took second place in the state for his age division in the Knights of Columbus State Soccer Challenge held on Jan. 16, 2021, in Melbourne. Emmanuel, and classmate Connor, won at local, regional and district levels of the Knights Soccer Challenge qualifying for the state events. Well done!
Institute provides Lenten offering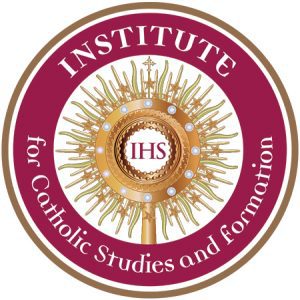 Spend this Lent growing in prayer! "Encountering God in Prayer: A Lenten Journey" is a theological and practical online course offered by the Institute for Catholic Studies and Formation. The course will guide you through the rich and beautiful teaching on personal prayer found in part four of the Catechism of the Catholic Church. Short video lectures, online discussions, prayer exercises and other learning activities which constitute the class content. Students log in each week at times most convenient to them. The instructor, Dr. John Gresham, Executive Director of the Institute, has extensive experience teaching on prayer in courses, workshops, and retreats. The course runs from Ash Wednesday Feb. 17, 2021 to April 5. For more information visit the Institute website www.institute-dov.org, call 941-766-7334 or email john.gresham@institute-dov.org.
Updated times for Sunday Mass on radio in Spanish
St. Jude Parish in Sarasota broadcasts the Holy Mass in Spanish, celebrated by Father Celestino Gutierrez, every Sunday at 8 a.m. on radio station FM 99.1 and 10 a.m. on FM 105.3. We are grateful to the sponsors and SOLMART Media for their collaboration in this effort.
"Child's Play" virtual fundraiser Feb. 25
Our Mother's House, a program of Catholic Charities which provides housing and support for homeless mothers and their infant children, is having a virtual fundraiser titled "Child's Play." This night of interactive fun begins at 7 p.m., Feb. 25, 2021 with funds raised used to ensure that the mothers and their children receive the suport they need as they strive for self-sufficiency. For information about the event, contact Lisa Ventura at Lisa.Ventura@CatholicCharitiesDov.Org or 941-485-6264. A generous donor has offered to match all donations up to a total of $125,000. Please participate and help make a difference.
Projector installed in school Chapel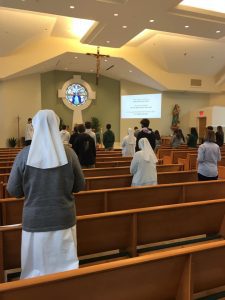 The Our Lady of the Angels Chapel at St. John Neumann Catholic High School in Naples has a new addition of a projector courtesy of the Salesian Sisters Education Fund. Installed on Jan. 11, 2021, the projector allows the text and music for the Mass to be seen by all, removing the need to print worship aids for each Mass or prayer service.
Surviving divorce program beginning in February
A 12-week program called "Surviving Divorce … Hope and Healing for the Catholic Family" will begin Feb. 16, 2021 at Our Lady of Lourdes Parish in Venice. There will be monthly group gatherings and weekly on-line Zoom meetings. Content includes internet access to a weekly video, group sharing and discussion. Participants will be provided assurance that they are not alone and a place to tell one's story and be heard. The cost of the program is $25 and includes a Participant's Workbook and access to all videos. For more information and to register, contact Bob and Chris Smialek at bobandchrissmialek@icloud.com or 815-275-5305
Naples Catholic School Virtual Gala Feb. 3
The Saint Ann School Foundation is hosting its annual Heart for Education Gala, which will be a virtual event on Feb. 3, 2021. The Foundation is dedicated to ensuring a faith-based education remains accessible to all families desiring it for their children, regardless of income. Many of our families have experienced great hardship due to the COVID-19 pandemic. The need is greater now as more families have asked for additional scholarship funds. To register to receive a link to the Virtual Gala, please visit www.stann.net/gala or contact Pamela Macia at 239-262-4110 ext. 307 or foundation@stann.net or pamelamacia@gmail.com.
Cathedral School Gala April 16
The Epiphany Gala is one of our most successful fundraisers for Epiphany Cathedral Catholic School and will take place April 16, 2021 at Plantation Golf and Country Club in Venice. The Gala theme is the Amalfi Coast and features both live and silent auctions as well as a dinner and dancing. This year's Shining Stars are Troy and Joyce Sacco. For more detail, please contact Leah Mihm at 941-615-0284 or mihm@ecstigers.com. Note, this event may become a Virtual Gala if conditions require.