Mooney Girls in State Final March 5
UPDATED March 5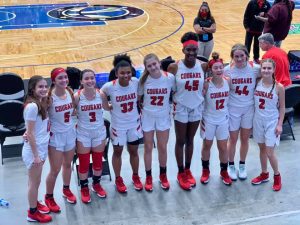 The Cardinal Mooney Lady Cougars fell to Miami Country Day 59-34 in the March 5, 2021 State Class 3A Final at RP Funding Center in Lakeland. The final was delayed one week against a team ranked No. 20 in the U.S. It was the first time the Lady Cougars ever reached the Title Game. (Check Back next week for a look back on the remarkable season.)
The Cardinal Mooney Catholic High School Girls Basketball Team has waited a long time to reach their first-ever State Championship game. So, an unexpected one-week delay in the game is of little consequence.
The Sarasota team won the Class 3A Semifinal over The Master's Academy of Oviedo (47-32) on Feb. 24, 2021 at the RP Funding Center in Lakeland. Their next game was postponed from Feb. 26 to 10 a.m., March 5.
The Lady Cougars will be competing in the State Final against Miami Country Day, one of the top ranked girls' basketball programs in the nation which took six straight state titles between 2014-2019 and reached the semifinal game in 2020.
On the other hand, this was the Cougars second trip to the State Final Four, and first since 1997. They are 20-8 this season and are now preparing for their first trip to the State Championship Game. During the semifinal, the Lady Cougars were led by sophomore forward Jordyn Byrd, who had 15 points and 12 rebounds, while sophomore Olivia Davis had 14 points and junior Madison Smithers had 10 points.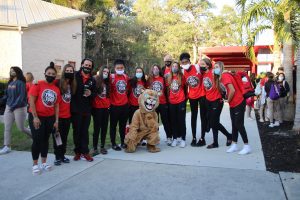 Ahead of the Semifinal Game, the entire student body of Cardinal Mooney cheered on the team with an outdoor Pep Rally on Feb. 24, a scene which will be repeated before their return to Lakeland ahead of the game on March 5.
Please visit the Cardinal Mooney Catholic High School Facebook page for the latest updates on the team's quest for its first State Championship.