Something BIG is coming to DOV Catholic Education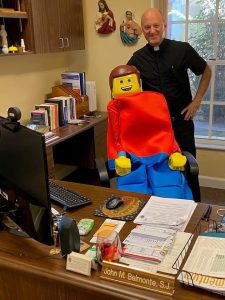 The Diocese of Venice Catholic Education Department will be making a big announcement regarding the future of Catholic Schools within the Diocese and an exciting new partnership which will propel all students into the forefront of STREAM (science, technology, religion, engineering, arts, math) focused education. An event featuring Bishop Frank J. Dewane and Father John Belmonte, SJ, Diocesan Superintendent of Catholic Education, will be livestreamed from the St. Martha Catholic School Zazarino Center at 10 a.m., March 10, 2021 via the Diocese of Venice Facebook page.
Students helped victims of Texas disaster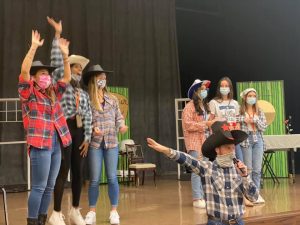 Helping Texas Recover! The proceeds from the Feb. 27, 2021 St. John Neuman Catholic School Cowgirl & Cowboy themed dress down day are going to the Austin Area Urban League to aid relief efforts. Along with fellow community-based organizations, the League plans to help provide shelter, food, clothing, and more to those impacted by the cold. Our Celtics even held a fashion show at lunch to show off their best western attire and compete for some gift cards!
Free Tele Mental Health Counseling Services available
Catholic Charities, Diocese of Venice Inc. is offering Mental Health Counseling for adults and children provided by licensed mental health therapists. If you or someone in your family are feeling stressed, anxious, overwhelmed, depressed or helpless, we can help. For more information, please contact the number for your area Sarasota/Manatee/DeSoto/Hardee/Highlands counties: 844-385-2407; Charlotte/Lee/Hendry/Glades counties: 844-385-2423; Collier County: 844-385-2404.
Knights Fish Fry in Sarasota
The Knights of Columbus, Our Lady of Victory Council #3358 at 4880 Fruitville Road, Sarasota, is hosting Lenten Fish Fry Fridays from 4:30 p.m.-7 p.m. to March 26. The meal includes your choice of hand battered fish (fried or baked) or fried shrimp with a roll, coleslaw and a choice of french fries, rice or macaroni and cheese. The cost is $12 for adults, $8 children and under age 4 are free.  There is a $2 charge for seconds on fish.  Desserts and soft drinks are also available for $1 each. The Columbus Hall also has a full cash bar with soda, beer, wine and liquor.  There is a weekly 50/50 Raffle. Take out and curb service are available as well as limited seating in the Hall.  Social distancing and masks are required. All are welcome!
Easter Triduum Retreat and Monthly Days of Prayer
The Our Lady of Perpetual Help Retreat and Spirituality Center in Venice continues to offer single days of prayer and overnight retreats in a safe, tranquil setting along the Myakka River.  A Monthly Day of Prayer is offered on both the second Sunday and the second Wednesday of each month (March 10 and 14). The Easter Triduum retreat begins with supper on Holy Thursday (April 1) and ends with breakfast on Easter Sunday (April 4).  The liturgies of the Lord's Supper, Way of the Cross, Commemoration of the Lord's Passion, Easter Vigil, and Sunrise Easter Liturgy are celebrated. Confessions are available. For more info or to register, call Denise Riley at 941-486 0233, ext. 3004, or visit www.olph-retreat.org and click on "Schedule of Events."
Student learn to be athletics trainers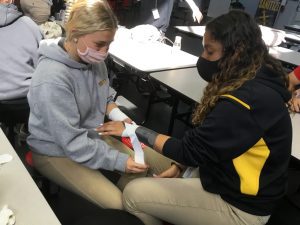 The Bishop Verot Catholic High School HOSA-Future Health Professions Club in Fort Myers hosted their first taping workshop Feb. 23, 2021 where students were able to learn about sports medicine. The athletic trainer taught the students a technique for taping the hand/wrist.
Faith and Wine Lee County March 18
The next gathering of Faith and Wine Lee County will be a virtual Zoom event beginning at 7 p.m., March 18, 2021. The speaker is Cy Kellett, the host of Catholic Answers Live, who will present "Whatever Happened to the Modern World?" Advanced registration is required at https://faithandwineleecounty.com.