Two to be ordained Transitional Deacon April 2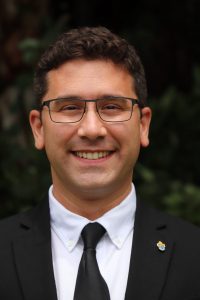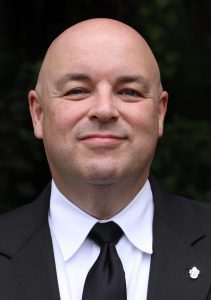 Diocese of Venice Seminarians Michael Young and Alan Baldarelli Jr. will be ordained to the Transitional Diaconate, along with nine others, at 11 a.m. April 2, 2022, at St. Joan of Arc Parish in Boynton Beach. Young is studying at Pope St. John XXIII National Seminary in Weston, Massachusetts, while Baldarelli is studying at St. Vincent de Paul Regional Seminary in Boynton Beach. Presiding over the ordination is Bishop David Toups of the Diocese of Beaumont. The liturgy will be livestreamed at www.svdp.edu/live. As newly ordained Transitional Deacons, these men will be assigned to Parishes where they will exercise their ministry in preparation to become priests. Among many duties, they will preach, perform baptisms, witness marriages, as well as preside over wakes and funerals. Please join in praying for Michael and Alan as they take this important step in their vocational journey.
40th Anniversary celebration a success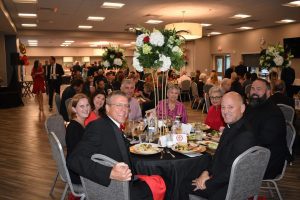 St. Elizabeth Seton Catholic School's 40th Anniversary Celebration Gala & Auction was a great success in Naples on March 26, 2022. Parents, priests, parishioners, and other supporters attended the event at the Spirit Center of St. Peter the Apostle Parish. It was a fun night of fellowship, dinner, music and dancing with silent and live auctions, and a Call to the Heart to fund a second Kindergarten classroom in the fall. Demand for enrollment at Seton is at an all-time high creating a great need for additional classroom and administrative space. The event raised approximately $200,000 benefiting the school's ongoing Campus Expansion Program to meet the needs of the many families desiring quality Catholic education for their children. For more information about the school's expansion plans, visit www.Saintelizabethseton.com/Giving.
Genocide survivor shares story of loss and forgiveness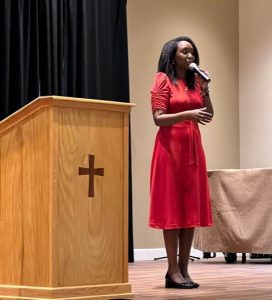 Immaculée Ilibagiza, a Rwandan genocide survivor and author, was the guest speaker at the annual Faith & Ale – Faith & Wine Joint Event in Lee County at St. John XXIII Parish in Fort Myers on March 24, 2022. Approximately 650 heard Immaculée's presentation as she shared her amazing story of being a survivor of the Rwandan genocide. In addition to sharing the details of having lost her parents and brothers, her message centered around the topic of faith, hope and forgiveness. Faith & Wine Lee County is a Catholic faith lay-group which unites women of all backgrounds. A related program, Faith & Ale, is a Catholic men's group and will host its final gathering of the season on April 21 at St. John XXIII Parish, 13060 Palomino Lane, Fort Myers, for a presentation by Dan Hesse on the topic, "Can Catholic Values Save Capitalism?" Hesse is a retired CEO of AT&T Wireless Services and Sprint. The program begins at 6 p.m., with pizza and refreshments for a $10 donation. Reservations are required – please register online at www.faithandale.com.
History project develops special skills
Second grade students at St. Joseph Catholic School in Bradenton completed a biography research project on March 25, 2022, which included making a presentation and dressing up as the historical figure they researched. The students also created posters, a wax museum and essays about the person. Among the historical figures chosen were Abraham Lincoln, Amelia Earhart, St. Mother Teresa of Calcutta and the Blessed Virgin Mary.
Gala supports Cardinal Mooney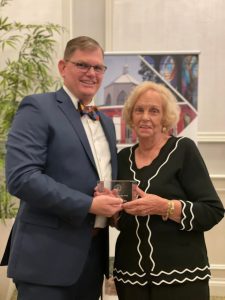 Race for the Roses Gala, benefiting Cardinal Mooney Catholic High School in Sarasota, was held March 25, 2022, at the Grove in Lakewood Ranch. Supporters dressed in their favorite outfits fit for a day at the Kentucky Derby. Proceeds were targeting the creation of a new science and physics labs. Ginger Judge was this year's recipient of the School Sister's of Notre Dame Award for her continuous support of Cardinal Mooney.
Ave Maria students run for gold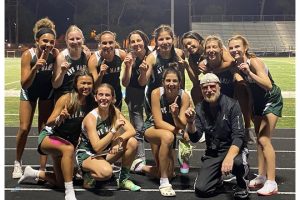 The girls track team of Donahue Catholic Academy of Ave Maria Parish came home from the Immokalee Meet on March 23, 2022, with seven gold medals, two silvers, five bronzes and winning the meet overall! The boy's team did well, too, earning multiple medals and an overall third place team finish. Special recognition goes to Freshman Izzy Meyer who brought home three gold medals. The results are impressive taking into account this is only the second year the school has had a track team.
Care packages for needy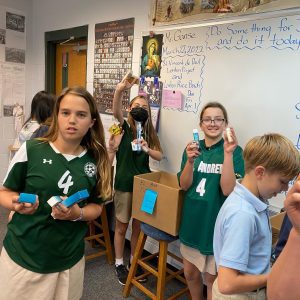 On March 28, 2022, students at St. Andrew Catholic School in Cape Coral partnered with the St. Vincent de Paul Society to create "care packages" for the needy of Southwest Florida. The students had been collecting the items for weeks leading up to a packing session. Items included various products that promote personal hygiene.
Palm Sunday and Easter Sunday Televised Mass
The Diocese of Venice in Florida will air the televised Palm Sunday (April 10) and Easter Sunday (April 17) Masses, each for a full hour. The Masses can be viewed at 9 a.m. on the CW Network in Sarasota, Manatee, Desoto, Charlotte, Hardee and Highland counties, and at 10:30 a.m. on FOX-4 in Charlotte, Lee, Collier, Hendry, Glades and Desoto counties. The Mass is also available on the Diocese of Venice website at www.dioceseofvenice.org/tvmass.
Diocesan-wide Opportunity for Sacrament of Reconciliation
As the Lenten Season progresses, the precept of confessing grave sins and receiving Holy Communion at least once during the Lenten Season merits a reminder to all. To facilitate this requirement, every Parish in the Diocese of Venice will be open with a confessor present from 4:00 p.m. to 8:00 p.m., on Friday, April 8, and from 9:00 a.m. to noon, Saturday, April 9. Check with your local Parish for additional confession times or the availability of a Penance Service. These opportunities are made available so that the faithful may find ample opportunity to receive God's Mercy in the Sacrament of Reconciliation during the Lenten Season.
Chrism Mass April 12
The Diocese of Venice Chrism Mass, which takes place during Holy Week every year, will be held at 10:30 a.m., Tuesday, April 12 at Epiphany Cathedral, 350 Tampa Ave. W., in Venice. During this Mass, the faithful of the Diocese join the Priests, Deacons and Bishop for the blessing of the Holy Oils which are used in the administration of the Sacraments at each parish throughout the year. Priests and Deacons celebrating 25 and 50 years of Ordination are recognized at this Mass. All are encouraged to attend in support of our clergy and to participate in this important Holy Week celebration.
The 2022 Priest and Deacon Jubilarians are:
50 years – Msgr. Joseph Stearns, Father Adrian Wilde, O. Carm., Father David Foley, and Deacon Ray Barrett.
25 years – Father Hugh McGuigan, OSFS, Father Patrick O'Connor, OSFS, Father Leszek Sikorski, Deacon Henry de Mena, and Deacon Mark Miravalle.
Mass for Victims of Child Abuse
April is Child Abuse Prevention Month, and in conjunction with the Secretariat of Child and Youth Protection of the United States Conference of Catholic Bishops (USCCB), the Diocese of Venice will hold a Mass for Victims of Child Abuse for the 15th consecutive year. The Mass will take place at 8 a.m., Wednesday, April 20, 2022, at Epiphany Cathedral, 350 Tampa Ave. W., Venice. The Mass will be live-streamed, and all are welcome to attend as we come together to pray for the victims of abuse.