Not one word of St. Joseph is ever used in the Bible, yet the foster-father of Jesus is one of the most adored saints of the Church; in fact he is the Patron Saint of the Universal Church. On the other hand, St. Patrick was an iconic figure; through his words and actions, he brought Christianity to Ireland and used a shamrock to explain the Holy Trinity.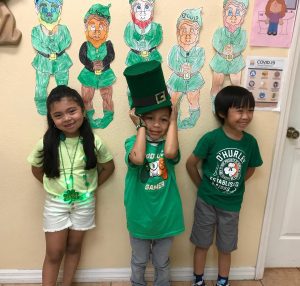 Both saints are celebrated in particular ways in mid-March, with the Feast Day of St. Patrick celebrated on March 17 and the Solemnity of St. Joseph on March 19. During that week, Parishes and schools throughout the Diocese of Venice held a variety of celebrations in honor of each saint.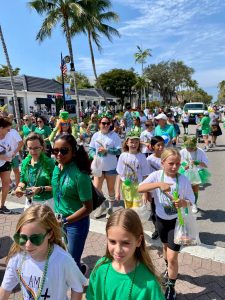 A St. Patrick's Day Parade in Naples featured participation from each Catholic School in Collier County. Other schools in the Diocese held Leprechaun Days and other fun events to honor the Irish saint who is credited with converting Ireland to Christianity.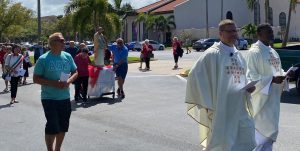 Epiphany Cathedral in Venice hosted a Mass for the Solemnity of St. Joseph which was celebrated in Italian and included the active involvement of the Italian-American Club of Venice. Following the March 18, 2022 Mass, the statue of St. Joseph was carried to the Parish Hall in a procession led by the Knights of Columbus. There, Msgr. Patrick Dubois, Cathedral Rector, blessed the traditional St. Joseph's table of bread and sweets, which was later distributed.
Msgr. Dubois explained that saints are made through living the fulfillment of God's will on earth. This was affirmed by Jesus, who said: "Whoever does the will of my Father in Heaven, is my brother, my sister and my mother."
It is a challenge for all to listen and respond to the call of the Lord in our own lives; the saints provide clear examples to follow.
Maria Russo said her devotion to St. Joseph comes from her family, who emigrated to the U.S. decades ago. Among their meager belongings were icons of St. Joseph, including several images.
"We always said our prayers and sought the intercessions of St. Joseph, in both times of joy and times of sorrow, always there to hear our prayers and thanks," Russo said.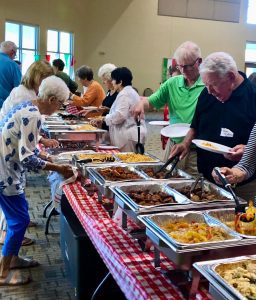 St. Columbkille Parish in Fort Myers got into the spirit of both Feast Days, first with a St. Patrick's Dinner Dance and then an Italia Festa two days later. While the favored colors representing the two saints differed (green for St. Patrick and red and white for St. Joseph), both gatherings involved lots of tasty food, ethnic music and fun.