Parish hosts 40-hour Devotion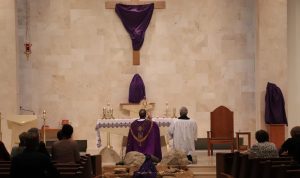 St. Katharine Drexel Parish in Cape Coral hosted a 40-hour Devotion April 2, to April 4, 2022. This devotion included Adoration, the Chaplet of Divine Mercy, praying the Holy Hour and concluded with a Mass. Father Ricky Varner, Pastor at St. Katharine Drexel, stressed the importance of focusing on the Lord through Eucharistic Adoration. The 40-hour Devotion was spilt into blocks of time throughout the three days to allow for more people to participate and benefit from spending prayerful time in the presence of the Lord.
 Candlelight Vigil to close 40 Days for Life in Sarasota

Everyone is invited to participate in the closing Candlelight Vigil of the 40 Days for Life spring campaign in Sarasota on Saturday, April 9, 2022. The Vigil will begin at 7:45 p.m. in front of the regional Planned Parenthood abortion facility at 736 Central Ave. in Sarasota. The 40 Days for Life spring campaign began on Ash Wednesday in thousands of communities, including Sarasota and Fort Myers. During 40 Days, at all of these sites, the faithful stood as peaceful witnesses for life. While the 40 Days for Life campaign is concluding, there are year-round opportunities to pray at abortion facilities in the Diocese. For more information, please contact Jeanne Berdeaux at 941-484-9543 or Berdeaux#dioceseofvenice.org.
 Palm Sunday and Easter Sunday Televised Mass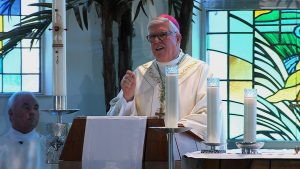 The Diocese of Venice in Florida will air the televised Palm Sunday (April 10) and Easter Sunday (April 17) Masses, each for a full hour. The Masses can be viewed at 9 a.m. on the CW Network in Sarasota, Manatee, Desoto, Charlotte, Hardee and Highland counties, and at 10:30 a.m. on FOX-4 in Charlotte, Lee, Collier, Hendry, Glades and Desoto counties. The Mass is also available on the Diocese of Venice website at www.dioceseofvenice.org/tvmass.
Chrism Mass April 12
The Diocese of Venice Chrism Mass, which takes place during Holy Week every year, will be held at 10:30 a.m., Tuesday, April 12 at Epiphany Cathedral, 350 Tampa Ave. W., in Venice. During this Mass, the faithful of the Diocese join the Priests, Deacons and Bishop Frank J. Dewane for the blessing of the Holy Oils which are used in the administration of the Sacraments at each parish throughout the year. Priests and Deacons celebrating 25 and 50 years of Ordination are recognized at this Mass. All are encouraged to attend in support of our clergy and to participate in this important Holy Week celebration.
The 2022 Priest and Deacon Jubilarians are:
50 years – Msgr. Joseph Stearns, Father Adrian Wilde, O. Carm., Father David Foley, and Deacon Ray Barrett.
25 years – Father Hugh McGuigan, OSFS, Father Patrick O'Connor, OSFS, Father Leszek Sikorski, Deacon Henry de Mena, and Deacon Mark Miravalle.
Holy Week Mass times online
To learn about the times for the Holy Thursday, Good Friday, Easter Vigil and Easter Sunday Mass and service times at Parishes and Missions throughout the Diocese of Venice, please visit https://dioceseofvenice.org/diocese-of-venice-2022-holy-week-mass-times/.
Students visit biomed business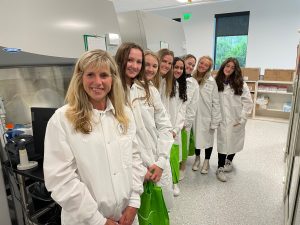 Bishop Verot Catholic High School students in "Medical Interventions," a third-year course in the Biomedical Sciences program in Fort Myers, visited Neogenomics on April 1, 2022, to better understand the application of the research they are doing in class and learn about potential career paths.
Young students study DNA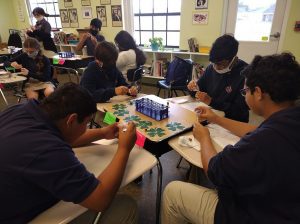 Catholic schools in the Diocese of Venice pride themselves on offering programs in all areas of study including science. Seventh graders at St. Catherine Catholic School in Sebring were studying DNA and genetics on March 30, 2022. As part of the lesson, they extracted their own DNA, using dried skin, and observed it in the school's STREAM (Science, Technology, Religion, Engineering, Arts and Math) lab. Classes like this enable students to learn more about not only the world around them, but also about themselves: students identify themselves as unique through their DNA and, in particular, as children of God.
Field trip teaches about Florida wildlife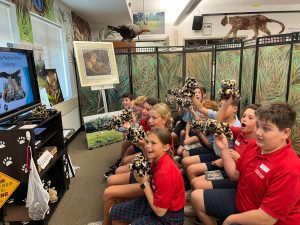 A March 31, 2022, field trip to Florida Gulf Coast University in Estero by fifth graders from St. Francis Xavier Catholic School in Fort Myers helped the young students learn about wildlife that is native to Florida. The program, called the "Panther Posse," brings in wildlife experts to share images and research that is ongoing about the Florida panther as well as other wildlife, including black bears. The presentation is a mix of fun and hands-on science. Students learned to identify trail markings of different wildlife as well as what dangers the wildlife face from pollution and interaction with people. The students left the program as newly launched naturalists and scientists.
Cyber safety education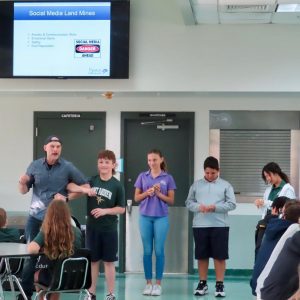 Students at the different schools in Lee County heard from a specialist the week of March 29, 2022, about how to navigate technology and social media in today's world. Robert Hackenson Jr. of Dynamic Influence spoke with students at St. Andrew Catholic School in Cape Coral, St. Francis Xavier Catholic School in Fort Myers as well as at Bishop Verot Catholic High School in Fort Myers. These lessons provided basic tips on the pitfalls of providing too much information about yourself online. The safety aspects could not be overstated as online predators try to manipulate people of all ages to endanger the users in different ways. Hackenson used age-appropriate examples to ensure the students understood these dangers. One of the focuses was on Social Media Land Mines, which included never revealing your location, details about your home or private life and much more.
Sneak preview wows young students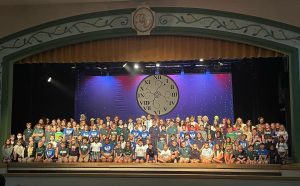 Student groups from St. Andrew Catholic School in Cape Coral and St. Francis Xavier Catholic School in Fort Myers were given a sneak peek of the musical "Cinderella" at Bishop Verot Catholic High School on April 1, 2022. Two special previews were offered for the younger students who saw the elaborate production by the Verot Theater Department. Afterwards, the students were able to meet some of the cast and people who worked behind-the-scenes to make the show happen. Full performances were offered throughout the subsequent weekend.