Bishop celebrates Mass for Parish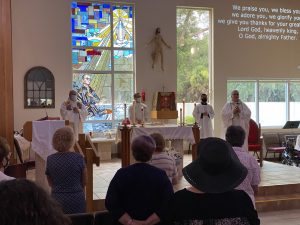 Bishop Frank J. Dewane celebrated Mass for the faithful of St. Maximilian Kolbe Parish in Port Charlotte in what was to be a Parish Feast Day celebration on Aug. 15, 2021. While the Mass was on the Solemnity of the Assumption of the Blessed Virgin Mary, there was planned celebration after Mass to honor the Patron Saint of the Parish, St. Maximilian Kolbe, whose Feast Day is Aug. 14. Bishop Dewane noted the sacrifice of St. Maximilian Kolbe a Polish Franciscan friar who was active in the promotion and veneration of the Immaculate Virgin Mary and was martyred in the Auschwitz Concentration Camp in Poland when he volunteered to die in the place of a stranger. Bishop Dewane said the devotion of the Saint to his faith and to his fellow prisoners is well documented and should serve as an example for all to follow. The man saved by St. Maximilian Kolbe's sacrifice survived the Holocaust and was present for the Saint's beatification and canonization. While the after-Mass celebration was cancelled, present was Father Mark Heuberger, founding-Pastor of St. Maximilian Kolbe Parish and current Pastor of Ss. Peter and Paul the Apostles Parish in Bradenton. Current Pastor Father Teofilo Useche said the threat of Tropical Storm Fred and the ongoing Pandemic caused the celebration to be cancelled.
Naples Parish hosted State Knights for Conference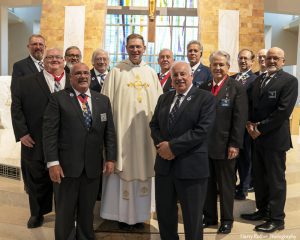 St. Agnes Parish in Naples hosted the 139th Supreme Convention virtually for the Florida State Council Delegation from Aug. 3-4, 2021. Father Bob Kantor, Pastor of St. Agnes, is the Knights State Chaplain, and participants watching the Supreme Convention as a group. While together, the State Exemplification Team conducted a ceremony Aug. 3, welcoming new Knights and elevating existing ones to the third degree, 12 in all. Father Kantor also celebrated Mass for the State delegation.
Fort Myers and Sarasota 40 Days for Life campaigns begin Sept. 22
The Fall 40 Days for Life campaign begins worldwide on Sept. 22, 2021 through Sunday, Oct. 31, including in Fort Myers and Sarasota. Prayerfully discern where God is calling you. Is it to peaceful sidewalk prayer? Fasting? Adoration? Please consider the many ways in which you can participate. For information about the Fort Myers 40 Days for Life visit www.40daysforlife.com/fortmyers for location and details or to sign up. Also consider joining the monthly respect life meetings on the third Wednesday of the month in the Parish Life Center at St. John XXIII Parish in Fort Myers following the 8 a.m. Mass (approximately 8:45 a.m.). All are welcome! Contact Maureen at 239-823-6800 with questions. For information about the Sarasota 40 Days for Life, go to www.40daysforlife.com/sarasota or contact Rich at 40DFLSarasota@gmail.com or 941-923-0752.
Congreso Pro Vida
Registrations are now open! The Archdiocese of Miami is hosting the 6th national Congreso Pro Vida at St. Thomas University the weekend of Oct. 29-31, 2021 (first time in Florida!) Archbishop Joseph Naumann, Chairman of the U.S. Conference of Catholic Bishops' Committee on Pro-Life Activities will join Archbishop Thomas Wenski for the event and will be a keynote speaker. See www.congresoprovida.org for details including registration, hotel, schedule, and speakers. Simultaneous interpretation in English or Spanish will be available via headsets. For questions, contact Sylvia Jimenez at c-Jimenez@DioceseofVenice.org or call 941-412-5860.
 Congreso Pro Vida
¡Ya están abiertas las inscripciones! La Arquidiócesis de Miami está organizando el 6° Congreso Pro Vida Nacional en la Universidad de St. Thomas el fin de semana del 29 al 31 de octubre de 2021 (¡primera vez en la Florida!). El arzobispo Joseph Naumann, presidente del Comité de Actividades Pro-Vida de la Conferencia de Obispos Católicos de EE. UU. se unirá al arzobispo Thomas Wenski en el evento y será el orador principal. Visite www.congresoprovida.org para obtener detalles, incluido el registro, el hotel, el horario y los oradores. Interpretación simultánea de las presentaciones en inglés o español estarán disponibles a través de auriculares. Si tiene preguntas, comuníquese con Sylvia Jimenez at o al 941-412-5860 o c-Jimenez@DioceseofVenice.org.
Summertime and the Giving is Easy Appeal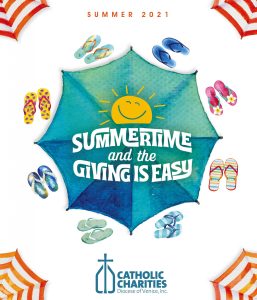 Every day, Catholic Charities Diocese of Venice serves the most vulnerable population by feeding, housing, empowering, and striving to help those in need. This summer, you can leave your footprint by helping your neighbors. The Catholic Charities Summertime and the Giving is Easy Appeal is asking for your support. Donate to your choice of assistance, such as food, shelter, education or other support. The giving is easy! Your gift will make a positive impact on our less fortunate brothers and sisters! Please visit www.catholiccharitiesdov.org or mail a check to Catholic Charities,1000 Pinebrook Road, Venice, FL 34285.
Labor Day Pig Roast
Join the Epiphany Cathedral Knights of Columbus for a Labor Day Pig roast, Sept. 6, 2021, at the Knights Hall, 512 Substation Road, Venice. Doors open at 3 p.m., dinner buffet starts at 4 p.m. Menu includes roasted pig, plantains, barbecue beans, potato salad, cole slaw, dessert, iced tea, lemonade, water. Cost is $20 per person. Beer and wine available. Credit cards accepted. Register at epiphanyknights.org or call Nancy Kraszewski at 281-814-9954.
CCW Vocation Fund fundraiser
Support and encourage our future priests by contributing to the Venice Diocesan Council of Catholic Women Vocation Fund by joining them in celebrating Priesthood Sunday, Sept. 26, 2021. Send a donation to the VDCCW Vocation Fund "In Honor of" the priest(s) in your Parish. Our Diocese is educating 16 MEN in various seminaries so your donation of any amount will be a great help! To take part, please send $1.00 for each card in addition to your donation. The extra $1.00 covers the cost of the "IN HONOR OF" card(s) and mailing them to you so you can deliver to your Priest(s). Your donation amount will not be revealed to the Priest(s). And please remember that this is a gift that keeps on giving!  Please send $1.00 plus your donation made out to "VDCCW Vocation Fund" to: Cornelia Zanetti, 5808 Gulf Drive, #204, Holmes Beach, FL 34217. Questions? Please email Corniez@aol.com.
Diocesan Marriage Conference Oct. 2
The Diocese of Venice in Florida and the St. John Paul II Foundation announce the "Together in Holiness Marriage Conference" that will be held from 10 a.m. to 5 p.m., Oct. 2, 2021, at St. Agnes Parish, 7775 Vanderbilt Beach Road, Naples and St. Thomas More Parish, 2506 Gulf Gate Drive, Sarasota. The speakers are Kevin and Lisa Cotter. For more details contact Carrie Harkey at harkey@dioceseofvenice.org.
Stepping into Marriage with Children
The Diocese Office of Family Life is offering a free half day workshop for couples beginning or currently in a stepfamily situation. This program takes a realistic look at blended families and offers strategies and tools for success.  The program is being offered 9 a.m. to 12 p.m., Oct. 9, 2021, at St. Leo the Great Parish, 28290 Beaumont Road, Bonita Springs, and 9 a.m. to noon, Nov. 6, 2021, at Our Lady of Lourdes Parish, 1301 Center Road, Venice. To register https://dioceseofvenice.regfox.com/stepping-into-marriage-with-children.
White Mass in Naples Oct. 16
A White Mass and lecture for physicians and medical professionals will be 8:30 a.m., Oct. 16, 2021, at St. Agnes Parish, 7775 Vanderbilt Beach Road, Naples. A blessing of the stethoscope will also be held. Please wear your white coat. Following Mass, a lecture and breakfast will take place in the Parish Center. The lecture is entitled "Spiritual Leadership in a Secular Healthcare Setting" presented by speaker Paul Hiltz followed by a discussion with Dr. Gloth and other panelists. There is a $50 fee per person (reduced rates for physicians in training and non-physician health professionals). Register and pay online at www.stagnesnaples.org. For more information, please contact Maggie Brady 239-592-1949. (1 AMA PRA Category 1 Credit)