Our Mother's House director retires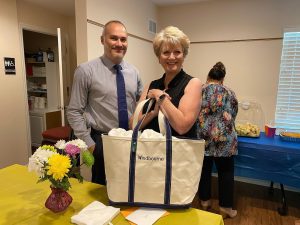 Joyce Scott, who for 17 years has led Our Mother's House of Catholic Charities, Diocese of Venice, Inc., has retired. A reception in her honor was held on July 15, 2022. During her time at Our Mother's House, the program has seen three major expansions. The mission of Our Mother's House is to offer single mothers and their preschool-age children transitional housing in a safe and secure environment to achieve increased self-sufficiency through education, vocational training, and personal growth.
Priest founder of Diocesan Marriage Tribunal dies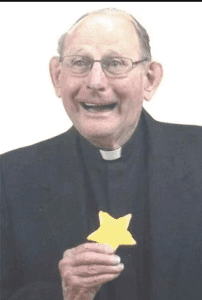 Father Dennis C. Klemme, who helped establish the Diocese of Venice Marriage Tribunal, and was a longtime priest in the Archdiocese of Milwaukee, and died Aug. 9, 2022, at the age of 90. Father Klemme was born in West Alice, Wisconsin, studied at St. Francis Minor and St. Francis Major Seminaries in Milwaukee. Father was ordained to the priesthood on May 25, 1957. Father Klemme served in Parishes in the Archdiocese for several years before further studies as a Canon Lawyer at the Pontifical North American College in Rome. Father was assigned to the Archdiocese Matrimonial Tribunal and Chaplain at the Carmelite Monastery in Pewaukee. In early 1985, Father Klemme was loaned to the newly established Diocese of Venice to use his experience to set up a Marriage Tribunal, gaining many friends. He returned to the Archdiocese in 1988 and was appointed as Judicial Vicar, a position he served in until retirement in 1999. In his later years, he continued to assist at Parishes and minister to the Carmelite Monastery. A Mass of Christian Burial was held Aug. 18, 2022, at the Basilica and National Shrine of Mary Help of Christians in Hubertus.
Priest appreciation dinners coming soon
The Venice Diocesan Council of Catholic Women invites all to one of two Priest Appreciation Dinners the group is hosting. The dinners are intended to honor all priests serving in the Diocese. The first dinner is 6 p.m. – 9 p.m., Friday, Sept. 16, at Our Lady of Lourdes Parish Hall, 1301 Center Road, Venice, while the second is at the same time on Friday, October 7, at Our Lady of Light Parish, 19680 Cypress View Drive, Fort Myers. The dinner is $45. For those interested in attending either dinner, please contact Ellen Bachman at 941-721-7393 or pennyln99@aol.com.
Summertime and the Giving is Easy Appeal ending soon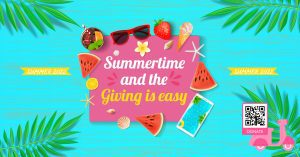 Every day, Catholic Charities, Diocese of Venice, Inc., serves its most vulnerable population by feeding, housing, empowering, and helping all in need. Time is running out for you to give a gift that makes a difference. Your acts of kindness have the power to transform lives and leave a positive impact in our community. The Catholic Charities Summertime and the Giving is Easy Appeal is asking for your support. The giving is easy! Your gift will make a positive impact on our less fortunate brothers and sisters! Please visit www.catholiccharitiesdov.org or mail a check to Catholic Charities, 1000 Pinebrook Road, Venice, FL 34285.
First Responders Mass
The Knights of Columbus Saints Cosmas and Damian Council 13341 is honored to sponsor the First Responders Mass at 1 p.m., Saturday, Sept. 10, Our Lady of the Angels Parish, 12905 E. State Road 70, Lakewood Ranch. The Mass will honor the work of public safety personnel, including law enforcement officials, firefighters, and emergency medical service personnel. This Mass is a way to recognize the sacrifice of first responders and to remember those who have given their lives in service to their communities. All are welcome.
40 Days for Life Fall Campaign begins soon
The Fall Campaign of 40 Days for Life begins Sept. 28, 2022, and ends Nov. 6. Check with your Parish coordinator to join your Parish's day on the sidewalk or go to www.40daysforlife.com (look under the locations tab for Sarasota or Fort Myers). Your presence can be a powerful sign to women in need that there are better options available. Questions? Contact Jeanne Berdeaux at Berdeaux@dioceseofvenice.org or 941-374-1068.
Support CCW Seminarian Fund
Support, encourage and educate future priests through the Venice Diocesan Council of Catholic Women Seminarian Fund. Join the VDCCW in celebrating Priesthood Sunday on Sept. 25, 2022, in a special and lasting way by sending your Parish a Seminarian Fund "IN HONOR OF" card. This is a gift that keeps on giving. The Diocese is currently educating 13 men in various seminaries and a donation of any amount would be a great help (The donation amount will not be revealed to the recipient. To take part, please send your donation, made out to VDCCW Seminarian Fund (plus $1 to cover postage and printing) to: Cornelia Zanetti, Seminarian Fund Guardian, 5808 Gulf Drive #204, Holmes Beach, FL 34217. If you have any questions, email Cornelia Zanetti at corniez@aol.com.
2022 Sarasota Laps for Life 5K in October
The Knights of Columbus Our Lady of Victory Council 3358 is hosting the 2022 Laps for Life sunrise beach run/walk in support of SOLVE maternity homes in Bradenton, Sarasota and Englewood. The run/walk is 8 a.m. to 10 a.m., Saturday, Oct. 8, at Siesta Key Beach in Sarasota. The respect life event brings people of all ages and backgrounds together in support of at-risk women during and after pregnancy. Enjoy the family fun and post-race celebration with music, free food and games at the playground and pavilion area. The race will be chip-time and the first 200 registrants are guaranteed an event shirt. The cost is $40 for adults and $20 for ages 9-13 (under 9, free). To register, create a team or donate online, please visit http://srqLapsforLife.net.
Statewide Culture of Life Conference
The Diocese of St. Petersburg is hosting the 2022 annual Culture of Life (Respect Life) Conference at the Bethany Center in Lutz on Oct. 14-15, 2022. It includes an opening prayer and one session on Friday evening starting at 7 p.m. with the main conference on Saturday from 9 a.m. to 5 p.m. This year's theme is Commitment to Care. Conference attendees will be informed, inspired and equipped to understand, engage with and respond to some of the most pressing issues of the culture. Topics will include gender ideology and youth, political commitments, Walking with Moms in Need, end of life, death penalty and human trafficking. For details and registration, see www.dosp.org/culture-of-life-conference/. If you are interested in a possible bus trip to attend the conference, contact Jeanne Berdeaux at 941-374-1068 or Berdeaux@dioceseofvenice.org.
Marriage Conference coming in October
Registration is now open for the Diocese of Venice Oct. 22, 2022, "Together in Holiness" Marriage Conference, presented in partnership with the Diocese of Venice Office of Family Life and the St. John Paul II Foundation. To register, please visit https://forlifeandfamily.org/events/th22-vnfl/. A video message from Bishop Frank J. Dewane can be found at www.dioceseofvenice.org/together-in-holiness-marriage-conference-october-22-2022. This marriage enrichment conference will take place from 10:00 a.m. to 5:00 p.m. at St. John XXIII Parish, 13060 Palomino Lane, Fort Myers. All Catholic married and engaged couples throughout the Diocese of Venice and beyond are welcome. Grow together in holiness, learn to form your children in the Catholic Faith, enjoy a day of quality time with your spouse, witness dynamic presentations! The day will include the Mass and the availability of the Sacrament of Reconcilliation. This special event is for all couples, engaged, newlywed or long-married! On-site childcare will be provided. For more information, please contact Carrie Harkey at harkey@dioceseovenice.org.