Naples teens attend Florida March for Life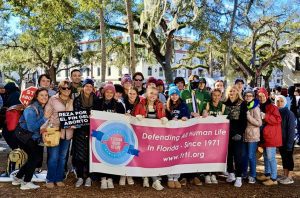 A group of 27 (six parents, two teachers, and 19 students) represented St. John Neumann Catholic High School of Naples at the March for Life in St. Augustine on Jan. 14, 2023. The group marched for the sanctity of life in a trip sponsored by Florida Right for Life President Lynda Bell.
Cougar Experience held for visiting students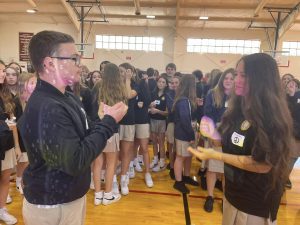 On January 11, 2023, Cardinal Mooney Catholic High School in Sarasota hosted 130 8th graders from their partner schools for The Cougar Experience. It was a great day of games, lunch, athletics and learning more about Cardinal Mooney's arts and academics. The partner schools are St. Martha Catholic School, Incarnation Catholic School, and St. Mary Academy, all in Sarasota, as well as Epiphany Cathedral Catholic School in Venice and St. Joseph Catholic School in Bradenton.
Learning the Sacraments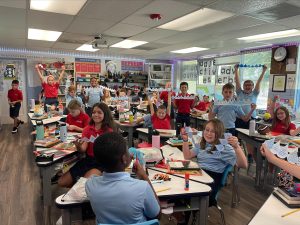 Fourth grade students at St. Francis Xavier Catholic School in Fort Myers are learning about the seven Sacraments, and the role water plays in the sacraments. The students renewed their baptismal promises Jan. 11, 2023, while working on a craft project related to the Sacraments.
Jr. Thespians take stage in state competition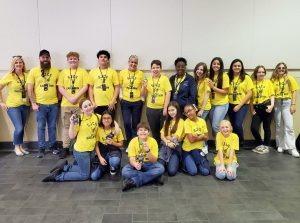 The Jr. Thespians Troupe from St. Joseph Catholic School in Bradenton received four Superior Awards and four Excellent Awards at the Jan. 12-14, 2023, Florida State Junior Thespian Festival – Thespian Jam, at the Orange County Convention Center in Orlando. Some 6,000 participated in the festival which gives theater lovers the chance to celebrate the best middle school theatrical work and have an unforgettable experience. The students put in many hours of practice and hard work, which definitely paid off.
Basketball player reaches milestone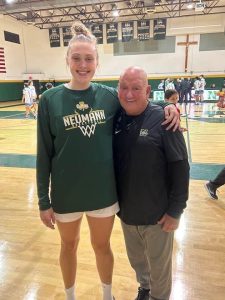 St. John Neumann Catholic High School basketball player Sophia McCartney reached the 1,000-point milestone during a game on Jan. 14, 2023. After the home game in Sarasota, the star player was honored and recognized for this remarkable achievement, something that is rare in high school basketball.
Cape Coral students hone their robotics skills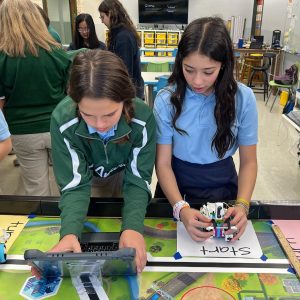 Middle school students at St. Andrew Catholic School in Cape Coral were able to hone their robotic coding skills on Jan. 17, 2023. They worked on coding and working with Lego Spike Prime Robots. These small robots are made out of Lego pieces and can follow paths on an established course. The robots can be coded to perform various tasks as well. These skills are being learned as part of a larger Diocesan-wide robotics STREAM (science, technology, religion, engineering, arts, math) curriculum which helps students learn the skills needed to excel in a high-tech modern society.