Bishop celebrates Mass for students in Fort Myers, Ave Maria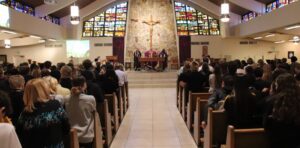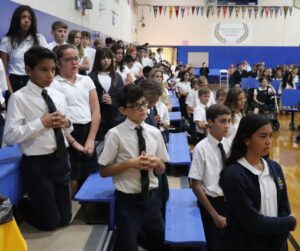 Bishop Frank J. Dewane continued his series of Masses for Diocesan Catholic Schools during Lent at Donahue Academy of Ave Maria Catholic School in Ave Maria on March 13, 2023, and then on March 14 at Bishop Verot Catholic High School in Fort Myers. The Bishop encouraged the students at both schools to make the most of the remainder of Lent by attending Mass, going to confession and focusing on the three pillars of the Lenten Season (prayer, fasting, and almsgiving).
Verot Gala celebrates 60 years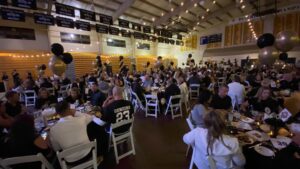 The Vintage Verot Diamond Jubilee celebrated 60 years of premiere Catholic education at Bishop Verot Catholic High School in Fort Myers. The celebration was March 10, 2023, in the school gymnasium which was decorated with photos and items from the six decades of the school. Many of the attendees wore Verot garb as generations of students have earned a Catholic education there. Bishop Frank J. Dewane was present and praised the school for being a beacon of light in the community by producing students who have made a real impacts in the world and in the Catholic Church.
Bradenton student wins state essay contest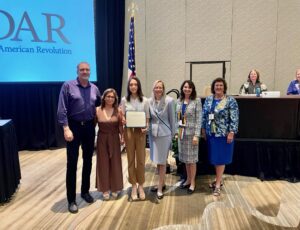 St. Joseph Catholic School seventh grade student Catherine Johnsen from Bradenton won the Florida DAR (Daughters of the American Revolution) Historical Essay Contest, March 4, 2023, in Orlando. Students were given the challenge of researching the Second Continental Congress which met from May 10, 1775, to March 1, 1781, and included delegates from all 13 colonies. Students were asked to imagine they were a delegate during the Congress, and to write an essay from a first-person perspective, indicating what would be important to accomplish for their colony. Two other St. Joseph students reached the finals after winning the Manatee County Chapter of the DAR contest in January. In addition to claiming the top prize in the state competition, Catherine had the opportunity to present her essay in Orlando. She now advances to the Division Level competition where she will the compete for the right to go to the National Finals. Well done and good luck!
Students serve jury duty in "3 Little Pigs Trial"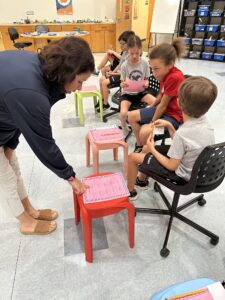 Second graders at St. Mary Academy in Sarasota recently received a fun introduction to the judicial system on March 8, 2023. The students took part in a jury trial based on the book "The True Story of the 3 Little Pigs." The students each received a summons to appear for jury duty. At the end of the "trial," the wolf was acquitted. The jury deemed the wolf to not be at fault for huffing and puffing and blowing the little pigs' houses down.
Taking reading to a new level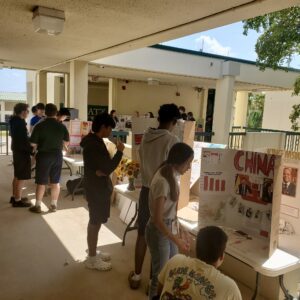 While reading the George Orwell novella "Animal Farm," English I students at St. John Neumann Catholic High School in Naples also learned about dictators. The students applied that knowledge to modern day dictators, creating displays which became a temporary "Dictator Museum." The "Museum" displays were revealed on March 8, 2023, and included artifacts left behind by the citizens who were imprisoned, tortured, or killed by their dictator. This type of learning requires a variety of skills and learning techniques to master, thus enabling the students to receive a more complete lesson versus reading and taking a quiz.
School shines during Naples St. Patrick's Day Parade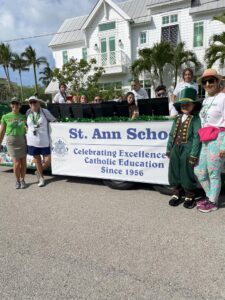 St. Ann Catholic School in Naples had a large group participate in the annual St. Patrick's Day Parade. There was a float which carried school musicians, a banner, and many participants. Principal Michael Buskirk and St. Ann Pastor Father William Davis, OSFS, rode in style in a seafoam green vehicle.
Student places strong in science fair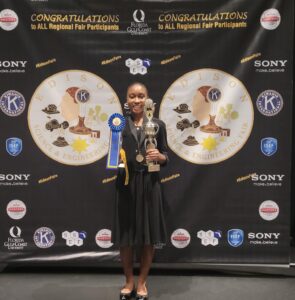 Congratulations to Sephora Esperance from St. Andrew Catholic School in Cape Coral, who was first-runner up for the Best-In-Fair (Junior Division) at the Edison Science and Engineering Fair on March 11, 2023, at Florida Gulf Coast University in Estero. Sephora will be presenting her science project at the Florida State Science & Engineering Fair next month. St. Andrew Catholic School also earned the prestigious Edison Cup. This award recognizes the best performing middle school in Regional Science Fair for achieving excellence in science and pursuing the spirit of Thomas Edison.
Collier Sheriff speaks to middle schoolers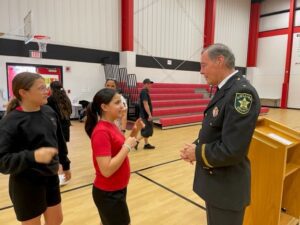 Collier County Sheriff Kevin Rambosk visited St. Elizabeth Seton Catholic School in early March to speak to middle school students. Sheriff Rambosk spoke about his experience as Sheriff, challenges of keeping our growing community safe, careers in law enforcement, civic duties and responsibilities, building good character, and being leaders. Students had the opportunity to ask lots of questions and get a few autographs.
A "biting" lesson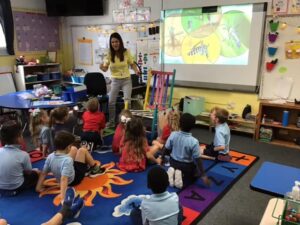 Lee County Mosquito Control visited St. Francis Xavier Catholic School in Fort Myers on March 13, 2023. The kindergarten students learned about the lifecycle of a mosquito. The students were also able to used their artistic skills to draw their own colorful mosquitoes.