Appointments
 After consultation, Bishop Frank J. Dewane announces the following:
Father Robert D. Tabbert, retired as Pastor of St. John XXIII Parish, effective March 4, 2023, and thus, is relieved of his duties as Pastor of St. John XXIII Parish, Fort Myers.
 Father Emmanuel R. Saint-Hilaire, is relieved of his duties as Parochial Vicar of St. Maximilian Kolbe Parish, effective February 13, 2023, and thus has returned to his native country of Haiti.
Lenten school Masses continue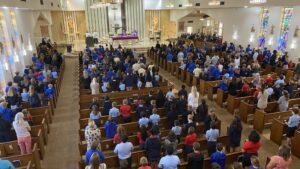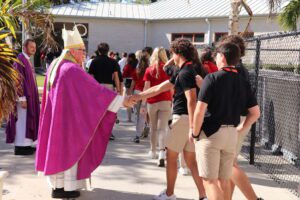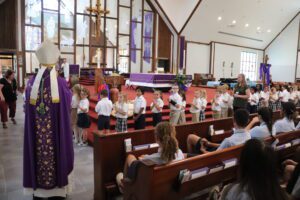 Following the Fourth Sunday of Lent, Bishop Frank J. Dewane continued to celebrate Mass for students at each of the 15 Diocesan Catholic schools during the Lenten Season. The most recent Masses were March 21, 2023, at St. Francis Xavier Catholic School in Fort Myers and St. Andrew Catholic School in Cape Coral, and then on March 22 at Cardinal Mooney Catholic School in Sarasota.
St. Joseph Feast celebrated in Italian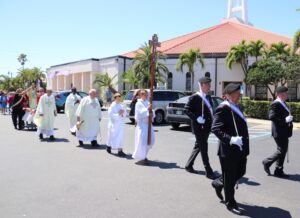 Epiphany Cathedral in Venice hosted a Mass for the Solemnity of St. Joseph, Spouse of the Blessed Virgin Mary, which was celebrated in Italian on March 20, 2023, and included the active involvement of the Italian-American Club of Venice. Following the Mass, the statue of St. Joseph was carried to the Parish Hall in a procession led by the Knights of Columbus. There, Msgr. Patrick Dubois, Cathedral Rector, blessed the traditional St. Joseph's table of bread and sweets, which were later distributed. While usually celebrated on March 19, the Solemnity was transferred to March 20 since the liturgy of the Lenten Sundays take precedence.
Students "Make A Difference"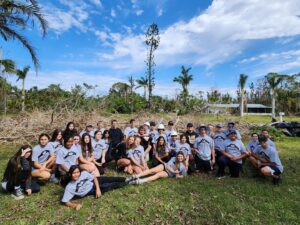 Service to others is part of St. Andrew Catholic School's mission and vision. "Make A Difference Day" is an example of putting the mission and vision of service to others into practice. The school was able to partner with community businesses and individuals to assist. This year, the 8th grade students were fortunate to assist in a Hurricane Ian clean-up on Pine Island. They cleaned out a damaged kitchen, moved construction materials, created a yard debris pile to be removed from the property, just to name a few of the jobs that were completed. Seventh grade students were split into groups and worked at various locations including St. Katherine Drexel Parish, Bishop Verot High Catholic School in Fort Myers, Ronald McDonald House, Thrive Therapy Mental Health & Wellness, and Cape Coral Caring Center. Students participated in campus clean-ups, cleaning vehicles, stocking food items for the community at large and general cleaning maintenance as needed. Sixth grade remained on the school campus and provided a car wash for teachers and made Easter cards for those who are in a nearby rehabilitation facility. Way to go!
Leprechaun traps and house built in Bradenton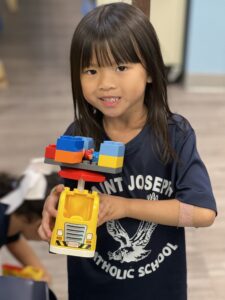 St. Joseph Catholic School in Bradenton offers a comprehensive STREAM (science, technology, religion, engineering, arts, math) curriculum at all grade levels. In time for St. Patrick's Day, the pre-kindergarten students have been studying building construction, as well as using "imagination" to create in their "Creative Me" unit. In their STREAM class, the students put construction and imagination together to create leprechaun traps and leprechaun houses!
Naples Model UN team shines in New York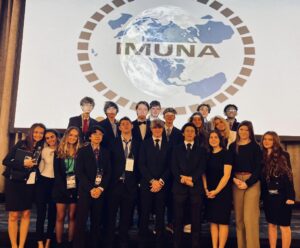 The St. John Neumann Catholic High School Model UN team from Naples took on New York during their spring break from March 13-17, 2023. The team competed against thousands of other high school delegations from around the world and got to experience diplomacy in a global way. A huge congratulations to Jake Marks and Hunter Lund for winning Best Delegates and to Connor Shea and Alessio Cirino for winning the Award of Merit. While in New York, the students visited St. Patrick's Cathedral, Times Square, Rockefeller Center and even got to hear a speech on the floor of the United Nations General Assembly!