Palm Sunday and Easter Sunday Televised Mass
The Diocese of Venice in Florida will air the televised Palm Sunday and Easter Sunday Masses, each for a full hour. The Masses can be viewed at 9 a.m. on the CW Network in Sarasota, Manatee, Desoto, Charlotte, Hardee and Highland counties, and at 10:30 a.m. on FOX4 in Charlotte, Lee, Collier, Hendry, Glades and Desoto counties. The Mass is also available on the Diocese of Venice website at www.dioceseofvenice.org/tvmass.
Holy Week Mass times
The Holy Week Mass times for each Diocese of Venice Parish/Mission have been compiled and are available for viewing at www.dioceseofvenice.org. The list is in alphabetical order by city and includes the address and contact information for more information.
Catholic Center daily livestream to end March 31
The livestream of the Daily Mass from the Catholic Center will end on the final day of Lent, Wednesday, March 31, 2021. The 8 a.m. livestream of the Daily Mass from Epiphany Cathedral in Venice will still be available for viewing through the Diocese of Venice and Cathedral Facebook pages. As usual, this stream is available for viewing throughout the day.
Knight receives honor for military valor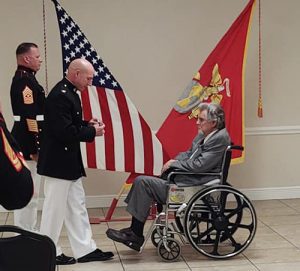 Knights of Columbus member Salvatore (Sal) Naimo, of the Our Lady of Victory Council 3358, served in the U.S. Marine Corps in the 1950s including during the Korean War. On his 89th birthday, March 17, 2021, the veteran received one of the military's highest honors for his heroic actions nearly 70 years ago. Colonel John Polidoro, Chief of Staff for Marine Corps Forces, Central Command, awarded Cpl. Naimo the Silver Star in a ceremony at the Knights Hall in Sarasota.
It was September 1951 when Cpl. Naimo put his own life at risk by carrying two fellow Marines who were severely injured in a mortar attack to get aid. Naimo was nominated for the honor years ago but only recently was it approved and awarded.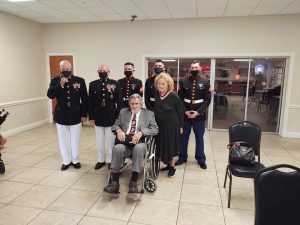 "What I did in 1951, it is long gone in the past, but this will remind me of it forever," Naimo said to local media who were present for the ceremony. "It was a day that I won't forget. It is just something that I won't probably talk about again."
Divine Mercy items of interest
A Divine Mercy Novena begins on Good Friday, April 2, 2021 and concludes Saturday, April 10. In private revelations to St. Faustina, Jesus asked that the Feast of Divine Mercy be preceded by a novena praying for nine intentions with the Divine Mercy Chaplet. It is particularly appropriate for anyone who has been touched by abortion or is nearing death. The novena can be accessed online at www.thedivinemercy.org/message/devotions/novena.php.
In addition, there will be a Divine Mercy Sunday Prayer Service on April 11, from 2:30 to 3:30 p.m. at Epiphany Cathedral, 350 Tampa Ave, West, Venice. Everyone is invited to participate in the prayer service for forgiveness and healing from pregnancy loss. The prayer service will also be livestreamed at www.facebook.com/DioceseofVenice.
For information about either the Divine Mercy Novena of the Prayer Service, please contact Sylvia at 941-412-5860 or project.rachel@dioceseofvenice.org.
Bishop celebrates Mass for students in Sarasota and Bradenton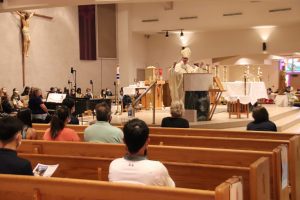 Bishop Frank J. Dewane continued celebrating Mass for students in Diocese of Venice Catholic schools with the latest stops on March 8, 2021, at Cardinal Mooney Catholic High School in Sarasota, March 19 at St. Joseph Catholic School in Bradenton and March 23 at St. Martha Catholic School and St. Mary Academy in Sarasota.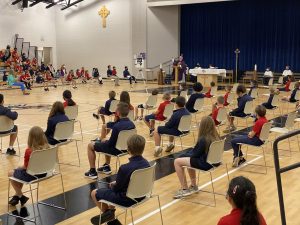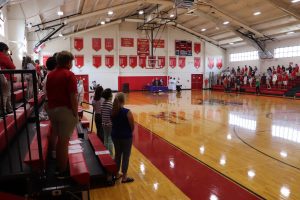 During these Masses, Bishop Dewane stressed how the Lenten Season is a time for prayer, fasting, and almsgiving as we prepare to celebrate the Paschal Mystery of our Faith.
Freshman Retreat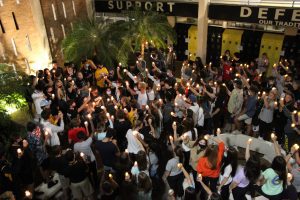 The Bishop Verot Catholic High School Class of 2024 enjoyed the much-anticipated Freshman Retreat on March 17, 2021. Seniors led the event, including a scavenger hunt, small group discussions, ice cream social, and candlelight prayer service in the courtyard. The key moment of the retreat was the celebration of Mass. This retreat was postponed from before the start of the academic year due to necessary pandemic restrictions.