Sarasota musicians play Carnegie Hall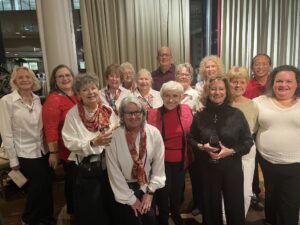 Alex Dilan, the music director at St. Thomas More Parish in Sarasota, and 18 members of the Parish traditional and Contemporary Choir were part of a "Voices in the Hall" concert on Feb. 19, 2023, at Carnegie Hall in New York. The group was invited to participate by well-known Catholic guest soloists ValLimar Jansen and John Angotti. In total there was a 215-voice choir along with a string orchestra and full band. After months of preparation and three days of rehearsal in New York, the group performed. the concert, which included 18 songs ranging from traditional pieces by Moses Hogan to Gospel and Contemporary music by Angotti and Jansen. Dilan conducted the spiritual "Over My Head I Hear Music" to end the first section. The concert received many standing ovations, and Dilan said "It was certainly a once in a lifetime experience!"
Youth lead Stations of the Cross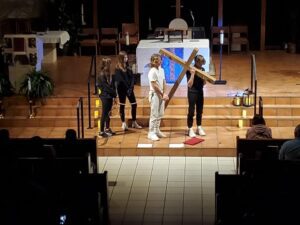 The San Marco Parish High School Youth Group helped the faithful get into the Lenten season with Live Stations of the Cross on Marco Island on Feb. 24, 2023. The Youth dressed as the key figures that are part of the Passion of Jesus Christ.
Testing students get furry visitor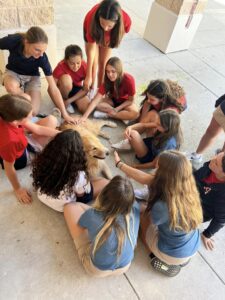 Students at St. Ann Catholic School in Naples received special furry visitors from Golden PAWS Assistance Crisis Team (GPACT) Program, on Feb. 27, 2023. The visit came at the end of the first day of Terra Nova testing, which Catholic school students take to access achievement in reading, language arts, math, science, social studies, and many other areas. The students were able to spend time petting and hugging the dogs, who seemed happy to receive the attention.
Mooney rider wins prestigious equestrian show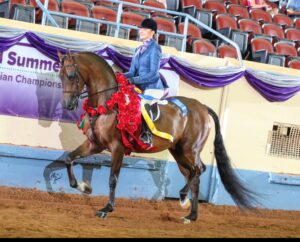 Cardinal Mooney Catholic High School freshman Alexis Peterson took part in the Feb. 16-26, 2023, Scottsdale Arabian Horse Show in Arizona. Alexis won several of the classes including a unanimous win in the "2023 Hunter Seat Equitation Championship 14 and under AHAA Scholarship Class." She also had several wins in the Arabian Hunter and Half Arabian Pleasure Championship classes. Alexis was nominated by the Arabian Professional and Amateur Horseman's Association (APAHA) as a 2022 final nominee in the category of Youth Hunter/Show Hack rider.
Students learn skills for the future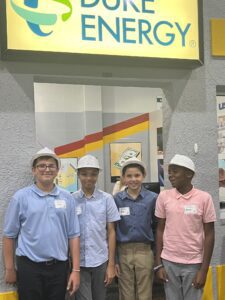 St. Joseph Catholic School students spent 6 weeks studying economic education objectives, including writing checks, using a debit card, keeping a checkbook register, writing newspaper articles, applying for a job, and working in a group. Following their studies, they dressed in business casual and put their learning into action by spending Feb. 23, 2023, at Enterprise Village at the Stavros Institute in Largo. During their business day, students worked in one of the 20+ businesses, took 3 breaks, received paychecks, received copies of their newspaper, held a town meeting, and had the opportunity to be consumers by making purchases in one of the business-sponsored storefronts.
Mooney students help feed the homeless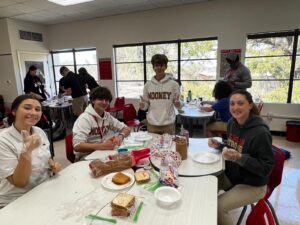 The Cougars in Action (CIA) student organization of Cardinal Mooney Catholic High School in Sarasota went "undercover" to complete acts of kindness for others on Feb. 23, 2023. They implemented the Corporal Works of Mercy and made 200 peanut butter and jelly sandwiches to help feed the homeless in Sarasota. Keep up the great work CIA!
Robotics program brings out best in students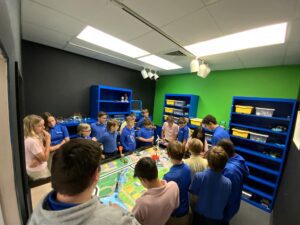 In a true display of Humility, the Gift of Christ that reminds us to always embrace the wisdom and knowledge that others have to share, students in 6th grade and 8th grade Robotics at St. Francis Xavier Catholic School in Fort Myers met on Feb. 28, 2023, to exchange experiences with the latest FIRST Lego League Challenge. This STREAM (science, technology, religion, engineering, arts and math) initiative integrates Catholic values and virtues through the Diocesan curriculum called, "The Gifts of Christ: Truth, Beauty, Goodness, Affability, Fortitude, Humility, and Prudence."
Verot spring production a success
The Bishop Verot Catholic High School Theater production of "How to Succeed in Business Without Really Trying" had a successful run in Fort Myers from Feb. 24-25, 2023. Shows were sold out – and for good reason, as the students put on an amazing show that won over the audience. An enormous "Congratulations" goes out to the Theater department, and in particular their teacher, Lisa Clark. Her passion and dedication for the arts has grown the theater program into what it is today.