Vegie Races cap off fun night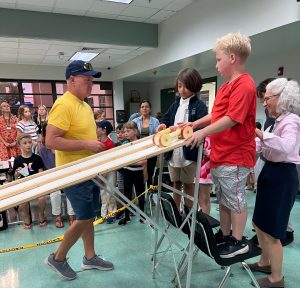 The St. Andrew Catholic School Veggie Races capped off STREAM Night on April 28, 2022, in Cape Coral. The night included a variety of STREAM (Science, Technology, Religion, Engineering, Arts, Math) demonstrations throughout the schools. The highlight was the end of the evening Veggie Races. These races pit students against each other with racecars designed exclusive with vegetables – with a few skewers to hold everything together. The track was an inclined ramp with parallel lanes for the two competitors. The goal was to first get to the bottom without the racecar falling apart and then going as far as possible down the track. A great time was had by all as the students had use creativity and practicality to create a successful racecar.
Pinecone birdfeeders made in Sebring
Third graders at St. Catherine Catholic School in Sebring made pinecone birdseed feeders as part of a project to their Plants and Animals Science Unit on April 29, 2022. The patron saint of animals, St. Francis of Assisi, built bonds of love with all of the kinds of creatures in the animal kingdom. However, St. Francis had a special relationship with birds, who often followed him around and rested on his shoulders, arms, or hands as he prayed or walked around outside.
Middle school track teams excel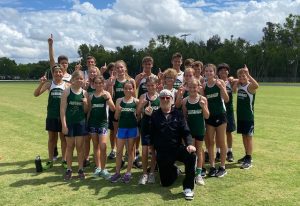 On April 30th, the middle school boys and girls track teams at Donahue Catholic Academy of Ave Maria Parish in Ave Maria, competed at their conference championships on April 30, 2022, and both teams came home Champions. Way to go teams!