Parish has Family Weekend

St. Michael Parish in Wauchula had a Family Weekend on Nov. 13-14, 2021. Each day include talks in English and Spanish for the adults and children, fun for the whole family, dinner, prayer time, the opportunity for the Sacrament of Reconciliation and Holy Mass. Some 150 participated each day. Speakers included Alejandra Ruiz, Gregory Stearn, Andrea and Spencer McSorley, Dr. Alenjandro Carvallo and Msgr. Mark Svarczkopf.
School robotics team gets first test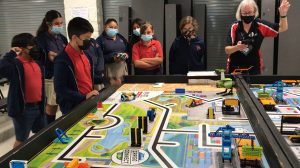 The St. Catherine Catholic School Warriors Robotics Team traveled to Fort Myers on Nov. 13, 2021, to participate in a robotics scrimmage "coopertitions" with other schools. This was a great experience for the students as they learned the fundamentals of operating their robots with the stress of a competition as well as how to work as team. Great Job Warriors!
Anniversary celebrations in Port Charlotte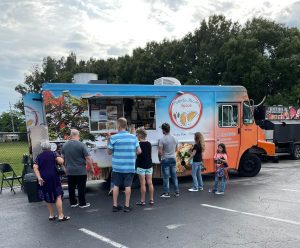 St. Charles Borromeo Catholic School hosted a weekend of activities Nov. 12-14, 2021, as part of the ongoing 60th anniversary celebrations. This included a Food Truck Friday with music for alumni, parishioners and families; an Alumni Cocktail Hour on the Saturday; and then an Alumni and Family Barbeque on Sunday. A great time was had by all.
Disguising turkeys ahead of Thanksgiving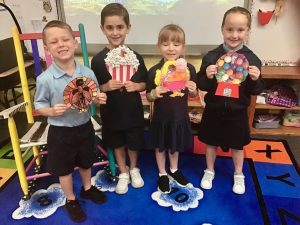 Kindergartens at St. Francis Xavier Catholic School in Fort Myers disguised turkeys in art class on Nov. 11, 2021, in the hopes that it would help the turkeys to not be eaten on Thanksgiving. The young artists went all out on their designs.
High school open house draws big crowd
Cardinal Mooney Catholic High School in Sarasota hosted an Open House of prospective students and their families on Nov. 10, 2021. Current student ambassadors gave tours of the school and shared their experiences. Faculty and staff were on hand to answer any questions for the more than 140 families. It was a great night sharing all the special things about Mooney.