Students encouraged to be "Servants of Christ"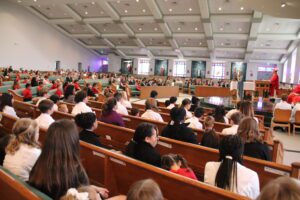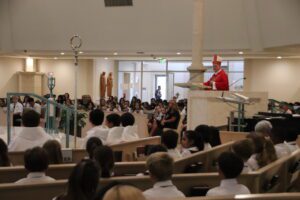 Bishop Frank J. Dewane celebrated a Mass of the Holy Spirit for students at two Naples Catholic schools on Oct. 9, 2023. St. Elizabeth Seton and St. Ann hosted Bishop Dewane who spoke to students about how the Apostle Paul was called to live his life in a manner worthy of the call he received from Jesus Christ. While St. Paul struggled with the call, he ultimately gave himself over to the Lord to become His servant. Bishop Dewane asked the students at both schools, "How are you going to live as a servant of Jesus Christ?" Following each Mass, the Bishop took time to speak to the eighth graders, encouraging them to be leaders at their school, while also answering questions. Further, the Bishop encouraged the eighth graders to consider going to nearby St. John Neumann Catholic High School.
Students pray for peace
This is homecoming week at Bishop Verot Catholic High School in Fort Myers, but the students took time out from the festivities to join in praying for peace in the Holy Land on Oct. 17, 2023, as called for by the Patriarch of Jerusalem and Pope Francis. A morning prayer service was held for the victims and families affected by the recent tragic events in Israel and Gaza. The students at Bishop Verot vowed that every day, they stand united in hope for peace in the world.
"Faith Over Fear" STREAM Day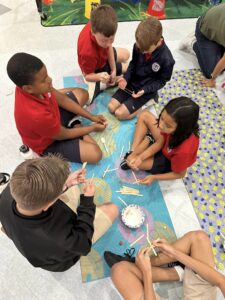 The students at St. Mary Academy in Sarasota took part in a STREAM (science, technology, religion, engineering, art and math) Day on Oct. 13, 2023. The theme was "Faith Over Fear," as students learned the story of David and Goliath. The Biblical account of David and Goliath is one of the most popular stories from Scripture. It is a lesson of courage, faith, and overcoming what seems impossible! The students made catapults to take down Goliath! The creativity was impressive, and the students had a great time working together.
Teachers receive grants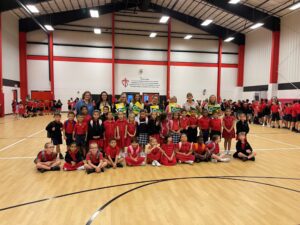 St. Elizabeth Seton Catholic School teachers in Naples were recipients of 12 Champions for Learning grants from The Education Foundation of Collier County. For the school, these grants will fund a range of needs from class field trips to books, STREAM projects, enrichment activities, and even sewing machines for art class. The teachers awarded were: Megan Schuchman (grade 1), Susan Boga (grade 1), Natalie Donahue (middle school – language arts), Nichole Eastman (grade 5), Christina Grun (art), Michele McFee (pre-kindergarten-3), Charity Winter (resource), and Fabiola Galarraga-Cole (Spanish). Congratulations all!
National Eucharistic Congress pilgrimage with Bishop Dewane
Bishop Frank J. Dewane invites the Faithful of the Diocese of Venice to join him on a Pilgrimage to the 10th National Eucharistic Congress. This historic 5-day gathering will take place in Indianapolis July 17 – 21, 2024. The National Eucharistic Congress represents the culmination of the Church's three-year effort to put an emphasis on the Real Presence of Our Lord and Savior, Jesus Christ, in the Holy Eucharistic.  It is a pivotal moment in the Church, and a unique opportunity for participants to draw into a deeper, more intimate relationship with Our Lord. The cost of the Diocese of Venice pilgrimage package is $1,049. With the package, pilgrims receive the National Eucharistic Congress 5-day pass, which provides access to all speakers and events, as well as four nights' accommodations in a 4-star hotel within walking distance of the convention center. Please note, the pilgrimage package does not include transportation or meals. Space is limited! Register today using https://ctscentral.rezmagic.com/Booking/Reservation/Start?tripID=5394&CategoryId=52540. Questions? Contact Carrie Harkey, harkey@dioceseofvenice.org.
Vocations Weekend Oct. 27-29
If you are a young man (high school age or above) and sense that the Lord is calling you to the priesthood, St. John Vianney College Seminary is hosting a free Vocations Weekend. The event begins with pizza and night prayer on Friday evening, Oct. 27, 2023, and ends with Holy Mass and brunch on Sunday, Oct. 29. Join with other discerners from around the state of Florida to experience a glimpse of seminary life, meet the young men who are already studying for the priesthood as seminarians, and join with them in prayer and fraternity during this profound weekend retreat. (The typical schedule for the weekend includes adoration, spiritual talks, daily Mass, personal testimonies from seminarians, meet and greet with the professors, a campus tour, games and sports.) For more information and to RSVP, please visit https://www.venicevocations.org/, or email Father Shawn Roser, Diocesan Director of Vocations at roser@dioceseofvenice.org or call 941-486-4720.
40 Days for Life continues

The 40 Days for Life fall campaign is ongoing and runs through Nov. 5, 2023, seeking a peaceful end to abortion in the U.S. and around the world through the power of prayer. It is the presence of more than one million prayer warriors in 681 cities worldwide – including Fort Myers, Naples, and Sarasota – that will make a difference in this important battle to save the unborn. The prayer vigil in Fort Myers is from 9 a.m. to 5 p.m. (Mon. – Sat.), at 6418 Commerce Park Drive. In Sarasota, the vigil is daily, from 7 a.m. to 7 p.m. (7 days a week), at 736 Central Ave. The Naples prayer vigil is from 7 a.m. to 7 p.m. (Mon. – Sat.), at 1425 Creech Road. For more information, please visit https://www.40daysforlife.com/en/, or contact Diocesan Respect Life Director Jeanne Berdeaux at Berdeaux@dioceseofvenice.org or 941-374-1068.
Students take part in leadership retreat
A group of select students from St. John Neumann Catholic High School in Naples recently participated in a transformative Salesian Leadership Retreat the weekend of Oct. 6-8, 2023, in New York City. During this enriching experience, the students had the opportunity to cultivate their leadership skills, deepen their spirituality, and forge lasting bonds with their peers. Through various workshops, activities, and reflections, they explored the values of St. John Bosco and St. Mary Mazzarello, learning how to become compassionate and effective leaders in our community.
Equestrian Club trots for fun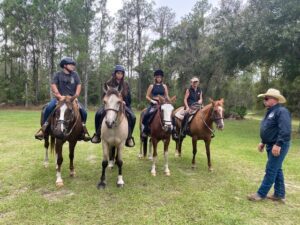 The Cardinal Mooney Catholic High School Equestrian Club is going strong as it is in its second year. This is a group for horse lovers to learn more about the equestrian sport in a safe and Christian environment. This year the club has partnered with Wolfe's Born to Ride, a Christian stable in Parrish. On Oct. 7, 2023, two groups of students took part in two-hour rides through Little Myakka State Park. The Wolfes met the students at the park with 10 gentle horses. The group got to walk, trot, canter, go through water, ditches and through and over obstacles. They are planning to do rides like this monthly and even hope to do a moonlight trail ride with parents.