Seminarian Admitted to Candidacy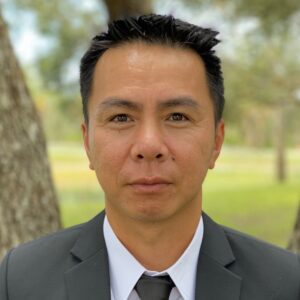 Diocese of Venice Seminarian Joseph Bao Quoc Nguyen took a significant step in his vocation journey with his Admission to Candidacy for Holy Orders. He was one of four men to be admitted to candidacy on Oct. 25, 2023, at Pope St. John XXIII National Seminary in Weston, Massachusetts. The Rite was presided over by Most Rev. Earl K. Fernandes, Bishop of the Diocese of Columbus, Ohio. During the Rite, each man expressed his intention to complete his preparation for Holy Orders and his resolve to dedicate himself to that goal. To be admitted to candidacy, Seminarian Nguyen had to have been first approved by Bishop Frank J. Dewane, and will continue his studies to become a Catholic priest.
Bishop celebrates Mass for students on All Saints' Day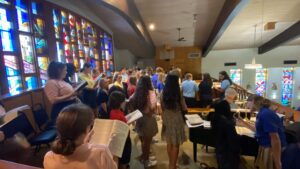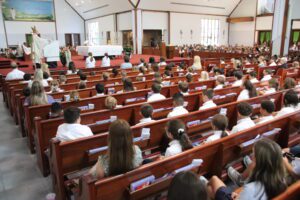 Bishop Frank J. Dewane celebrated Mass for students at both St. Francis Xavier Catholic School in Fort Myers and St. Andrew Catholic School in Cape Coral on All Saints' Day, Nov. 1, 2023. In his message to the students, Bishop Dewane said it is important to learn about these Saints who are described as ordinary people of faith who lived extraordinary lives. They lived their lives in response to a call to holiness from the Lord. The Bishop asked the students at both Masses to respond to a call to holiness in their own lives.
Decline to Sign Petition for Dangerous Pro-Abortion Ballot Initiative
An extremely grave initiative is underway in Florida that seeks to erase pro-life protections by inserting language into the Florida State Constitution banning regulation of abortion. Abortion activists are working to gather petition signatures to place a pro-abortion constitutional amendment, titled "Amendment to Limit Government Interference with Abortion" on the November 2024 ballot. This amendment would allow abortion up until birth, including when the baby is capable of feeling pain, and would eliminate laws requiring parental consent and safety protocols for women. Floridians should not sign the petition. Please spread the word to your spheres of influence and continue to pray for the protection of the unborn.
All Saints' Day Party held in Wauchula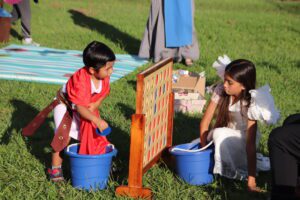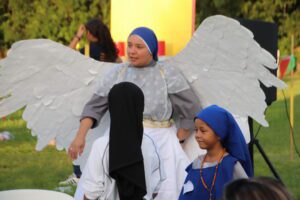 Saints of all ages participated in the annual All Saints' Day Party at St. Michael Parish in Wauchula on Oct. 28, 2023. Children dressed as the Blessed Virgin Mary and St. Michael the Archangel were the most common costumes. Others dressed as St. Joseph, angels, popes, bishops and even superheroes. The evening included food, games and lots of candy. Prior to the party, there was an All Saints' Day procession, led by a statue of St. Michael the Archangel and directed by the Servant Sisters of the Lord and the Virgin of Matará who serve the Parish.
Veteran's Day Ball in Ave Maria
The Knights of Columbus of Ave Maria invite all to a Veteran's Day Grand Ball, on Saturday, November 11, in the del Webb Grand Hall. The keynote speaker is Most Rev. Joseph L. Coffey, Auxiliary Bishop of the Archdiocese of the Military Services, USA. The evening begins with a 6:00 p.m. cocktail hour/cash bar, with a 7:00 p.m. program, dinner and dancing. Black tie is optional for civilians, active duty military and veterans are asked to wear dinner dress or Class A Uniform. Tickets are $125 per person and seating is limited. For tickets, go to https://www.avemariakofc.org/.
National Night of Prayer for Life
The 2023 Annual National Night of Prayer for Life marks its 34th anniversary of people across the country praying to convert America's heart to cherish life and encourage living the Gospel of Life.  It unites the Feast of the Immaculate Conception with the Feast of St. Juan Diego from Friday, December 8, at 9:00 p.m. to Saturday, December 9, at 1:00 a.m., with a national hour of unity across all time zones from midnight to 1:00 a.m.  People are invited to join in unity of prayer to restore the protection of life, the family, and the church, establish peace and inspire courage in our nation.  For more information, see www.nationalnightofprayerforlife.org, or contact Jeanne Berdeaux at Berdeaux@dioceseofvenice.org or 941-374-1068.
Gloria Concert in Naples
St. Peter the Apostle Parish, 5130 Rattlesnake Hammock Road, Naples, is hosting a free Gloria Concert at 6:30 p.m., Thursday, December 14. The concert will include all the Parish choirs of various languages (English, Spanish and Creole) as well as a children's pageant. For further details, please contact Nancy Spolsino at 239-774-3037.