Scout 10 Commandment Hike held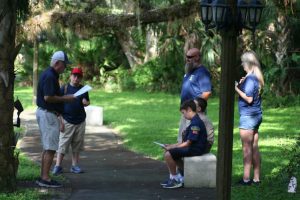 The Knights of Columbus of Our Lady of Mount Carmel Council 15821, led by Grand Knight Anthony Hopfinger, presented a dialogue with the Cub Scouts about the Ten Commandments held on Sept. 25, 2021, at Our Lady of Perpetual Help Retreat Center in Venice. The Cub Scouts hiked around the Lake of the Blessed Sacrament to 10 different points to discuss the Commandment with the Knights. Patches were blessed and distributed by Father Lawton Lang, Diocesan Scout Chaplain. A light lunch was provided by the staff at Our Lady of Mount Carmel. All were pleased with the weather, the program, and the presentations.
Religious Sister dies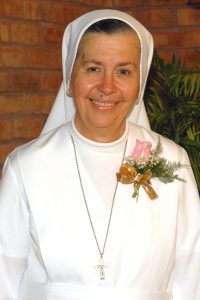 Sister Maria del Carmen Peña, Salesian Sister of St. John Bosco, died unexpectedly Sept. 25, 2021 in Haledon, New Jersey at the age of 87 and a Salesian Sister for 65 years. Sister Carmen retired at the age of 86 after six years of service in the finance office of St. John Neumann Catholic High School in Naples. The high school posted a message of her passing on social media and stated: "She loved our school and we loved her even more.  She was small in stature, but captured a big piece of your heart once you met her. Her legacy will live on through all those who were blessed to know her.  May you rest in peace Sr. Carmen.  No doubt some of the first words she heard was, 'Well done, good and faithful servant!'" Born in 1934 in Saltillo, Mexico, Sister Carmen served in various roles of leadership for more than 40 years, including Provincial Treasurer and Provincial Vicar and much more. A Mass of Christian Burial was held Sept. 27, 2021, at the St. Joseph Provincial Center in Haledon, New Jersey.
Latest Catholic Charities vaccination clinic a success
Catholic Charities, Diocese of Venice, Inc. continues to reach out to underserved portions of the community by hosting COVID-19 vaccination clinics throughout the Diocese. The latest clinic was hosted Sept. 25, 2021 at the Casa San Juan Bosco Farmworker Housing community in Arcadia. Representatives of the DeSoto County Department of Health and Florida Department of Health administered the vaccines with volunteers assisting and handing out gift bags of food and other essentials to all who came. Catholic Charities has hosted more than a dozen vaccination clinics throughout the region.
Interest in science blossoms in Chemistry Club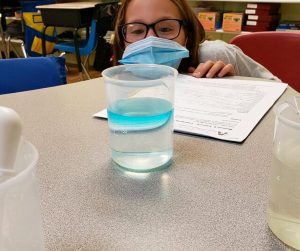 The after-school St. Catherine Catholic School Chemistry Club explored chemical changes in matter during various scientific experiments at their Sept. 27, 2021 meeting. Everyone in the club loves science.
Students donate care packages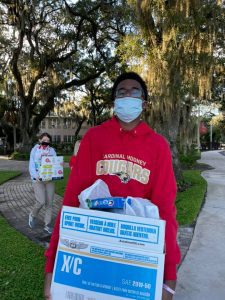 Members of the Cardinal Mooney Catholic High School St. Vincent de Paul Society in Sarasota donated more than 100 care packages to the families and clients of Bethesda House of the Catholic Charities of the Diocese of Venice, Inc. on Sept. 24, 2021.
Hispanic Heritage Month celebrated in school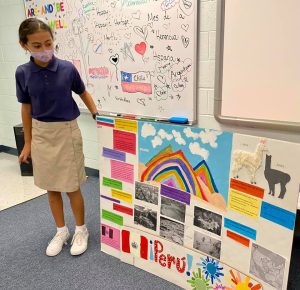 Students at St. Ann Catholic School in Naples celebrated Hispanic Heritage Month by doing research on the different Spanish-speaking countries in the world. Students then created a presentation to share what they learned with the rest of the class on Sept. 21, 2021.
Students learn about Moses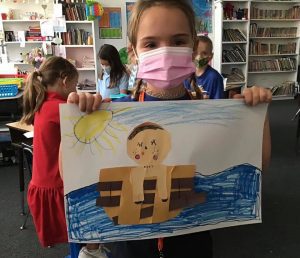 The first grade students of Christine Macaluso at St. Francis Xavier Catholic School in Fort Myers learned about the story of Moses in class the week of Sept. 20, 2021. They ended their week by creating colorful drawings of baby Moses in a basket.
Schools hold Boosterthon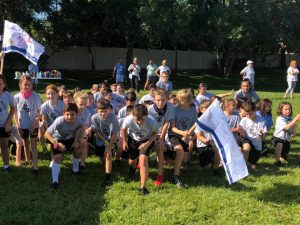 St. Martha Catholic School and St. Mary Catholic Academy in Sarasota held a Boosterthon the week of Sept. 20-24, 2021. One of the highlights was a fun run and other games, topped off by ice cream at the end of the week. Money raised during the week will go toward various programs in the two schools.
Students celebrate Johnny Appleseed Day outside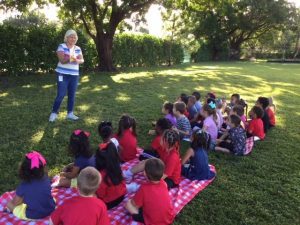 Pre-K-3 and Pre-K-4 classes at St. Elizabeth Seton Catholic School in Naples celebrated Johnny Appleseed Day with an outdoor class on Sept. 27, 2021. Students sat on blankets while they learned about a man who not only introduced apples to North America but promoted conservation.