Veterans Day Mass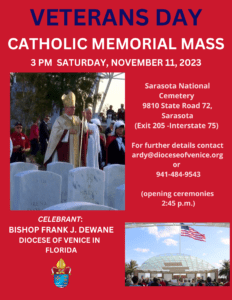 On Veterans Day, Saturday, November 11, the Diocese of Venice will hold a Memorial Mass in honor of the men and women who have served our country and continue to serve and protect us today. This is the 14th year the Diocese has held a Mass on Veterans Day. Bishop Frank J. Dewane will celebrate the Mass at 3 p.m. at the Sarasota National Cemetery, 9810 State Road 72/Clark Road, approximately five miles east of I-75. The Priests, Deacons and Knights of Columbus in the Diocese will join Bishop Dewane for this important event. All are invited to attend, and active military personnel are asked to wear their uniform. Attendees are also encouraged to wear sunscreen and bring a hat. There is ample seating and parking at the cemetery. All guests are encouraged to arrive early. Please contact Gail Ardy at ardy@dioceseofvenice.org or 941-486-4714 for further information.
Knights support vocations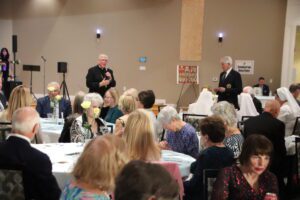 The Knights of Columbus of the St. John Council 11281 hosted a Vocations Dinner Dance on Oct. 21, 2023, in the St. John the Evangelist Parish Ballroom. The honorees were Father Nicholas Thompson and Father Mark Harris, Parochial Vicars at St. John the Evangelist. Bishop Frank J. Dewane offered the opening Benediction. The evening included dinner for more than 200 with numerous priest and women religious present. Entertainment was by the Manhattan Connection. The proceeds of the evening will help support Diocesan seminarians.
Children pray for peace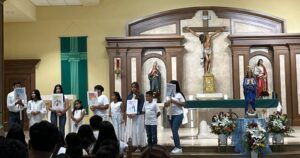 More than 100 children and teens took part in a special prayer service at St. Paul Parish in Arcadia on Oct. 21, 2023, during which they prayed for peace in the world. This gathering included children in the religious education program praying the Rosary. A paper rosary (green, red, white, blue and yellow) was laid out on the floor in front of the altar before a statue of the Blessed Virgin Mary. This paper rosary was in place so that as each prayer was recited, a child would come forward and placed a yellow flower on the corresponding "bead."
Theology on Tap continues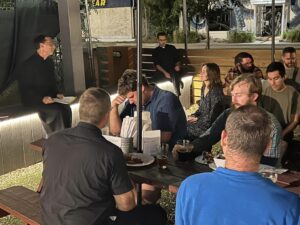 Father Mark Yavarone, OMV, Director of Our Lady of Perpetual Help Retreat Center in Venice was the featured speaker at the Oct. 19, 2023, gathering of Theology on Tap for young adults at the Mandeville Beer Garden in Sarasota. Theology on Tap is for young adults and takes place on the third Thursday of each month at 7 p.m., outside in the garden for food and refreshments, presentations, and discussions about the Catholic Faith. The Nov. 16 guest is Father Anthony Armstrong, O. Carm., Pastor of Our Lady of Mount Carmel Parish in Osprey. The Dec. 21 guest is Bishop Frank J. Dewane. For any questions, please email Carrie Harkey at harkey@dioceseofvenice.org.
Youth Holy Hour Nov. 5 in Naples
Middle school, high school and college youth are invited to attend a Holy Hour once a month at St. John the Evangelist Parish, 625 111th Ave. N., Naples. The hour will consist of Adoration, prayer and an opportunity for the Sacrament of Reconciliation.  The evening follows the 5 p.m. Mass and lasts until 7 p.m. The next Youth Holy Hour is Nov. 5, 2023, with gatherings scheduled for Dec. 3, and Jan. 7. For further information, please contact St. John the Evangelist Youth Ministry Director Juliana LoGiudice at jjuliana@sjecc.com.
Science fair impresses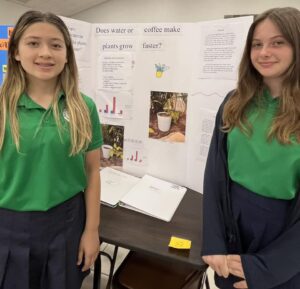 Middle school students at Incarnation Catholic School in Sarasota took part in a Science Fair on Oct 19, 2023. Students were asked to create a science experiment on any topic. They started with a hypothesis, used a variety of materials and procedures and then came up with conclusions. Project titles included, "Wind Beneath My Electrons," "Soap vs. Microwave," "Colorful Chemistry," Ink Incident," "The Rise of the Cupcake," "Hand in the Sand," "Robots Lead the Way," "That's Metal!" and "Does water or coffee make plants grow faster?" Parents and Cardinal Mooney Catholic High School students served as judges.
Volunteers Needed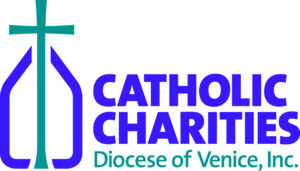 Join Catholic Charities, Diocese of Venice, Inc., dedicated staff to help in the mission of serving all. There are many opportunities to volunteer in many different programs, located throughout Manatee, Sarasota, Charlotte, Lee, Hendry, Glades, Collier, Desoto, Hardee, and Highlands counties. Catholic Charities offers programs for infants, afterschool programs, the elderly, and much more. Join and make a difference. To learn more about amazing volunteer opportunities, please visit https://catholiccharitiesdov.org/volunteer.