Office of the Bishop
After consultation, Bishop Frank J. Dewane announces the following:
Father Inna Reddy (Ignatius) Yeruva, M.o.C., relieved of his duties as Parochial Vicar for Ministry at Our Lady of Guadalupe Parish/Soup Kitchen in Immokalee, effective August 12, 2022.
Father Nathan Marzonie, O.M.V., as Parochial Vicar of San Pedro Parish in North Port, effective August 22, 2022.
Father Shawn Monahan, O.M.V., as Assistant Director of Our Lady of Perpetual Help Retreat Center, Venice, effective September 1, 2022.
Father Lino Estadilla, O.M.V., relieved of his duties as Assistant Director of our Lady of Perpetual Help Retreat Center, Venice, effective September 1, 2022, and thus has returned to his Religious Community.
Father Eric Scanlan, is appointed as Director of the Permanent Diaconate Program, Diocese of Venice in Florida, effective September 1, 2022.
28th Annual Undy Sunday coming in October to Collier County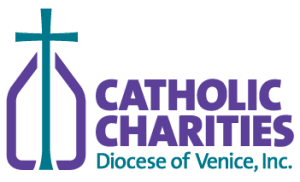 Catholic Charities, Diocese of Venice, Inc., in Collier County is hosting its 28th Annual Undy Sunday campaign. This effort is a collection of undergarments and socks for needy children in Collier County. This year, there are three ways to support this cause.
There will be collection containers marked "Undy Sunday" at the Parish exits, for on-site collection the weekends of Oct. 22 – 23, and Oct. 29 – 30. Please bring new and unused underwear and socks in sizes Small, Medium, and Large for children ages 5 -14.
The Undy Sunday team has an Amazon Charity Wish List where you can find current needs at https://smile.amazon.com/hz/charitylist/ls/R7GC9KYLQEIF/ref=smi_ext_lnk_lcl_cl.
You can make a monetary donation using a secure online donor portal of Catholic Charities: https://one.bidpal.net/undysunday. All monetary donations will be used to purchase underwear and socks for the needy children. Any questions or comments, please contact Undy Sunday coordinators Mike Egan at 239-333-9933 or Tim Corcoran at 781-799-5486, or Catholic Charities at 239-455-2655 ext. 3100.
Mooney senior excels at international swim competition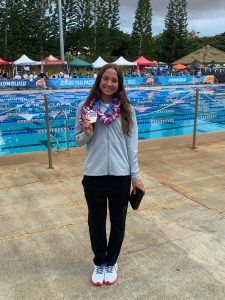 Michaela Mattes, a world class swimmer who is in her senior year at Cardinal Mooney Catholic High School in Sarasota, recently helped lift TEAM USA to a win at the Junior Pan Pacific Championships in Honolulu, Hawaii from Aug. 24 to 27, 2022. Michaela finished the meet winning gold in the 1500m (mile) freestyle with a time of 16:25.19, and placed 3rd in the 800m freestyle in 8:35.78. She also placed 5th in the 400 individual medley and 9th in the 400 freestyle. Michaela was the overall 3rd top scorer for the USA women. With this Cougar's help, TEAM USA won the Junior Pan PAC meet! The team consisted of 20 girls and 21 boys who were the fastest 18 & under (born in 2004 or later) from the US International Trials in April. The senior, who is a three-time State Champ in the 500m freestyle, is committed to swimming at the University of Florida starting in 2023.
Diapers urgently needed in Bonita Springs
Please do what you can to provide diapers to the Catholic Charities, Diocese of Venice, Inc., office in Bonita Springs, 28360 Beaumont Rd, Bonita Springs, FL 34134. They have put out a call as they are in dire need for diapers for clients because their shelves are bare. A donor who use to provide them in the past, has moved away. They particularly need sizes 5 & 6 for toddlers, as well as sizes 3 & 4 for newborns (not so much the smaller sizes). The Catholic Charities office is next to St. Leo the Great Parish and can be reached by calling 239-390-2928. You can also donate directly to Catholic Charities by visiting www.catholiccharitiesdov.org/donate.
Young students build robots and follow moon mission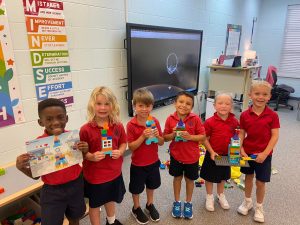 A robotics class at St. Ann Catholic School in Naples had fun building and coding space rovers in anticipation of the NASA Artemis I rocket launch on Aug. 29, 2022. While the rocket never blasted off, the students had a blast building their miniature rovers and some even built rockets using Lego. These specialized skills are being learned as part of a broader STREAM (Science, Technology, Religion, Engineering, Arts and Math) curriculum. This curriculum, guided by "The Gifts of Christ: Truth, Beauty, Goodness, Affability, Fortitude, Humility, and Prudence," grew out of a robotics program, and has expanded to enhance the spiritual and academic opportunities for students. With Artemis missions, NASA will collaborate with commercial and international partners and establish the first long-term presence on the Moon. Then they will use what they learn on and around the Moon to take the next giant leap: sending the first astronauts to Mars.
Married couples' night in Fort Myers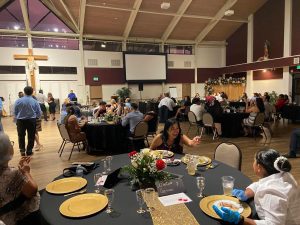 The Hispanic Outreach of Our Lady of Light Parish in Fort Myers celebrated married couples with a special dinner/dance on Aug. 26, 2022. The evening included prayer, a delicious meal and dancing. This was a gathering in celebration of the Sacrament of Marriage and the commitment of the couples to each other, through God. The theme of the night was "God once again manifests Himself through His word, remembering that those who once put their lives together was through the love of God."
Viking Class golf tournament in Fort Myers
The annual Bishop Verot Catholic High School Athletic Booster Viking Golf Classic is Oct. 15, 2022, at Stoneybrook Golf Club, 21251 Stoneybrook Gold Blvd., Estero. There is an 8 a.m. shotgun start. Take your best shot on a few holes, as there will be some mini-games: hole-in-one contest, longest drive, and closest to the pin. After the tournament, enjoy a luncheon at the clubhouse, complete with raffles and a silent auction! Tickets are $150/person or $600/group. Sponsorships at multiple tiers are available. Reach out to Jason Baumgardner for more information at either jason.baumgardner@bvhs.org or 239-274-6711.
Fans come out for football opener in Sarasota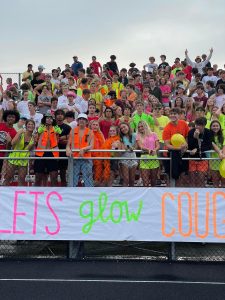 Cardinal Mooney Catholic High School students, parents, alumni and friends came out in droves to support the Cougars for the opening of the football season on Aug. 26, 2022, against Booker High School in Sarasota. The Cougars won the defensive battle 10-9 and have high hopes for the coming season. It was great to see so many familiar faces in the crowd cheering on the team.
5K Walk/Run for Life Oct. 8 in Naples
The 8th Annual St. Agnes 5K Walk/Run for Life will be held Oct. 8, 2022, with the goal of promoting a respect life message and raising funds for pro-life causes while encouraging healthy living (body and soul). Registration is at the Parish at 6 a.m., with the race at 7:15 a.m., at 7775 Vanderbilt Beach Road in Naples. Only those registering by Oct. 2, will receive a race shirt. Registration is open at www.stagnesnaples.org. For more information, please call 239-592-1949 or email deaconroberto@stagnesnaples.org.
First Responders Mass
The Knights of Columbus Saints Cosmas and Damian Council 13341 is honored to sponsor the First Responders Mass at 1 p.m., Saturday, Sept. 10, Our Lady of the Angels Parish, 12905 E. State Road 70, Lakewood Ranch. The Mass will honor the work of public safety personnel, including law enforcement officials, firefighters, and emergency medical service personnel. This Mass is a way to recognize the sacrifice of first responders and to remember those who have given their lives in service to their communities. All are welcome.
40 Days for Life Fall Campaign begins soon
The Fall Campaign of 40 Days for Life begins Sept. 28 and ends Nov. 6, 2022. Check with your Parish coordinator to join your Parish's day on the sidewalk or go to www.40daysforlife.com (look under the locations tab for Sarasota or Fort Myers). Your presence can be a powerful sign to women in need that there are better options available. Questions? Contact Jeanne Berdeaux at Berdeaux@dioceseofvenice.org or 941-374-1068. Join the 40 Days for Life Fort Myers kickoff event at 6:30 p.m., Tuesday, Sept. 13, outside of Planned Parenthood, 6418 Commerce Park Drive, Fort Myers. The event will be highlighted by national pro-life speaker and author Terry Beatley. The Kick-Off Rally in Sarasota is from 10:30 a.m. to noon, Wednesday, Sept. 28, at the Community Pregnancy Clinic, 1419 7th St., Sarasota (around the corner from Planned Parenthood). The guest speaker will be Lisa Rowe, CEO of Support After Abortion.
Priest appreciation dinners coming soon
The Venice Diocesan Council of Catholic Women invites all to one of two Priest Appreciation Dinners the group is hosting. The dinners are intended to honor all priests serving in the Diocese. The first dinner is 6 p.m. – 9 p.m., Friday, Sept. 16, at Our Lady of Lourdes Parish Hall, 1301 Center Road, Venice, while the second is at the same time on Friday, October 7, at Our Lady of Light Parish, 19680 Cypress View Drive, Fort Myers. The dinner is $45. For those interested in attending either dinner, please contact Ellen Bachman at 941-721-7393 or pennyln99@aol.com.
Eucharistic Conference in September
Inspired by the National Eucharistic Revival movement, St. Elizabeth Seton Parish in Naples is creating the opportunity for people to learn more about Christ's presence in the Eucharist. The one-day Eucharistic Conference is 9 a.m., Saturday, Sept. 24, 2022. The day features talks and worship music in both English and Spanish. There are sessions only in Spanish at the same time as the only English sessions followed by Eucharistic worship in both languages. Father Casey Jones, Pastor of St. Elizabeth Seton, and Jon Niven, Music Director at Seton, are hosting the English track. Special guests Juan De La Rosa, Director de la Renovación Carismática and Fernando Torres, Ministerio Agnes Dei Líder de Adoración, both from the Archdiocese of New York, are hosting the Spanish sessions. The day will end with a bilingual Vigil Mass at 4:30 pm. Breakfast and lunch are provided. Cost is $10 per person. Registration is on Seton's website, www.StElizabethSeton.org. The Parish is located at 5225 Golden Gate Parkway, Naples. Please call 239-455-3900 for any additional information.
White Mass for Healthcare Professionals in Naples
Registration is now open for the annual White Mass for health care professionals at 8:30 a.m., Oct. 15, 2022, at St. Agnes Parish, 7775 Vanderbilt Beach Road, Naples. A blessing of the stethoscopes will also be held. Physicians are asked to wear their white coats. There will be a breakfast and lecture in the Parish Center with guest speaker Dr. Christina Puchalski, a pioneer and international leader in the movement to integrate spirituality into healthcare in clinical settings and medical education. Physicians and nurses may qualify for continuing education credit. For more information, and to register, please visit www.stagnesnaples.org.
Sarasota Laps for Life Oct. 8
Join the Sarasota Laps for Life 5K on Siesta Key Beach from 8 a.m. to 10 a.m., Saturday, Oct. 8, 2022. This year the Knights of Columbus are running to benefit SOLVE maternity homes in Bradenton, Sarasota and Englewood. SOLVE provides cost-free housing, counseling and support for women and teens with unintended pregnancies. Why run? Promote a culture that encourages life in abundance by providing the support and resources available for both mother and child so they can flourish. Join us as we celebrate life in abundance! See www.srqlapsforlife.net for details and registration.