World Day for Migrants and Refugees to be Celebrated on September 27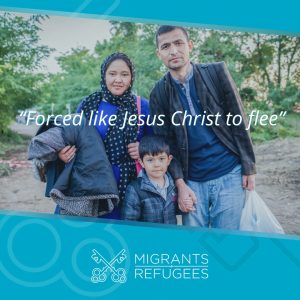 The Vatican has designated Sunday, Sept. 27, 2020 as the World Day for Migrants and Refugees. The theme chosen by Pope Francis for the 106th observance of this day is "Forced like Jesus to Flee" a focus on the plight of internally displaced persons. The Holy See has a website, https://migrants-refugees.va, which includes a video message from Pope Francis. In the message, he states: "To preserve our common home and make it conform more and more to God's original plan, we must commit ourselves to ensuring international cooperation, global solidarity and local commitment, leaving no one excluded."
'Fifth Sunday Rosary' a success

Our Lady of Light Parish in Fort Myers hosted a "Fifth Sunday Rosary" in their Parish Chapel on Sept. 13, 2020. Spread apart due to social distancing requirements, the Knights of Columbus led the event.
Car Show Cookout in Lakewood Ranch Oct. 17
The Knights of Columbus of Our Lady of the Angels Parish, 12905 State Road 70 E., Lakewood Ranch, is hosting a Car Show Cookout, 10 a.m.-1 p.m., Oct. 17, 2020. It is a great day for family and friends; see the cards in the show and enjoy the cookout. There will be a live DJ, trophies for car entries and door prizes. All profits go to charity. The cost is $20 to show your car (all cars welcome), and $5 donation to vote and door prizes. For more information, please call 941-752-6770.
6th Annual Virtual 5K Walk/Run for Life Oct. 24-25
St. Agnes Parish in Naples is holding its 6th Annual Virtual 5K Walk/Run for Life on the weekend of Oct. 24-25, 2020. The Run/Walk for Life is an event with the main purpose of promoting a respect for life message and raising funds for pro-life causes while encouraging healthy living (body and soul). You can complete the 5K (or more) on either Cot. 24 or Oct. 35. Gather your family and make this a fun, healthy activity. The cost is $20 per person. Those who compete will receive a commemorative short. For more details and registration, please visit www.stagnesnaples.org.
Year of Saint Joseph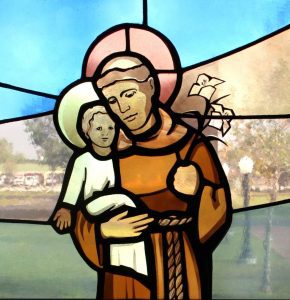 On the Solemnity of St. Joseph, March 19, Bishop Frank J. Dewane, in the context of the Coronavirus, consecrated the Diocese of Venice to the care and protection of St. Joseph. The Bishop announced a "Year of St. Joseph" beginning March 19, 2020 through March 19, 2021. St. Joseph, often referred to as the Protector, can be our protector during this time of the pandemic. To pray a Novena to St. Joseph please visit the Year of St. Joseph webpage at https://dioceseofvenice.org/a-year-of-st-joseph/.
Hurricane prayer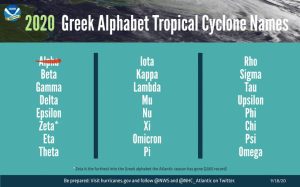 As the busy 2020 Atlantic Hurricane Season continues (June 1-Nov. 30), a prayer is presented here by which one asks God for protection and safety from the storms that often threaten Southwest Florida. With the formation of nine storms, it has already been a busy season of watching the tropics with new storms seemingly forming and threatening each day . We all remember the devastating effect of Hurricane Irma from 2017 and what was witnessed when Hurricane Michael struck the Florida Panhandle in 2018, everyone in the Diocese of Venice knows and understands the power of these storms and the suffering which follows in their wake.
Prayer for Safety in Hurricane Season
O God, Master of this passing world, hear the humble voices of your children. The Sea of Galilee obeyed Your order and returned to its former quietude. You are still the Master of land and sea.
We live in the shadow of a danger over which we have no control: the Gulf, like a provoked and angry giant, can awake from its seeming lethargy, overstep its conventional boundaries, invade our land, and spread chaos and disaster.
During this hurricane season we turn to You, O loving Father. Spare us from past tragedies whose memories are still so vivid and whose wounds seem to refuse to heal with passing of time.
O Virgin, Star of the Sea, Our beloved Mother, we ask you to plead with your Son on our behalf, so that spared from the calamities common to this area and animated with a true spirit of gratitude, we will walk in the footsteps of your Divine Son to reach the heavenly Jerusalem, where a stormless eternity awaits us. Amen.
Parish donations
During this challenging time in the life and mission of the Diocese of Venice, our Parishes face increased risk of financial shortfalls due to the COVID-19 Pandemic and its effects on everyday life. Parishes depend on weekly financial gifts to continue their ministries, especially in this critical time of crisis. The Diocese of Venice is providing an online platform and encourages the Faithful to support their Parish. Please visit https://dioceseofvenice.org/ways-to-give/parish-donations-online/ to donate to your Parish. The Faithful may also contribute through usual channels (e.g., envelopes, and through the Parish online giving option). Together we will navigate through this crisis, provide assistance to those in need, and secure the road ahead for the Parishes within the Diocese of Venice.
Dispensation
While the celebration of public Mass resumed May 18, 2020, Bishop Frank J. Dewane announced that the dispensation from the obligation to attend Sunday Mass remains in effect through Nov. 1, 2020 for those who are at greater risk or anxious about returning at this time. The Faithful ought not to worry about remaining home if they are concerned for their wellbeing or that of other parishioners. Of course, those who are sick or have symptoms associated with COVID-19 are to stay home. Please check the Diocese of Venice website for any updates.
Livestreaming
The Diocese of Venice will continue livestreaming the Mass through the Diocese website (www.dioceseofvenice.org) and Facebook pages from the Catholic Center in Venice 9:15 a.m. daily as the dispensation to attend Mass remains.
Sunday Televised Mass
The Televised Mass for the Homebound is available throughout the Diocese each Sunday. In northern parts of the Diocese (Manatee, Highlands, Hardee, Sarasota, DeSoto and Charlotte counties) the Mass airs on television at 9:30 a.m. on the CW Network. In the southern portions of the Diocese (Collier, Lee, Glades, Hendry, Charlotte counties) the Mass airs at 10:30 a.m., on WFTX-TV (FOX-4). This same Mass can be found on the Diocese of Venice website at any time during the week, www.dioceseofvenice.org/tvmass. Please check local listings for channel information.
Online Resources
A special coronavirus webpage is located on the Diocese of Venice website at www.dioceseofvenice.org. Resources include links to the Mass, the prayer for an Act of the Spiritual Communion, videos of the Stations of the Cross, Divine Mercy Chaplet and Pray the Rosary. The U.S. Conference of Catholic Bishops website, www.usccb.org, also posts the daily Mass readings.
Act of Spiritual Communion
It has long been a Catholic understanding that when circumstances prevent one from receiving Holy Communion, it is possible to make an Act of Spiritual Communion which is a source of grace. Spiritual Communion means uniting one's self in prayer with Christ's sacrifice and worshiping Him in His Body and Blood.
The most common reason for making an Act of Spiritual Communion is when a person cannot attend Mass, as is the case during the ongoing coronavirus pandemic. Acts of Spiritual Communion increase our desire to receive sacramental Communion and help us avoid the sins that would make us unable to receive Holy Communion worthily.
For all who will not be able to receive the Holy Eucharist in person, consider this special prayer, an Act of Spiritual Communion:
My Jesus, I believe that You are present in the Most Holy Sacrament.
I love You above all things, and I desire to receive You into my soul.
Since I cannot at this moment receive You sacramentally, come at least spiritually into my heart.
I embrace You as if You were already there and unite myself wholly to You.
Never permit me to be separated from You.
Amen.