By Jeanne Berdeaux, Diocese of Venice Respect Life Director,
For the past few years some of the funds received from generous parishioners in the annual Respect Life Sunday (Oct. 4, 2020) special collection have been used to give students from Catholic high schools the unique experience of participating in Catholic Days at the Capitol. This annual three-day trip to Tallahassee draws hundreds of participants from all seven Dioceses in Florida to our state capitol during the two months of the annual legislative session.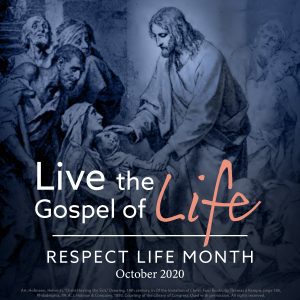 They attend a briefing to learn about the bills that are the top priorities for Catholics before visiting their legislators and attending sessions and committee hearings. Finally, they join all the Bishops of Florida for the Red Mass to pray that the Holy Spirit guides and directs members of the legislative, judicial and executive branches of state government in their service to the people of Florida. Many public officials join the Bishops and Catholic Days participants in this special Red Mass, in keeping with a tradition that dates back to the 13th century.
Bishop Verot 2020 graduating senior Anna Latell said, "I gained a lot of knowledge on how the Florida government system functions, and I felt like as Catholics we were able to have a lot of influence in just a few days." She added, "You should go because it is an eye-opening experience in learning about Florida legislature and the important topics concerning Catholic values." Another student said, "I enjoyed getting to be on the Senate floor and use the Senate seating."
Thanks to Senate President Bill Galvano's staff, the students were able to sit in the Senators' chairs, conduct a mock debate and vote, giving them a first-hand experience of how the legislative process works.  When asked what they would say to someone thinking about going next year, one student said, "Do it; it was a blast!"
Another important use of funds is to support the Collier Community Abstinence Program (CCAP) which provides free workbooks and materials that impact our Catholic school students in the Diocese of Venice as well as those attending public school. This program promotes abstinence from risky behavior (sexual activity, alcohol and drug use) as the healthiest lifestyle. Parent components help open dialogue within the family. CCAP is developing new video programs for home and school use and a new website (www.AuthenticAbstinence.org). It's a virtual world these days!  As news spread about the program and the statistics on the program's success rate in Collier County, teachers across the country began clamoring for the four workbooks. Continuing to provide these resources free of charge to schools is a funding challenge. We are blessed to have funds from this special collection to help with the expansion of this program.
An agreement was made with world renowned "sexual risk avoidance" trainer Pam Stenzel to speak at our three Catholic high schools and the Donahue Academy in Ave Maria. Unfortunately, due to the pandemic, this year's events had to be cancelled, but Pam made a special video for graduating seniors and plans are underway for the current school year.
In his message on Diocesan World Youth Day, Palm Sunday 2020, Vatican News reported that Pope Francis said, "I would like to join you, young people, in calling for a cultural change, based on Jesus' command to 'arise.'  He calls us to embrace a reality that is so much more than virtual."
"Arise!" he adds, is also an invitation to "dream", to "take a risk", to be "committed to changing the world, to rekindle your hopes and aspirations, and to contemplate the heavens, the stars and the world around you."  The Pope then invited young people to "give their passions and dreams free rein, "and, through them, offer the world, the Church and other young people something beautiful, whether in the realm of the spirit, the arts or society… Make your voices heard." Your generosity enables us to help our young people to answer that call.
The annual Respect Life collection in the Diocese of Venice is the weekend of Oct. 3-4, 2020. Thank you for your generosity in supporting this important collection.
To learn more about the Respect Life activities of the Diocese of Venice, you can contact Jeanne Berdeaux at 941-484-9543 or berdeaux@dioceseofvenice.org.