Bishop Dewane continues to celebrate Mass for students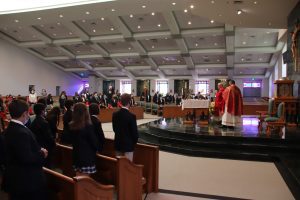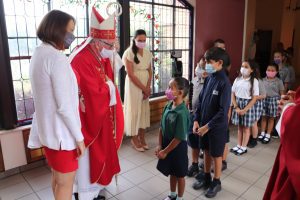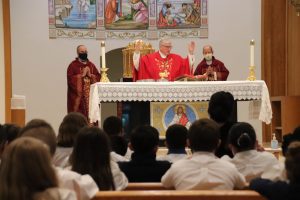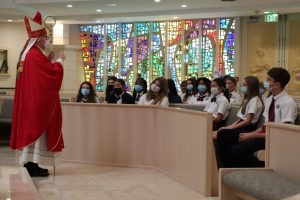 Bishop Frank J. Dewane continues celebrate Mass for the students in each of the 15 Diocese of Venice Catholic schools. The latest series of Masses took place Aug. 26, 2021 at Incarnation Catholic School in Sarasota; Aug. 27 at St. Charles Borromeo Catholic School in Port Charlotte; and Aug. 31 at both St. Elizabeth Seton Catholic School and St. Ann Catholic School in Naples.
Diocesan principals meet
The Diocese of Venice Office of Catholic Education hosted a Principal's Meeting Aug. 26, 2021 at the Epiphany Cathedral Parish Hall. Father John Belmonte, SJ, Superintendent of Catholic Education, led the meeting and updated everyone on how the start of the new Academic Year has been going in the Diocese and how successful the COVID-19 safety precautions have been working. Father Jeff Puttoff, SJ, who assisted in recruiting and promoting the Step Up for Students Scholarship initiative in the Diocese, provided an update on that work which resulted in a more than 12% increase in enrollment. The principals also received updates on the implementation of a comprehensive curriculum update. Jennifer Falestiny, Diocese Director of Curriculum, spoke about training teachers in a variety of areas. Falestiny also focused on the work to expand the STREAM (Science, Technology, Religion, Engineering, Arts and Math) programs. This also included a progress report on the implementation of the robotics STREAM initiative which will include competitions starting in the fall. Bishop Frank J. Dewane joined the group for lunch.
Miss Florida 2021 grew up at Bradenton Parish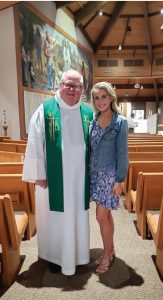 If the recently crowned Miss Florida 2021, Leah Roddenberry, looks familiar to you, it might be that she is a parishioner and a former altar server at Ss. Peter and Paul the Apostles Parish in Bradenton. Father Mark Heuberger, Pastor of Ss. Peter and Paul, congratulated Roddenberry during a Mass in early August and wished her luck for December, when she will compete in the 100th Miss America competition. She graduated in 2017 from Cardinal Mooney Catholic High School in Sarasota and previously attended St. Joseph Catholic School in Bradenton. Congratulations, Leah! We'll be cheering you on.
Students start garden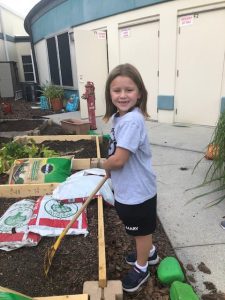 School gardens can make lasting differences in the lives of children. The lessons taught through these outdoor learning laboratories transcend gardening to impact children, their families and entire communities for years to come. St. Mary Catholic Academy Teacher A.J. Schiep engaged his students in this wonderful and meaningful activity on Aug. 26, 2021, in Sarasota. The new garden is just outside their classroom windows and the students used various gardening tools, getting their hands dirty, while preparing the soil for planting. The students will work on the garden throughout the year, following the progress and eventually eating the fresh food that grows.
Eighth graders display leadership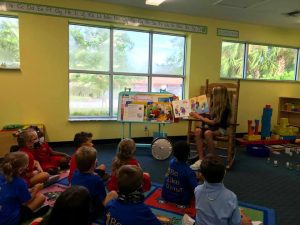 St. Francis Xavier Catholic School eighth-grade each year take part in Falcon Academy students where they are excited to display the skills they have developed throughout their years here while serving the school community. This leadership program includes journaling, discussion, and feedback exercises help students self-reflect on their experiences. During the year, they will explore patience, empathy, active listening, reliability, dependability, creativity, positivity, effective feedback, timely communication, team building, flexibility, risk-taking, and mentoring. Host teachers provide mentorship as the eighth graders embark on an exciting year St. Francis Xavier before heading off to high school! For their first session on Aug. 27, 2021, the older students introduced themselves to their younger counterparts with activities, presentations, and read aloud time. Some of the students played a Fun Friday game while working on color recognition and taking turns with the PreK Falcons. Although our eighth graders had a lot of nervous excitement at first, they eventually settled right into the role and had a blast!
Verot students have many Club opportunities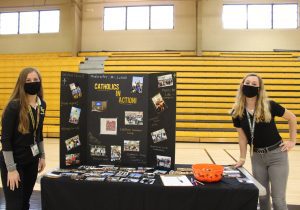 There are so many great ways to be involved at Bishop Verot Catholic High School in Fort Myers. Students discovered their many options at an Aug. 26, 2021 Club Fair. Clubs come in various forms and focus, such as Catholics in Action; National Honor Society; Model UN; Academic Team; Black and Gold Delegation; or American Sign Language. While others are more generalized, such as environmental, art, chess, math, creative writing, robotics, theater, debate, and more.
Football team takes part in pre-game Mass
The Cardinal Mooney Catholic High School football team took part in the traditional pre-game Mass before their opener on Aug. 26, 2021 in Sarasota celebrated by Chaplain Father Eric Scanlan. The home game was against Booker High School of Sarasota. The Mooney Cougars won 36-0.