Father Leo Smith became emotional on Aug. 29, 2021 when Bishop Frank J. Dewane formally presented him as the new Pastor of St. Finbarr Parish in Naples.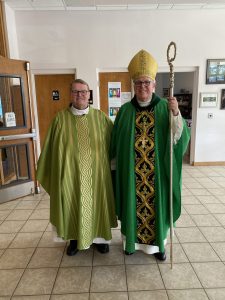 Applause from the faithful was in recognition of the priest who served the faithful of St. Finbarr for six years. The appointment as Pastor solidified in the mind of the parishioners that Father Smith was there to stay, leading them into a bright future as the area around the Parish continues to grow rapidly.
"When I first came here, I was warmly welcomed and your support through the years has been a blessing," Father Smith said.
As part of the installation process, Bishop Dewane first introduces the priest as Pastor to the parishioners. The priest later starts the Profession of Faith for all to hear, including an additional part solely for him. The new Pastor then recites an Oath of Fidelity and promises to "adhere to the teachings, which either the Roman Pontiff or the College of Bishops enunciate when they exercise authentic magisterium." The installation also includes prayers to provide the new Pastor the wisdom and guidance from the Holy Spirit to lead the Parish.
The ceremony concluded with the signing of documents by the Bishop, the new Pastor, and two official witnesses of the Parish community, who serve as witnesses for all of the parishioners. Those documents are split between the Parish and Diocese as well as the Pastor's personnel records.
St. Finbarr Parish was established as a Mission Church of San Marco Parish in 2000 and was elevated by Bishop Dewane to become the 57th Parish of the Diocese of Venice on Dec. 12, 2010. During the peak winter season, each weekend approximately 1,500 attend Masses in English, Spanish and Creole.