Local pastor to serve in leadership role with national priest group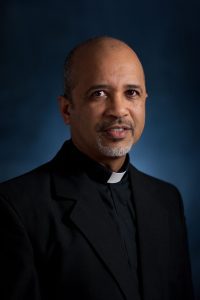 Father Jiobani Batista, Pastor of St. Margaret Parish in Clewiston, was elected secretary of The National Association of Hispanic Priests (ANSH) during the association's 30th annual convention that was held in New York City from Oct. 7-10.
Priests from across the United States attended this year's convention, entitled "Time for Priestly Reform and Renewal," as part of a three-year program for the renewal, fraternity and continuing education of priests working in a variety of ministries in dioceses across the country.
Adopt a Family for Christmas
You can make Christmas brighter for a mother and her baby! Our Mother's House of Catholic Charities in Venice is looking for volunteers to Adopt a Family for Christmas. The program provides shelter and guidance for single mothers and their children who would otherwise be homeless. The mission is to offer single mothers and their children a safe and secure environment in which to achieve increased self-sufficiency through education, vocational training and personal growth. The resident families have provided a wish list of items they can use and wrapped gifts need to be returned to Our Mother's House by Monday, December 9. For more information, please contact Case Worker Rita Millner at 941-485-6264, ext. 102.
Early Learning Center has special visitors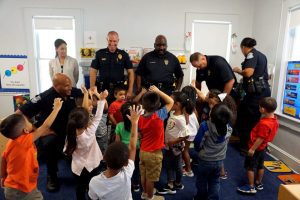 Officers from the Sarasota Police Department recently made a special visit to St. Martha's Early Learning Center of Catholic Charities. The preschool students enjoyed a fun learning experience with the men and women in blue. Sarasota Police Officers discussed with the children what an emergency is and how to dial 911. They handed out Junior Police Officer badges and coloring books. "The officers also joined us for a dance party," said Catholic Charities Program Director Jamie Van Dyke. "Every one of the students now plan on being a police officer when they grow up!"
International Festival held in Naples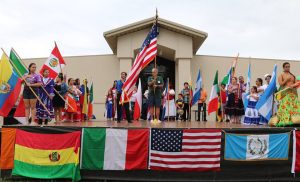 St. Agnes Parish in Naples hosted the 10th Annual International Festival on Oct. 20. More than 20 nations were represented with food and music as well as many wearing traditional attire, and the entertainment for the day also had an international flavor. A parade of flags was one of the highlights.
Students wear orange for Unity Day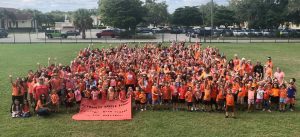 Students at St. Francis Xavier Catholic School in Fort Myers wore orange on Oct. 23, Unity Day, in support of bullying prevention. This event has students of all ages stand against bullying, while being united for kindness, acceptance and inclusion. The school has been participating in Unity Day for many years.
Knights support Honor Flight program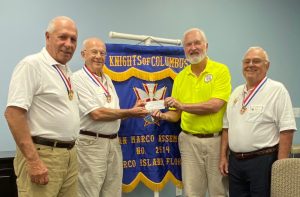 Representatives of the San Marco Knights of Columbus Assembly 2514 presented a check for $2,000 in October to Collier Lee Honor Flight. Collier Lee Honor Flight was established in 2013, its mission is to transport veterans from Collier and Lee counties to Washington, DC to visit the memorials dedicated to honor their service and sacrifices. A typical mission will visit the World War II Memorial, Korean War Memorial, Vietnam Veterans Memorial, Air Force Memorial, Marine Corps Memorial, and Arlington Cemetery. Top priority is given to World War II and Korean War era veterans, and to any veteran of any war that has a terminal illness. Veterans travel by a chartered commercial jet, and police escorted buses while on the ground. A typical mission will have 70 to 75 veterans. Trips are provided at no cost to the veterans.
Shoes donated to Catholic Charities program
Catholic Charities of Collier County is grateful to the Rotary Club of Naples Bay for supplying free shoes to clients at the Family Counseling Center and Judy Sullivan Family Resource Center. The Rotary Club sponsors their Kids Kicks for Shoes Program that provides shoes for needy children in Collier County.