Sarasota school expands offering
Incarnation Catholic School, 2911 Bee Ridge Road, Sarasota, will be expanding their early learning classes to include a PreK-3 program. The program will offer a monthly theme-based curriculum that will include math, science, language and basics of our Catholic faith. Our little learners will discover answers to big questions like "How do Plants Grow?" and " Who lives in the Ocean?". Small class sizes will allow for individual attention and differentiate instruction. Playground time will provide an opportunity to work on gross motor skills.  The program will offer full and part time options, perfect for every family. Children must be potty trained and three years old by Sept. 1. For more information please call 941-924-8588.
Naples club meets for final time, honor former advisor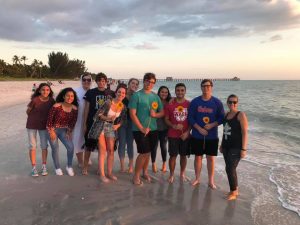 The St. John Neumann Catholic High School Y.A.C.H.T. Club ("Youth and Christ Helping Together") held their final Fun Night April 28 at Naples Beach. Students attended Mass at St. Ann Parish before enjoying a beautiful sunset in memory of Shelley Raley, with Sister Katie Flanagan, FMA, and teacher Laura Roszkowski. Ralley, who passed away in 2018 was the group moderator and each of the club members had sunflowers in her honor. The YACHT Club is an instrumental component of the Campus Ministry Program. The mission of the club is to invite all students to the fullness of Christ's love through service to others. Students plan and implement retreats, prayers services, liturgies and other events/services. They also take "cruises" to perform service in the community.
Neumann Track relay places 2nd at States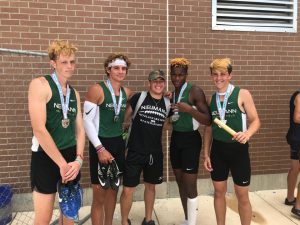 The St. John Neumann Catholic High School boys track 4×100 relay team was the FHSAA 1A State Runnerup May 4 during the Track and Field Championships at the University of North Florida in Jacksonville. The Naples relay team placed second with a school record-breaking time of 42.23. The runners were Daniel DeSantis, Justin Mathieu, JP Raiger and Alex Myrin. No long after, Mathieu later placed second in the 1A Long Jump finals. Way to Go Celtics!
Camp Mercy in Sarasota
St. Patrick Parish, 7900 Bee Ridge Road, Sarasota, will be hosting Camp Mercy 2019 for the third year in a row from June 24-28, 9 a.m.-1 p.m.. This service-oriented summer camp is for children ages kindergarten to fifth grade. The cost is $75 for the week and includes a camp t-shirt. Registration is required by June 1. For more information, please call 941-378-1703 ext. 300.
Catholic Center May Crowning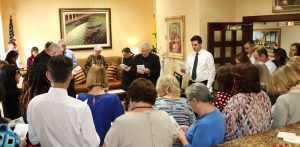 On May 2, the staff of the Diocese of Venice Catholic Center gathered for a May Crowning ceremony led by Bishop Frank J. Dewane. The ceremony included a few songs and a Litany to Our Lady. In the Catholic tradition, May is devoted to Our Lady and many Diocesan parishes and a retreat center are dedicated to Mary.
Teacher, students earn Excellence in Education awards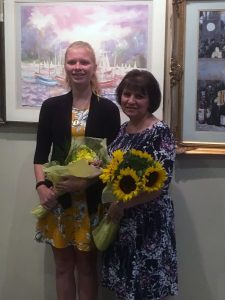 On April 29, the Cape Coral Chamber of Commerce Excellence in Education Awards ceremony took place at the Broadway Palm Dinner Theatre in Fort Myers. The chamber recognized educators and students in 30 Cape Coral elementary, middle and high schools. St. Andrew Catholic School Art teacher, Diana Villadolid, and eighth grader, Jackalyn Flynn, were honored for excellence as educator and student. Villadolid has taught Art at St. Andrew for 15 years.  She facilitates the students' participation in community art events such as those sponsored by the Alliance of the Arts and the Edison Ford Estate.  She also serves as the school's Marketing Director. Jackalyn Flynn will be graduating from St. Andrew Catholic School in May and has won awards for tennis (Cape Coral Parks and Recreation-First Place), soccer (SACS First Place team), art (Alliance of the Arts), and a three-time Sunshine State Luncheon attendee for achieving top levels in reading. She plans to attend Bishop Verot High School. She would enjoy becoming a writer or story editor someday.
Donation to Catholic Charities
The Venice Yacht Club Foundation recently presented a check for $5,000 to support the Family Haven of Catholic Charities which helps families in South Sarasota County transition from being homeless to finding more permanent housing.
Ave Maria University graduation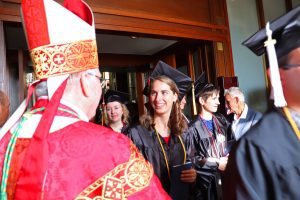 Bishop Frank J. Dewane celebrated the Baccalaureate Mass for the Ave Maria University graduating class on May 3 in Ave Maria. The Bishop encourages the graduates to carry Christ with them always beyond college and into the next phase in their lives. Having the Lord by their side will give them the strength to overcome any obstacle they may face in the future.
VBS in Fort Myers June 24-28
St. Francis Xavier Parish in Fort Myers is hosting the "ROAR! Totally Catholic Vacation Bible School from June 24-28. It is a week of fun, games, snacks, crafts, and learning more about our faith!  The cost is $30 per child, or $70 per family.  Registration forms are found at www.stfrancisfm.org. Please all 239-246-2635 for more details. Register early as space is limited and VBS usually fills up!