In the days leading up to and following Nov. 1, 2021, the Solemnity of All Saints, Parishes and Diocesan Catholic schools took time out to put a special emphasis on the Saints.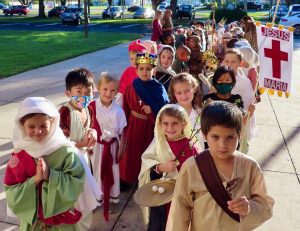 At some Masses children dressed as their favorite Saint. In some schools, presentations were made to allow the young "Saints" to share the story of these holy men and women of God.
The most popular activity this year was the Trunk-or-Treat which provided a safe environment for the little ones to come and get candy and have a little fun.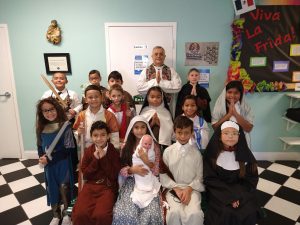 Our Lady of Miraculous Medal Parish in Bokeelia supported the Pine Island event by supplying 162 kids prepackaged bags of candy that had a label that said "Never Stop FALL-O-WEEN Jesus for Heavenly Treats. Have a Happy Halloween from OLMM Catholic Church." The parishioners donated the candy for the event as the Parish Trunk-or-Treat Theme was: "FALL for Jesus, He Never LEAVES."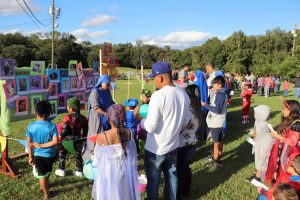 Meanwhile, St. Michael Parish in Wauchula decided to host a carnival/trick-or-treat event in the field behind the Parish. Children dressed as priests, angels and a variety of superheroes and other characters each had to complete a carnival game to receive candy. One game had children try to identify images of saints with only a small hint to help. All the candy was donated by the faithful at St. Raphael Parish in Englewood.
Bishop Frank J. Dewane often describes the saints as women and men who do ordinary things extraordinarily well.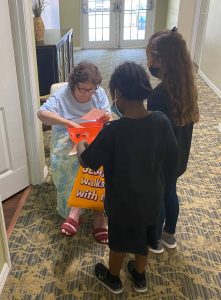 An example of this occurred in Bradenton, where second graders from St. Joseph Catholic School shared candy, homemade cards, and sang their favorite songs for the residents at nearby Truewood Assisted Living. Thanks to a donor who supplied candy, the students also enjoyed Trick or Treating throughout the facility.
The Beta Club of St. John Neumann Catholic School in Naples also did a little thing well when they delivered treats to the faculty and teachers at St. Ann Catholic School in Naples in thanks for their dedication to education. Each bag also featured a bible verse chosen by the Beta Club – "Blessed is the one who perseveres under trial because, having stood the test, that person will receive the crown of life that the Lord has promised to those who love him" James 1:12.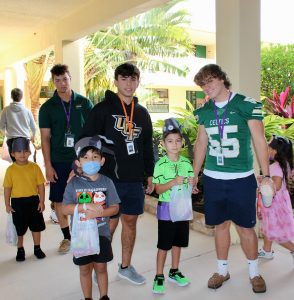 Back at the high school, the seniors escorted pre-kindergarten and kindergarten students from St. Ann and St. Elizabeth Seton Catholic Schools for trick-or-treating to each of the classrooms.
Bishop Verot Catholic High School in Fort Myers hosted kindergarten students from St. Andrew Catholic School in Cape Coral and St. Francis Xavier Catholic School in Fort Myers on Oct. 28 for pumpkin decorating and a few treats.
At Donahue Academy of Ave Maria Catholic School in Ave Maria the children in grades Pre-k through third came to Mass on Oct. 29 dressed as their favorite saint. After Mass had concluded, the costumed children took turns announcing to the assembled students, teachers, parents and visitors which saint they were.
On the Solemnity, Nov. 1, St. Andrew Catholic School students wore a wide variety of "saint" costumes to Mass with many Blessed Virgin Mary's, several angels, and a few Popes.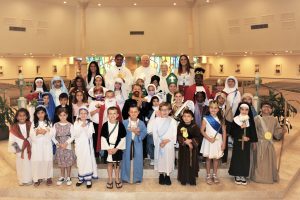 Pope Francis said true happiness does not come from being young, rich, or successful, as the world thinks, but from the counter-cultural idea to follow Jesus Christ. The Holy Father made his remarks during a special Angelus address for the Solemnity of All Saints, celebrated by the Catholic Church on Nov. 1, 2021. This year the obligation to attend Mass was abrogated in the United States because the Solemnity fell on a Monday.
In addition, schools also took time out on All Soul's Day, Nov. 2, to pause to remember deceased family and friends. Middle school-aged students at St. Joseph Catholic School in Bradenton created images made from sugar with prayers for deceased relatives and friends written on the back of each one. This was part of a special Family Night celebrating Día de los Muertos on Oct. 29.
At Bishop Verot, for many years Fathers Joe and John Beattie, Oblates of St. Francis de Sales, would have a book for staff and students to record the names of loved ones to remember on All Souls Day. That tradition continues to this day with students and staff invited to participate this year.
Parishes also did the same with several dedicating evening Masses to the reading of the names of deceased parishioners from the previous year. The entire month of November is dedicated to all the Souls in Purgatory.