The Feast of Ss. Thomas More and John Fisher on June 22, 2022, marks the start of Religious Freedom Week, a call by the U.S. Conference of Catholic Bishops (USCCB) for all Catholics across the United States to pray, reflect and take action in support of Religious Freedom.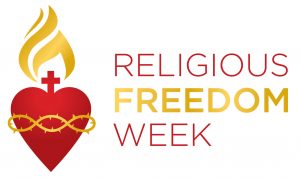 It is appropriate that the week begins on such a day, as Ss. Thomas More and John Fisher are remembered for being martyred in 1535 for standing up for the Sanctity of Marriage and the Freedom of the Church in opposition to England's King Henry VIII.
Continuing through the Solemnity of Ss. Peter & Paul the Apostles on June 29, the Religious Freedom Week theme is "Life and Dignity for All."
"This year, as we approach the Supreme Court's decision in Dobbs v. Jackson Women's Health Organization, the U.S. Conference of Catholic Bishops (USCCB) is especially mindful of the debates around our country about abortion," the Conference said in a June 2 statement promoting Religious Freedom Week 2022. "The Catholic Church plays a crucial role in bearing witness to the gospel of life and serving all who will be affected by these discussions and their outcomes."
The USCCB provides "Pray-Reflect-Act" resources at www.usccb.org/ReligiousFreedomWeek, one for each day on different religious liberty topics. This year, the topics focus on themes that intersect with life issues, including – Walking with Moms in Need; Church Vandalism; Adoption and Foster Care; Taxpayer Funding for Abortion; Religious Freedom in China; Pregnancy Resource Centers; Health Care Workers; and Free Speech.
The Diocese of Venice joins with other Dioceses to promote Religious Freedom Week. Bishop Frank J. Dewane encourages the faithful of the Diocese to educate themselves about the issues of religious freedom but to be aware of the threats faced both domestically and abroad.
Jeanne Berdeaux, Diocese of Venice Respect Life Director, said that if the faithful don't stand up for religious freedom, government officials at all levels will continue to try to erode the protections guaranteed in the U.S. Constitution. This will mean that practicing one's faith will be regulated into a mere freedom to worship, confining the practice of faith and worship within the four walls of the Church, well outside of public discourse and the public square.
For this reason, the U.S. Bishops said in their statement that a major area of concern continues to be "freedom for Catholic institutions, such as schools, hospitals, and child welfare service providers, to carry out their missions with integrity. In particular, protecting Catholic adoption and foster care will become even more vital, as we take new steps in building a culture of life and dignity for all in the United States."
"To build a culture of life and dignity for all, the Church must support women and children," the U.S. Bishops said. "In 2020, the USCCB's Committee on Pro-Life Activities launched Walking with Moms in Need. This initiative ministers at the local level by having parishes be places where pregnant and parenting women can find support and accompaniment."
"This is a critically important program as the overturning of Roe v Wade becomes a strong possibility by summer," Berdeaux said. "Helping individuals facing an unexpected pregnancy and those who have had an abortion are what we do as Catholics. See www.dioceseofvenice.org/respectlife for details on both Walking with Moms in Need and Project Rachel, the Church's post-abortion healing program."
Materials prepared by the USCCB for Religious Freedom Week are made available to help people understand religious liberty from a Catholic perspective, reflect on the application, pray about particular issues, and act on what they learn by advocating for policies that promote religious freedom.
Through prayer, reflection, and public action during Religious Freedom Week, the USCCB hopes to promote the essential right of religious freedom for Catholics and for those of all faiths.
The USCCB materials can be found in English (https://www.usccb.org/committees/religious-liberty/religious-freedom-week) and in Spanish (https://www.usccb.org/committees/religious-liberty/semana-de-la-libertad-religiosa).
Connect with the USCCB Committee for Religious Liberty by texting "FREEDOM" or "LIBERTAD" to 84576 and sign up for the First Freedom News, the USCCB Committee for Religious Liberty's monthly newsletter.