The four Diocese of Venice Catholic high schools graduated 371 into the world during a four-week span from early May to early June 2022.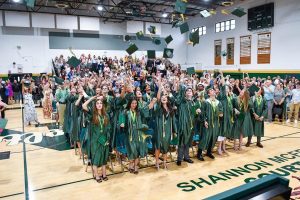 This group, as they are each year, is an impressive bunch. Among these graduates, 99 percent are heading off to higher education at some of the top colleges and universities in the land.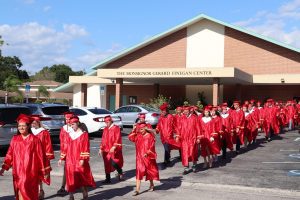 As a group, these graduates earned more than 40,000 services hours and $42 million in scholarship offers. Seven were identified as National Merit Scholars and many others graduated with honors.
In addition to academic awards, many of these students were scholar athletes with several earning state titles in a variety of sports. More than 50 of the graduates were offered scholarships to continue their athletic career at the next level.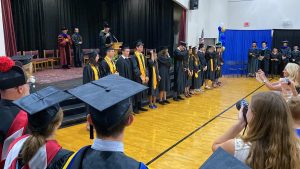 At Cardinal Mooney Catholic High School in Sarasota, the graduation was May 13, and the Valedictorian was Halle Monserez and Salutatorian was Peter Etz. The Baccalaureate Mass was celebrated at Incarnation Parish in Sarasota.
The St. John Neumann Catholic High School Commencement Exercises were May 20 at the Naples school, with the Baccalaureate Mass at St. Ann Parish. The Class Valedictorian is Ella Bartels and Salutatorian is Madeline Vickers.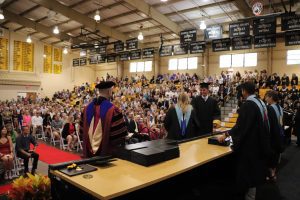 The graduation for Bishop Verot Catholic High School in Fort Myers was May 21, with the Baccalaureate Mass at Resurrection Parish. Verot had 32 students recognized as top graduates. Grace Marie Smith offered the introductory address, and the commencement address was by Anna Latell.
Donahue Catholic Academy of Ave Maria Parish graduation was June 1, with the Baccalaureate Mass at the Parish church. Catherine Graham was the class Valedictorian and Winston Fairchild was the Salutatorian.