The Diocese of Venice is mourning the loss of Father Timothy Murphy, a retired priest of the Diocese of Venice who passed away March 19, 2022, at the age of 97.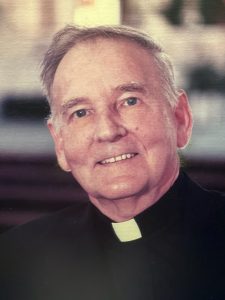 Father Murphy most notably served as Pastor of St. Andrew Parish in Cape Coral for 21 years and later founded St. Andrew Catholic School.
Born in County Cork, Ireland on March 20, 1924, to Timothy and Ellen (McCarthy) Murphy, Father Murphy was the sixth of seven children. He graduated from Mount Mellary College in County Waterford, Ireland, and All Hallows College in Dublin, Ireland. He was ordained to the priesthood on June 19, 1960, in Dublin, for the Diocese of Brooklyn.
It was in 1970 when Father came to the Florida to serve in the Diocese of St. Petersburg, which at the time encompassed a large portion of the current Diocese of Venice. Here, Father Murphy served at St. Francis Xavier Parish in Fort Myers as a Parochial Vicar from 1970 until his appointment as Pastor of St. Andrew in 1976.
Under Father's direction, the Parish built a new church which was dedicated on Nov. 27, 1983, and was then debt free. As Cape Coral continued to grow and the number of children in religious education classes skyrocketed throughout the 1980s, Father Murphy explored the option of building a Catholic school. St. Andrew Catholic School opened in 1989 and the Sisters of the Sinsinawa Dominican Congregation of the Most Holy Rosary initially staffed the new school.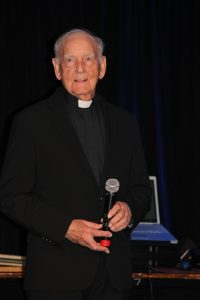 Within the Diocese of Venice, Father Murphy was a longtime member of the school board for Bishop Verot Catholic High School in Fort Myers, a member of the Presbyteral Council, Diocesan Treasurer, and then Vicar Forane (Dean) of the Central Deanery (1995-1997) prior to his retirement. In 1984, when St. Pope John Paul II erected the Diocese of Venice in Florida, Father Murphy was a member of an 11-priest committee which oversaw the various activities related to this important occasion. Events supervised included the elevation of Epiphany Church to a Cathedral, as well as the installation of Bishop John J. Nevins as the first Bishop of the new Diocese.
Father Murphy is survived by numerous family members.
The funeral arrangements for Father Timothy Murphy are as follows: Viewing Wednesday, April 6 from 6:00 p.m. to 8:00 p.m. at St. Andrew Parish, 2628 Del Prado Boulevard, Cape Coral; Mass of Christian Burial on Thursday, April 7 at 10:30 a.m. at St. Andrew Parish.
Please pray for the repose of the soul of Father Murphy and for the consolation of his family. May his soul and the souls of all the faithful departed through the mercy of God rest in eternal peace.