Bob Reddy – Florida Catholic
3/29/19
St. Joseph, spouse of the Blessed Virgin Mary and stepfather of Jesus Christ, serves as an example for us all as he responded to the call of the Lord each time and with his heart and soul.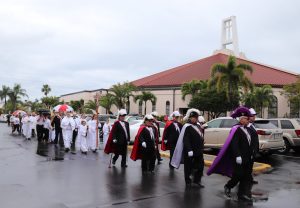 The Feast of St. Joseph took place on March 19 and Bishop Frank J. Dewane celebrated two Masses to mark the occasion. The first Mass was at St. Joseph Parish in Bradenton where the Bishop told students in the upper grades of the Catholic School that the most important trait of St. Joseph had was his obedience.
"He was willing to listen to the Lord in his life and do what the Lord asked of him," Bishop Dewane added. "You must listen and strive to do the will of the Lord so that you can be even more Christ-like as you live your faith. You must be humble in your own way so as to do – not always what you want – but to do what the Lord asks."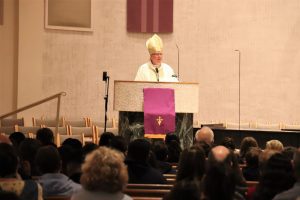 Later in the day, the Bishop celebrated the Mass in Italian at Epiphany Cathedral in Venice. Organized by the Italian-American Club of Venice, the Mass was followed by a procession, with an escort of a statue of St. Joseph with the Knights of Columbus Color Corps in the lead, to the Parish Hall.
There, Bishop Dewane blessed a St. Joseph's Table which was piled with bread made by members of the Italian-American Club of Venice. A celebration followed with many personally thanking the Bishop and other priests present, including presenting them with loaves of bread, for their participation in the Feast Day Mass.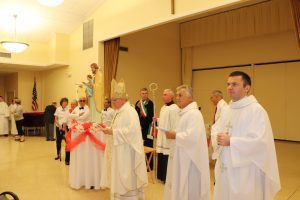 The tradition of the "St. Joseph Table" of food ("la tavala di San Giuseppe") has its origins in Sicily as part of a Middle Ages celebration of the ending of a drought where food – bread in particular – is brought to be shared among the townsfolk.