The Diocese of Venice is blessed with many generous and dedicated priests who have followed Christ's call to act in His person in the priesthood. The Diocese is further blessed with vocations to the priesthood, evidenced by our present number of 17 seminarians.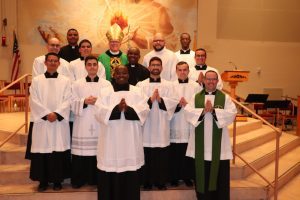 Support of the Annual Seminary Collection, always the first weekend in the New Year, continues to be crucial as challenges increase in the educating and forming of our future priests.
This Seminary Collection, to be taken up this year the weekend of Jan. 4-5, "ensures that we continue to educate the seminarians so as priests they can serve you and your family," Bishop Frank J. Dewane said in a letter promoting the collection. "It enables the Church's mission of cultivating and fostering vocations, supporting the next generation of diocesan priests in their formation and all the accompanying expenses. Programs to invite more men to consider the priesthood must also be organized and funded. Your gift to the Seminarian Collection helps offset these costs."
Further the contributions assist in the assessment given to the Diocese of Venice to contribute toward the updating of St. Vincent de Paul Regional Seminary in Boynton Beach. The institute is co-owned by all of the Arch/diocese in the state of Florida. It has recently been totally remodeled.
Father Shawn Roser, Diocese of Venice Director of Vocations, reflected upon the importance on supporting vocations to the priesthood and religious life, in particular during the Advent and Christmas Seasons.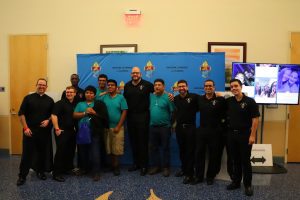 "The very mention of Christmas fills us with a flood of memories and feelings," Father Roser said. "Perhaps as children, we gazed with wonder at the infant lying in the manger scene or tried to imagine what the angels sounded like when they appeared to those shepherds long ago."
The seasons are a magical time of year, full of lights, life, and love of God and neighbor through acts of charity and prayer, Father Roser added.
"The 'Yes!' of Mary – even the 'Yes!' of Joseph – in answer to the call from God, led to the miracle of Christmas and that in a similar way, when we say yes to God's will for us in our vocation, He can work powerfully through us," Father continued. "As Christmas approaches, we should prepare our hearts, like mangers, to receive the Christ child once again. And so, as Our Lord is the Father's gift to us, let us make our lives a gift back to Him. Please generously contribute to the Seminary Collection!"
Your gift to this important collection provides vital financial support which is working to ensure the future of the Church in the Diocese of Venice.
If you feel the Lord May be calling you to lay down your life for Him and His Church as a priest or religious, please contact Father Shawn Roser at 941-484-9543 or roser@dioceseofvenice.org.